5 Best Gym Deals in Maidstone
5 Best Gym Deals in Maidstone
There appears to be a general perception that the majority of people that join a gym in January will have cancelled their membership by February. While it is true that many of us are fuelled to sign up by a desire to shed that festive fat, this can lead to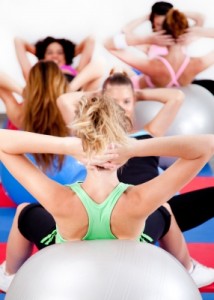 a renewed dedication to fitness over the longer term. But while the cynical view may well be erroneous, it does have an upside: gyms, well aware that the effect of all those Christmas calories make January their most fruitful month of the year, tend to slash their prices and offer their best deals during this brief window of opportunity. But, people of Maidstone, you can have the last laugh. Take advantage of these bargain packages and then, when the gyms expect you to quit, allowing them to replace you with full-price members, keep going. Not only will you get maximum value for your monthly fee, but you will also get fit, lean and healthy.
There are plenty of gyms around, and competition is always good for you, the consumer. However, shopping around can be time-consuming, so Inside Maidstone has done the legwork for you; we cannot, however, do the same when you begin the exercise regime itself. Below, are the top five gym deals for January.
1. truGym
Where: Broadway Shopping Centre.
Deal: £14.99 per month plus a one-off £20 admin fee.
Selling points: Open 24 hours a day from 6am Monday to 8pm Saturday; over 100 pieces of training equipment; air-conditioned; free initial exercise induction and health assessment; personal training for an extra charge; free classes with a big range; free parking up to three hours.
[button title="Visit Website" link="www.trugym.co.uk/#/trugym-maidstone/4545916097″ size="button-small" buttonColor="button-blue" ]
2. David Lloyd
Where: Lockmeadow Leisure Complex.
Deal: Two months free at the end of a 12-month contract (membership prices vary) with monthly charges starting from £24.95.
Selling points: Open-plan gym with two studios; steam room, sauna, swimming pool, whirlpool and kids' pool; café bar, hair salon and sports shop on site; personal training with free initial appointment; variety of free classes.
[button title="Visit Website" link="http://www.davidlloyd.co.uk/home/clubs/maidstone" size="button-small" buttonColor="button-blazeorange" ]
3. LA Fitness
Where: Mill Meadow
Deal: £33 monthly fee (18-month contract) with a £40 admin fee and January is free. This includes two tailored personal training sessions, MaxiNutrition starter pack, Weightloss guru membership, free padlock and magazine, plus 25% off at the LA Fitness online shop.
Selling points: Gym including state-of-the-art Technogym equipment; wide range of classes; qualified personal trainers; sauna, spar and steam room; pool with family swim sessions and swimming lessons; they offer a free one-day membership to try the place out.
[button title="Visit Website" link="www.lafitness.co.uk/gym/maidstone" size="button-small" buttonColor="button-teal" ]
4. LivingWell
Where: Hilton Maidstone, Bearsted Road
Deal: No joining fee and the first month is free – monthly charges vary. Membership includes free personalised fitness one-to-one sessions, a personalised fitness plan that's designed to help you achieve your goals, free group exercise classes, complimentary towel, toiletries and hairdryers, discounted food and beverage at your club's hotel, plus 25% off at other Hilton hotels and complimentary use of over 45 other LivingWell clubs.
Selling points: State-of-the-art PRECOR gym equipment; swimming pool and spa pool; sauna and steam room; beauty facilities; personal training; swimming lessons.
[button title="Visit Website " link="www.livingwell.com/clubs/uk/south/Maidstone" size="button-small" buttonColor="button-green" ]

5. Fit4less
Where: Brenchley House
Deal: £14.99 per month on a six-month contract or £19.99 with NO contract. Joining fee just £10.
Selling points: Free weights, cardio equipment and resistance machines; functional training area including a TRX suspension kit; personal training; a no-frills, no-pool gym at a great price.
[button title="Visit Website" link="www.f4l.com/maidstone" size="button-small" buttonColor="button-pistachio" ]
(Image from FreeDigitalPhotos.net)