A whopping £1 million raised!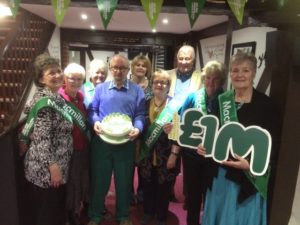 Local fundraisers have raised a staggering £1 million for Macmillan Cancer Support!
Medway Committee are celebrating raising  £1 million for Macmillan Cancer Support since they started fundraising in 1960.
At The Oast House Theatre, Gillingham, the Medway Macmillan Cancer Support Committee met to celebrate their achievement.
Deputy Mayor Steve Iles and his wife were guests of honour at the event which was also attended by members of Macmillan Cancer Support who gave speeches of thanks and an official certificate for the Committee to keep.
The Medway Committee originated through the amalgamation of the Strood and Gillingham Committees. Since 1960 they have gone from strength to strength raising money through numerous events including fashion shows, coffee mornings, sponsored swims, dances, quizzes and bowls club events plus fundraising through initiatives such as jam making, book sales and gaining support from the local theatre ('RATS'), the local Rotary and Lions Clubs.
Macmillan Cancer Support is so grateful for their ongoing fundraising and gave heartfelt thanks to the Committee members during the event. Emma Heley, Fundraising Manager, Kent & Surrey said: "We are so grateful to the volunteers of our Medway Committee who work so hard for us. Raising £1 million pounds is a fantastic achievement and this money has made an incredible difference to the lives of so many people affected by cancer."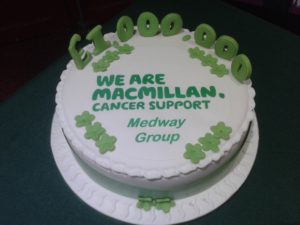 A cake was cut, good food and wine enjoyed and a glass raised to all those who had helped the Committee reach this amazing milestone.
The Committee are clearly hugely successful at raising money for such a good cause. When asking Committee Treasurer, Maggie Meinertzhagen, what their secret is she said: "Putting the fun into fundraising produces results and that is what we try to do!"
Chairman of the Committee, Tony Mardel, said: "Our current Committee is proud to continue the work of the previous Committee members and we look forward to welcoming any new members that would like to join the Committee too."
You could help them raise their next £1 million! If you would like to become a volunteer member of the innovative and positive Medway Committee contact Emma Heley on Tel: 07974 530770.