Artist's UK premier – in Aylesford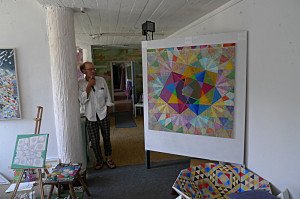 The artwork of Klaus Böllhoff is being premiered in the UK at trackside.contemporary art gallery in Aylesford.  His exhibition 'Gleis.1.Prora ost' includes work spanning 22 years and the artwork seems to reach out of the canvas and take you captive – you simply have to keep looking at his paintings – at least that is how I experienced Klaus' art when I attended the open day at trackside.contemporary last Sunday.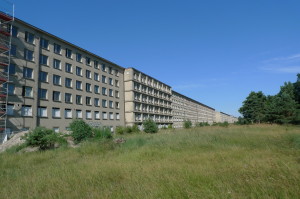 Klaus lives in Prora, on the German island of Rügen.  Prora, intended as a seaside resort, was built from 1936 – 1939 as part of Hitler's Nazi 'Strength Through Joy' programme, but due to the war Hitler's plans were never finished. Instead it was used as a military hospital and refugee camp before the Red Army took ownership in 1945. The majority of the buildings lay derelict until recently, yet in one of these tremendous concrete blocks, overlooking the Baltic sea and stretching for three miles down the coast, Klaus lives and creates.
I am not an art critic and certainly no art scholar, so I arrived at trackside.contemporary wanting to simply enjoy the artwork aesthetically. The are was so intriguing, I could have looked at Klaus' artwork for hours. Every time I thought I had finished looking at one of his paintings, I suddenly  realised I hadn't even started! Different patterns, angles or colours jumped out at me and the painting changed before my eyes. His art is so intricate I quickly became intoxicated by the paintings.
Klaus, now aged 65, studied fine art in Berlin.  In 1969 he joined a 'free class' of thinking wanting to change something in the traditional academic system.  His artwork is extensive and Klaus finds inspiration through words, in fact he describes himself as a 'word painter'.  Klaus also takes inspiration from philosophical questions and Prora has undoubtedly shaped his art too.
The two parts of the exhibition show a slice of Klaus' art from his time at St. Marien Kirche (cathedral) in Stralsund, followed by part of his 'geometric colour' (gallery named) collection produced on Prora.
The time he spent at St. Mirien Kirche as part of 'Aktion' art event in 1992 led to a series of acrylic paintings using discarded lead from the cathedral windows.  He used the lead as a stencil or mask on the canvas and the results are striking.  He drip applied acrylic paint on unstretched canvas in the Cathedral and took inspiration from the stained glass windows, which changed visually depending on the quality and quantity of light passing through them.  Klaus captured the random and unique experience of viewing stained glass windows within his own paintings.  His last lead-work painting was made in 1995 entitled 'Jung Frau Maria'.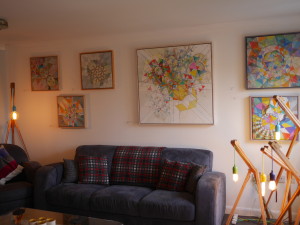 His Prora artwork retains the visual memory of a stained glass window, but the paintings are geometric in design and include brush work as well as flicked acrylic painting processes.  The exhibited selection of artwork has a final piece entitled 'The Answer'. It is a painting which represents more than the finale to this exhibition, it also shows us some insight into Klaus Böllhoff as a person as 'The Answer' is the culmination of years of thought, sparked by a simple question asked by a child.
The question was generated when Klaus' daughter looked at her father's makett (a mock up model, showing the plans for artwork Klaus was working on for a boats sail) and saw a hole between the sails.  She simply asked 'What's going to be in the hole?'  'The Answer' took years to create.
How Böllhoff's UK premier exhibition took wings is a story of friendship, opportunity and trust. Jane Barnacle, owner of trackside.contemporary gallery, and her partner David Mackereth (who runs Red Square Art Akademie from the gallery) often visit Germany for work and pleasure and Prora had always been a place they wanted to see.  Little did they know that they would stumble upon Klaus' workshop, named 'Proradies', (the unity of two German words 'Prora and Paradies') and strike up a friendship that would lead to this successful exhibition.
When the idea of an exhibition at trackside.contemporary was raised, Klaus viewed it with an atypical approach and the belief that the idea was a random opportunity to be harnessed. David, Jane and Klaus kept in contact and David returned from one of his trips to German with a car full of Klaus Böllhoff's paintings, given in trust, to erect this exhibition.  It seems fitting that someone from the seclusion of Prora is exhibiting at our home gallery in Aylesford – the two sit rather well together.
I recommend you visit trackside.contemporary to see the artwork for yourself.  While you are there you will see the work of many other artists adorning the walls of the townhouse gallery.  Some art is by David himself and others are completed by his students – who seem to find great success in the gallery.  One student currently exhibiting is Richard Bilous whose artwork stands out.  This gallery is there for us all, so visit before the exhibition ends!
To arrange a gallery visit or discuss an 'art evening' go to www.trackside-contemporary.com or
e-mail: trackside.contemporary@gmail.com or Tel:07507794690.  'Gleis.1.Prora ost' runs until February 2015.