Behind the Scenes with Kent Veg Box – 75% discount to Inside Maidstone readers!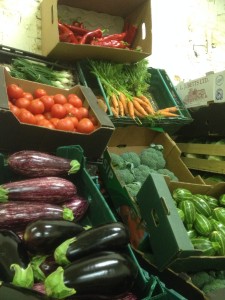 There are many vegetable box delivery schemes in the country and some corner the market, so it was with great joy that I stumbled upon our very own, truly local, veg box scheme – Kent Veg Box.
Run by brother and sister-in-law team Steve and Becca, at Pympes Farm, Maidstone, this scheme can truly boast an all-local appeal. All their fruit and veg (with the exception of bananas and oranges, bought from local markets) are harvested and bought from local farms throughout Kent, not through wholesalers. Over 9 years Steve has built up relationships with farmers to get the best produce to deliver to our doors and his tenacity in business is paying off: "Farmers are now growing things especially for us and one farm has planted celeriac for us this year." Steve tells me.
Steve places his orders with the farms on the Monday, the produce is then harvested and collected on the Tuesday and delivered to our doors from Wednesday to Friday. Potatoes and onions are cropped in advance of this as they are fresh for up to two weeks, everything is free range and fresh from the ground.
Kent Veg Box came about through a change in lifestyle for Steve. Steve was a chartered accountant working in the health industry, "I had always wanted to run my own business but you go where the dollar is." Steve admitted, but all that changed when Steve was made redundant. He put his savings into buying a farm shop and Becca worked with him.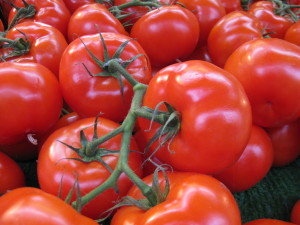 Steve loved the idea of fresh, local produce and when a customer from the farm shop suggested they started a veg box delivery scheme Steve thought 'Why not!' In 2006 Kent Veg Box was launched by Steve and Becca and they haven't looked back.
The schemes initially covered the Medway and Rochester area, then they started to include Canterbury and Bromley and now they deliver all over Kent as well as in London. "We started with zero and now there is a huge element of satisfaction in seeing things grow." Steve smiles.
Although Kent Veg Box took a hit in the recession, shrinking by 1/3, and the recession also caused the closure of the farm shop, the scheme survived and is now stronger than ever delivering an average of 300 boxes per week. "Our next challenge is to take that next step and add value to the company." Steve seems enthusiastic about the future.
As well as vegetable boxes, Kent Veg Box also supplies a full range of fruit, meat, eggs, bread, fish and milk – again all produced locally and bought from local farms, with the fish coming fresh from Dungeness, offering whatever seafood comes off the boats!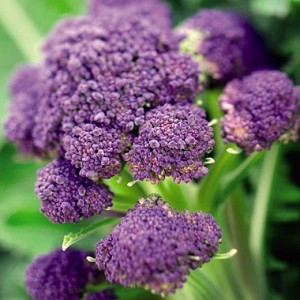 I met Steve and Becca at the warehouse where the produce is boxed and labelled for delivery and both were working hard – getting stuck in. They are not the type to delegate when they can do things themselves and that way they both know every element of the business, although responsibilities are split. "I deal with the front and the back end of the business! Meaning I deal with suppliers and customers while Becca does everything in between – organising packing, taking care of the bills and taking charge of the money."
They are rightly proud of the relationship they have built up with farmers over the years but do admit that, when it comes to supermarkets, they simply can't beat them on 'value' prices. "…For example, our 2 litre milk is £2.50, which is more than supermarkets, but it's the real stuff! It's from a farm in Benenden, one of the last independent dairies in Kent and the milk is not homogenised…" But generally they do beat supermarkets on everyday prices. "Our boxes offer fantastic value for money. Not only are they some of the cheapest boxes around, our veg is actually cheaper than the supermarkets! Don't get us wrong, we cannot compete with the 'value' end of the market, but we frequently find our veg is more than competitive with the standard supermarket veg. So get this, not only do you get fresh local veg, but it costs you less!" the website states.
As well as competitive pricing, because you know the fruit and veg are never more than 3 days old they last longer in your fridge at home than supermarket fruit and veg which can be up to two weeks old by the time you buy them.
Steve also points out that as they grow they will be able to offer better prices and their ambition is to claim that middle ground in their business market: "Very few veg box schemes use local produce and the biggest veg box companies sell up to 50K boxes per week so there is no one in that middle ground." Steve explains.
The scheme helps keep local farms running as they pay farms up to three times the amount that supermarkets pay. They are also a business that is embracing the technology available to them: "This week I took a picture of all the veg we collected and posted it on Facebook and the sales went through the roof – social media has really helped us identify our market." You won't see Steve shrinking away from the internet era and they now have over 1000 likes on Facebook.
Customer relationships are also part of Steve's job and he is very passionate about his customer base. "A couple of years ago we had a high churn rate, but we got feedback and realised that people were leaving because they couldn't use the whole box every week, so we introduced the 'Mini Veg Box' and our conversion rates soared again."
They are also looking at launching a YouTube channel to advise people on how to use the food. "Not everyone knows how to cook, or they cook the same thing 80% of the time. We have to be careful what we include in the boxes, for example chard is in season but not everyone knows what to do with it." Steve hopes that the YouTube channel will help people use every last scrap from their delivery.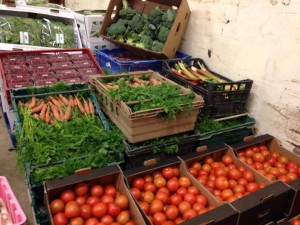 Their best selling product is the small veg box which at the moment includes new potatoes, broccoli, tomatoes, lettuce, new season carrots and chard. It costs £10 and is designed to keep a family going for veg all week.  Their veg boxes are seasonal which means from January to March there are more root vegetables and winter vegetables such as cabbage, cauliflowers and leeks included in the box. From April to May is what Steve has nicknamed 'the Hungry Gap' where the root veg are coming to an end but the spring and summer veg are not ready yet. This is a problem for Kent Veg Box but every year they have managed to fill their boxes with local produce throughout 'the Hungry Gap'.
Summer brings fruit and veg in abundance but sometimes for only short periods. "I'm hoping to pick up fresh peas soon!" Steve confirms, "They are only in season for a couple of weeks of the year." and this is where the Veg Box scheme really comes into its own – fresh produce as soon as it's ready.
Producing the perfect veg box is not as easy as you might think. It's not just about volume, it also has to vary in colour and content to make it look, as well as taste appealing. This is one of the things that Becca enjoys about her role. "I like to see the boxes nice and full, for the packing areas to be tidy and to see new business coming in!" Becca tells me in-between sorting boxes. Steve relishes the people-oriented part of the job, having built strong relationships with the farms and also enjoying customer interaction.
Kent Veg Box does seem to have an edge in the market; "We know we have good quality products and we are eco and green" Steve tells me, and they also have an advantage over the big boys in the industry because they buy from local farms. Other box schemes claim to be local but in fact Steve points out that this is not strictly true but, by using a local farm as a hub, they can use the 'local' angle when they are marketing themselves. This is a point that seems to rile Steve and I would say he is most passionate about ensuring people know the company is local and that he buys locally and always will do.
To ensure this ethos, the future for Kent Veg Box may even hold franchises where people in different geographical areas can build up their own contacts, buying from farms in their local area to ensure the 'local' angle remains true. Whatever the future in other areas, at least we know that, based in Maidstone, Kent Veg Box is putting money back into our local economy, supporting our local farms.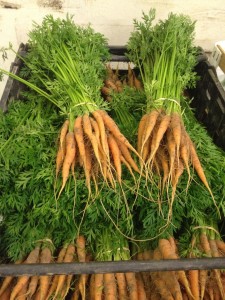 Inside Maidstone Magazine readers will receive 75% discount on your first Kent Veg Box so follow this link for the discount! http://www.kentvegbox.com/pages/im
Look up Kent Veg Box at www.kentvegbox.com on Twitter @KentVegBox, on Facebook and on Pinterest (Kent Veg); with Pinterest you see some recipes as well! Their products are split up into four different types of boxes: 'Essentials', 'Meat and Fish', 'Fruit and Veg' and 'Other Boxes' (beer, cheese and juices) and prices start from £7.50 (including delivery!). http://www.kentvegbox.com/collections/ Look up the areas they deliver to at http://www.kentvegbox.com/pages/delivery-areas