Behind The Scenes at Leeds Castle – Christmas
Inside Magazine were given a privileged sneak preview into the preparations for Christmas at Leeds Castle and I can safely say that from what I have seen, the Castle Christmas is going to be simply spectacular!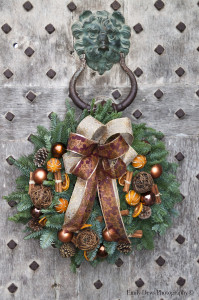 Leeds Castle is not just a beautiful place to visit it's also an intriguing place full of history and mystery. I caught up with some of the people who are bringing Christmas to the castle working to ensure everything will be glorious for Christmas. Having a look behind the scenes at Leeds Castle feels a little bit naughty – like peeking into the costume rooms of the Royal Ballet before the performance or opening the oven to see what delights are in store for a secret lunch men and as I walk around the castle I can't help feeling as if I have been let into a secret. At Leeds Castle the cogs turning to bring Christmas alive are astonishing. From design and floristry to artistic retailing every little detail is meticulously planned and executed.
This Christmas, local designer Beth Hannant is decorating the Castle – and it is a tall task. The theme is the 12 Days of Christmas "with a twist!" Beth assures me. Beth is a theatre designer by trade and specialises in bringing the outdoors indoors – she has even turfed a theatre's stage as part of a design in the past. This is the key to this year's décor; Beth is bringing the Castle alive by inviting the stunning scenery in which the Castle is set to be part of its rooms. Beth explains, "Nature will be invading the Castle! You won't find a partridge in a pear tree but you will find something. I also want to link the 12 days of Christmas to the Castles history – so it's not run of the mill." This is where the details come in and Beth has referenced historical documents about Leeds Castle life to gain some of her inspiration "Lady Baillie would not allow black grapes in the Castle at Christmas and so we have made white grapes from acorns". It is the little touches like this that bring the magic to life and link contemporary, living design to this inspiring stone castle.
Since early May Beth has been working on the design brief (most of which is top secret and no amount of cajoling would break Beth's silence) and keeping her eyes out for décor inspiration. The Castle is heavily linked to bird life with the majestic swans and peacocks claiming their territory within the grounds. We know that one of the displays will include the 'Four Calling Birds' and I saw two bird boxes made from feathers, "I did look crazy picking bird kill off of the road" Beth admits but the result is some stunning artwork. Making use of nature's larder is part of the brief and Beth has been utilising all sorts of natural products including Honesty, Willow – which Beth has been happiest working with – and Eucalyptus bark. Some designs do need a wire base too but where ever possible a natural product is used.
The palette of the decoration will largely be taken from the colours of the 1920's and the noble peacocks which strut around the grounds – royal blues, pea-green and turquoise with glitter and a thread of white and silver woven into the design. There will be a magnificent 25ft tree in the main stairway and Beth hopes visitors will learn something new about the castle through her designs as well as appreciate them for their aesthetics. The Queen's bedroom and spiral staircase are going to see the most dramatic transformation but there will be twelve rooms featured.
A large part of the design is linked to floristry and Beth has been working with Leeds Castle's head florist, Louise Roots, on the Christmas brief. Louise has been at Leeds Castle for seven years and as Head Florist for 18 months. The preparation for Christmas starts early in the year and 25th November saw the arrival of the larger items – such as the trees – with the garlands and finishing touches added just before the opening. One of Louise's biggest challenges is to ensure that the plants and flowers are always fresh. The Castle is heated and Louise explained how she plans to keep the flowers alive, "I will have a team of 4+ people to ensure the trees are watered every day which sounds easy but we can't spill a drop of water because of the antiques in the castle. Keeping things fresh is constant so we have to think technically to keep everything alive."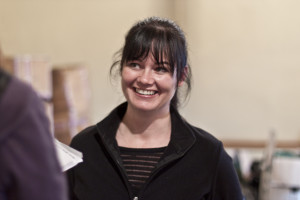 Beth creates the design framework which is then passed onto Louise and her team but Louise is keeping tight lipped about the extent of the decorations because the full magic is partly in the surprise. As well as organising Christmas Louise also has to juggle the many corporate events and weddings at this time of year. It's a busy job but Louise loves it, "There is no other job like this. At one point I could be making a florist swan and then the next a bridal bouquet. I get to work on a big scale and I love that – you can never have too much at Leeds Castle!"
As part of the festivities Leeds Castle are holding Christmas wreath workshops run by Louise where visitors can learn this artistic craft, "There are no shortcuts – in the workshops everything is done properly using traditional methods with fresh moss and holly from the castle grounds. The wreaths are backed and wired and I give a demo to the groups. Once people know how the real thing is done they can make their own wreaths year after year" Louise explains with enthusiasm.
The castle is the main attraction for the 12 Days of Christmas but to ensure you have a memento of your visit the Leeds Castle shops have gone all out for Christmas this year. At the entrance shop there are many child inspired Christmas goodies and year round gifts including children's costumes.
I spoke to Bob Needham, Leeds Castles Buyer and Retail Manager, at the Castle gift shop. The shop looks spotless and inviting and as you walk through the door you are greeted with the most spectacular Christmas display it make you feel like Christmas day has arrived. Bob explained their take on Christmas this year "We wanted tradition with a twist and I wanted to be wowed. We chose the products carefully as quality is very important. Retail is the icing on the cake – people should be able to take home something to remember Leeds Castle from". The gift shop is a little haven of affordable luxury with Christmas decorations starting at £3 "I've always been aware of price range I don't want people to think of this as expensive" Bob points out, "We also have our new Fair Trade range of products which are hand painted with bespoke designs for Leeds Castle and they are £4" The shop has a selection for the tourist, local and children and they like to keep the Christmas selection traditional but modern. There is a craft feel to the decorations this year and a children's range. They even have tree decorations which tie into the 'Christmas Jumper' trend. The red and gold decorations are always popular and the swans and crowns are a must – best sellers for the shop.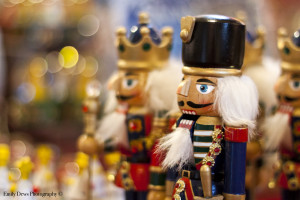 This year they have a separate white and silver range to tie in with one of the themes within the castle and have some modern Nutcracker Dolls which any little girl will want to adorn her dressing table. The Christmas range went out after their fireworks celebrations and has sold well since. "We started buying and planning for Christmas in January as we do every year" Bob points out that Christmas is always a year in the making – no wonder it looks spectacular. It is good that business is brisk Bob explains "We need to raise money for the foundation [a private charitable trust whose aim is to preserve the castle and its grounds]. That's my number 1 focus." There are so many elements to Christmas at Leeds Castle and seeing behind the scenes shows just how much work goes into ensuring everything goes smoothly. Bob compared the work and effort that goes into Leeds Castle to the swans that swim on the moat "They glide along majestically but underneath their feet are paddling away". I couldn't of put it better myself.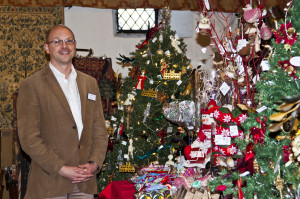 Images by Emily Dews Photography