Behind the Scenes at Starbucks Maidstone…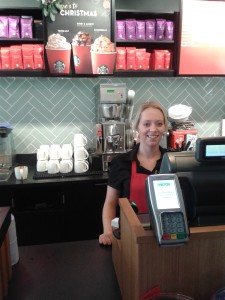 As a global brand Starbucks delivers a similar experience the world over so why is Starbucks so successful? And what is the secret to their continued success? I took a look behind the scenes at one of Starbucks newest stores in Maidstone town centre to see how the store ticks.  I found out that there is more to Starbucks than the brand.
As I watch the team at work Maidstone Manager, Kristina, is on the ball – ensuring the correct hygiene cloths are in use, the correct colour cups are being served and her team are delivering the high standard of service that has come to be expected in Starbucks.  As we sit down for a chat she has one eye on the till point and keeps looking at the front doors ready to catch the eye of any customer entering and give a nod of welcome.  I am definitely second priority…and that is how it should be.  We break off our conversation when one of the regulars comes in "How are you today?" Kristina says cheerfully and her team beam.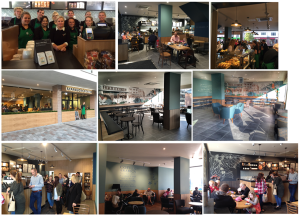 If I had to put my finger on the pulse of Starbucks it would pulsate in a rhythm which reflects the staff behind the till point – the face of Starbucks and really the bastions of the brand are speedy, positive and down to earth.  I don't here any of them say '…you have a nice day…' or the cliched American expressions of glee which can be grouped together with 'let's take a rain check on that one'.  Instead they are simply honest and I over hear the following end statements:"enjoy your drink", 'hope to see you soon", "enjoy your day", "thank you", "careful…that one will have you coming back for more!"  With such pressure to maintain standards I wondered how much of this is down to collective poker faces.  When I sat down with Beckie, one of Maidstones Baristers, Phill the Senior Supervisor and Manager Kristina, I found out…
At 18 years old Beckie is confident and approachable – a people person.  Positive from the start Beckie tells me "One of the things I love about working here is seeing the posts on Facebook saying thank you and remembering our names…" and it strikes me that of course we are living in a new age of retail – where feedback from customers doesn't just come down the chain of management but is instantaneously broadcast on social media.
Beckie also tells me about some of the banter she enjoys with the guests "We have a lot of people who prefer to give us funny names rather than their own – I have served 'Batman and Robin'.  I also had a really sweet customer recently who asked me to write 'I love you' on the cup of coffee he had ordered for his girlfriend."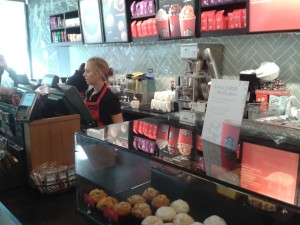 Asking for the names of their customers has proved controversial with some people taking exception to the idea but the Manager, Kristina, says it isn't about capturing data, it allows them to traverse the busy times to ensure they are giving the correct drink to the correct person and building a report with their customers.
Maidstone stores Senior Supervisor, Phill, enjoys the relationship with customers too and asking for people's names to write on their cups always raises a smile: "The other week I asked a man his name and he replied 'Brad', so I repeated it back to him, at which point he thought I said 'bread' and corrected me…we laughed at the confusion and being a sport I put 'bread' on his cup which made him laugh when he collected the drink.  He came in the following day to tell me that he had posted this on Facebook and gained 150 likes!"
Other false names people often give include 'Jeremy Kyle', 'Mickey Mouse' and at Christmas time they are inundated with 'Santa' and 'Rudolf' "It's all part of the fun" Phill confirms.
Behind the banter and people skills is a business that relies on the like-ability of their staff and this is intrinsically linked to the smooth running of the store if everything is planned and mapped out the till point and drinks preparation goes smoothly.  Kristina tells me she is a firm believer in motivating and inspiring her team.  She said: "You really need to care to get your team behind you.  When you really care everyone can see it and that helps to achieve our goals – making our Starbucks that '3rd place' for our customers."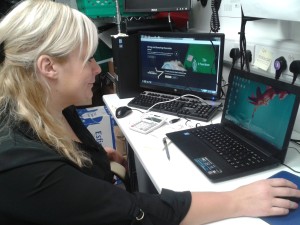 Creating a smooth running store relies on more than just motivation – efficient  stock ordering, time sheet management,  rota planning, sampling, fridge filling, cleaning, condiment top ups, toilet inspections, health & safety adherence, paperwork, stock counting, lunch break management and all the small yet vitally important things that need to happen for the business to operate are paramount to success.
And this is how all successful businesses run of course – the customer doesn't get to see the hard work!  It should seem effortless, but how do things change when they are under pressure from rude customers? Beckie's approach is simple: "Brush it off.  Don't react and, in fact, become even more cheerful and try to cheer them up!  Who know's what type of day they are having.  We don't often get rude customers so I always think there could be a reason why people are rude which is deeper than manners.  They may have bad news, bad health or simply just a bad day…"
And the can do attitude goes further than cheering guests up.  Phill was dealing with a customer who could not decide if she wanted a hot or cold drink so he suggested she have half a cup of cold latte and, separately, half a cup of hot latte "She left really happy!" Phill smiled.
Phill has worked at Starbucks for 9 years, but had a break of three years working elsewhere before he returned "…there are so many people who came back to Starbucks in their career or transfer to stay within the company – it's just a good place to work with good procedures in place." And this team seem to enjoy each other's company: "We get on really well, it's  happy place to be – we all go out together too." Beckie informs me.
This Starbucks is actually a franchise run by a Kent based firm, 'Cobra Coffee Ltd' and although the coffee and branding is global, this store is pretty unique.  Forging relationships with the community is important and they have supported Maidstone based charity 'Restoring Hands' since they opened and will soon be helping them put together Christmas parcels for local families and children in need.  The team volunteer to help and it is a big part of the coffee shops ethos as their mission statement is 'To inspire and nurture the human spirit – one person, one cup and one neighbourhood at a time.'
Their charity ethos ties in with Starbucks who are giving away a massive £150K to 200 UK based charities in their Christmas Cheer Campaign which is partnered with 'Neighbourly'.  The campaign is trending on Twitter as #redcupcheer and charities nominated stand to gain a donation of up to £1000.  Charities registered to take part by 15th November also enter into a competition to create the most social media shares with grants given to the winners.
My behind the scenes tour extended to the office and stock area, meeting rooms (which, astonishingly, are also free for local businesses to use!) and of course the two storey cafe itself, newly opened it has an air of optimism about it that is created when the public find somewhere new and exciting to frequent.  The cafe has it all – outside seating, cozy corners, large shared tables, comfy chairs and spacious design upstairs as well as ergonomically designed cube seating for the window seats – and not a poker face in sight.
How to make the perfect Gingerbread Latte…
Write the customers name on their cup
Prep the milk and steam for 2 or 3 seconds
Add 2 shots of espresso
Mix in one pump of syrup
Pour the milk in the cup leaving approx 6 millimeters of room at the top
Lavish gingerbread cream on top made in-house from fresh whipping cream
Add a generous amount of waffle sprinkles on top
Hand over to the customer with a smile, thanks and good wishes.
Video for a seasons favourite – honey and Almond Hot Chocolate…
Behind the Scenes 'top secret' info…
It takes 2 to 3 seconds of milk steaming to create the perfect latte.
It takes 6 seconds of milk frothing to create the perfect cappuccino.
The gap left at the top of a cup to allow cream to be added to the beverage is approximately 6 millimeters deep.
Everything is hand crafted so can be made to order.
Maidstone Starbucks views community interaction as vitally important which is why they have forged a relationship with local charity 'Restoring Hands' and the team volunteer to help them out in their free time.