Blog: IVF#2 Injections, Drugs and Hormones…
Following on from Jane's first blog see how her IVF journey progressed…
Read Jane's first IVF blog here.
After deciding IVF was for us, we then had a waiting game on our hands to have a menstrual cycle that would work with the clinic's availability.
Ironically I was put onto Norethisterone (a contraceptive pill) to control the timing of my cycle, starting the process of ensuring that my uterus lining could be monitored, controlled and manipulated into creating the perfect condition for an embryo to implant itself.
We soon learnt that timing is a crucial part of the IVF process, from my cycle through to the times I took my medication.
Once I had taken the drug for three weeks I was given a transvaginal scan to check the response of my uterus' lining.  All was as they would expect so my medication moved on.
Next I had to take the drugs Cyclogest, Suprecur and Menopur.  Cyclogest pessaries (twice per day) ensured my body had a high quantity of the hormone progesterone, which supports pregnancy in the early days,  Suprecur contains the base ingredient of Buserelin which stops the body releasing your eggs from your ovaries whilst Menopur helps by stimulating natural ovulation.
I accepted a delivery of drugs, to be stored in the fridge, along with a sharps box for needle disposal – and this brings me onto the glitch that exists in taking Suprecur and Menopur. They had to be injected every 24 hours at exactly the same time.
I had done this before in our first round of IVF and had managed well.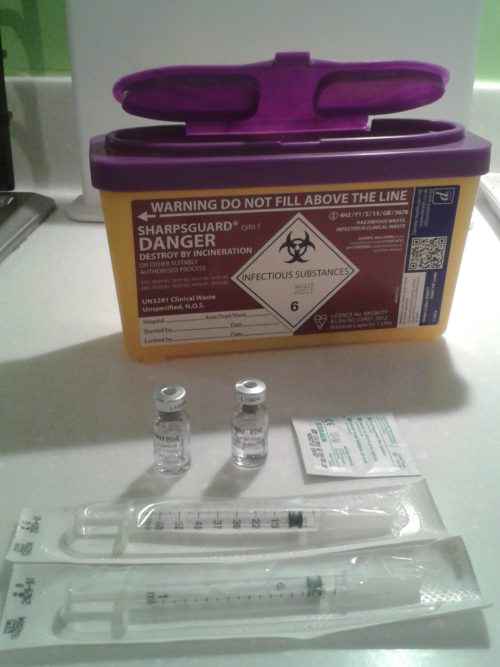 Many women may choose to delegate the administering of these injections to their partner, but I preferred to be in control (a fact I think my husband was thankful for!) but when it came to the reality I was actually worse this time round.
The injections were painless, (ok so the Menopur stung a little…), it was the psychological side to the situation that made the process difficult for me.
Once in a routine I simply didn't 'think' about it and just got on with it – after all what choice did I have?
The step by step guide the clinic gave me was invaluable and my husband mixed the drugs in the required amounts and checked the dosage beforehand as a second pair of eyes which I needed.
The area into which I decided to inject myself in was the navel – you can inject in the leg if you prefer. I sat down comfortably, gathered a little fat around the navel, squeezed it, injected at a 90 degree angle and pushed down the plunger. I then released the fat before taking out the needle. Done. All over in less than ten seconds.
I had chocolate and a cuppa at the ready for afterwards. Phew.
I was scanned weekly to see how my uterus lining was responding to the drugs and how many follicles had grown. It was fascinating to see them on the screen.
The scans are important to ensure the drugs are not causing hyper stimulation and although they increase the volume of follicles compared to a normal cycle (you do feel as if you are lugging around a sack of marbles in your uterus!) it should never be painful.
I had some ups and downs with my hormones (mainly tearful or snappy) so it was a delightful time for my husband but I felt that the uncertainty of success was the main cause for my emotional plunges – and there was no way of stopping that worry. It nags at you whilst you are awake and in your sleep.
Two weeks later, although still using Cyclogest, I had finally reached my last injection. The trigger injection. This injection was to ensure my body was ready for the egg collect.
The scans had shown eggs coming into maturity with a good number of follicles so it was time to medically stimulate the follicles into releasing their brood.
Three years before, during our previous cycle of IVF, the trigger injection had been pretty harsh – a larger needle which you had to 'click' into place once injected and keep in place for ten seconds after plunging. This time I am grateful to say science has moved on and it was really just another injection…
Exactly 36 hours later I would be in the clinic having my eggs collected by the specialists. The initial process was nearly over…
For more information on IVF success rates, fertility treatment options and detailed information see the NHS website