Books are my Bag! Little Mouse Books support this – will you?
By Helen Shewry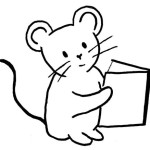 The Books Are My Bag campaign runs from Thursday 9th– Saturday 11th October 2014 to celebrate and support bookshops.  It is a collaboration between bookshops, publishers and authors and has been specifically organised to begin on 'Super Thursday, one of the busiest in the publishing calendar' www.booksaremy bag.com.   People can buy a collector's edition Books Are My Bag bag which has been designed this year by Brit artist Tracey Emin.  People will be 'expressing their support for their local stores' www.booksaremybag.com
Maidstone's independent bookshop, Little Mouse Books will be selling these bags.  Additionally, bookshop parties are being planned to include local authors and celebrities.  Little Mouse Books
will be hosting a launch for Books Are My Bag on 11th Oct during their usual opening hours and can now confirm at least two authors will be visiting the shop on the day, Lisa Cutts and Matthew Munson.  Manager, Philippa Hoad says they will be offering discounts and promotions as well as a prize draw during the three day celebration.
Continuing on the arts theme, and while you are browsing through books, you can take a look at comic book/pop art style prints by illustrator and graphic designer Dan Avenell which are currently being displayed in the shop.  For more information on his work visit www.danavenell.com
Little Mouse Books provide a wide selection of children's books and gifts as well as supplying a range for adults.  Students and teachers get a 15% discount and they offer the opportunity of a loyalty card as well as accepting and selling National Book Tokens.  For the little ones there is a colouring table provided.  For children under 5 free story time sessions are available from 10:30am – 1:30pm every Tuesday and Thursday.
If you are interested in purchasing the Books Are My Bag bag then pop down to Little Mouse Books Unit 11B, The Corn Exchange, Market Buildings, Maidstone, ME14 1HP