Boot Camp on our Doorstep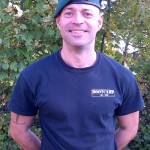 Matt Lyons is used to putting people through their paces. He runs Bootcamp.uk.com which meets in our area in Aylesford Village near the Community Hall on Thursdays at 7:30pm. I wrote a review, having sampled one of the boot camp sessions and found it an interesting concept.
Boot camp has a stereotype of being pressurised exercise with people yelling commands at you but that was not my experience. It is true that boot camp has a military feel to it but that is not surprising considering those who run boot camp are all ex-military.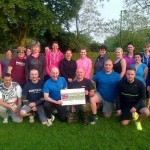 Matt Lyons was a Royal Marine but when he left the Marine Corps he turned his attention to fitness and started to train Marines instead: "I first started 'Core Boot Camp' in 2006 at Shorne Wood Country Park near Rochester where I trained Royal Marine Reserve recruits to get them fit enough to pass the Commando Course and thought it was an ideal way and terrain to train civilians – now Boot Campers – in a military manner, and Bootcamp.uk.com was born!" Matt explains.
It has been a successful transition from life in the military to life 'on the outside' but Matt seemed to have been planning Bootcamp.uk.com for a while: "I did a tour of Afghanistan in 2008-2009 and in my down time wrote ideas and a business plan about how I wanted to progress the boot camp when I got back. Location was key and through contacts I secured the Beaverwood Club in Chislehurst, now our HQ, with Aylesford following closely. I rebranded as 'Bootcamp.uk.com' with the view of selling 'franchises' within the UK and using the Union Flag as a major part of our image and a link to the forces."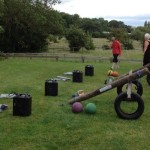 The business has taken off and Matt is a busy man! Bootcamp.uk.com has a good core following and it is not your fitness fanatics that the classes attract – people of all fitness levels attend and enjoy friendly banter along with boot camp exercises. This is a particular success for Matt as his aim wasn't to attract just those Die Hard fans of exercise but those who simply want to keep fit.
There has been a growing trend to 'get away from the gym' and Matt believes getting out of the gym can be a good thing: "My aim was to get people out of stuffy gyms to train outside with like-minded people. There has been numerous studies on the benefits of outdoor exercise that you just can't get in a gym and I wanted to create an environment where people talk, sweat, bleed, laugh and cry together… socialise basically!"
It is a hard workout but the social element comes across strongly as members are put through their paces in teams and encouraged to support each other. With this in mind Matt isn't a fan of people shutting themselves away in their own workout world: "No earphones! Even in gym classes no one talks to each other and for someone new to exercise it can be a daunting and lonely place which will equate to lack of motivation i.e. no results." Matt is passionate about helping people get the best out of exercise and the social element really helps.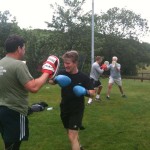 Psychologically teamwork must help people exercise and Matt stresses the importance of teamwork: "Our boot camps are run by ex-military instructors and we, more than most, understand the importance of teamwork. Whether people work as a team or a pair, it is part of the human psyche to always work harder for the man/woman beside you. You would rather let yourself down than the person beside you… that encourages your best effort, motivation of each other and competition even between teams!"
Matt has high standards and as such insists all the instructors meet those standards too: "We are a military boot camp so I insist on ex-military instructors with either a PTI qualification or at least REPs Level 3 Civilian Personal Trainers Course. They must have First Aid training and Public Liability Insurance but most importantly it is how they instruct, how they conduct themselves… Can they control a group of 20 people with different levels of fitness, injuries, personalities and give an effective class? We are not like other boot camps out there… We don't go inside when it rains, we don't exercise to music, we train you in a functional manner… We are not another indoor fitness class that's decided to go outside and jump on the popularity of the boot camp bandwagon!"
Bootcamp.uk.com is definitely the 'real thing', there is no shying away from the exercise here and you will get a lot out of the exercise class including camaraderie. It is a pretty cool way to exercise and it is in fashion: "People are aware of boot camps as a new way to train, the media and "celebrities" attending have helped push us into the spotlight and I can't see it slowing down just yet! We get results… It's a social, fun way to train; people are talking and referring friends and family. We are running boot camp days where guys are burning 6,000 calories. We are running 'Adventure Race' training days for popular events like 'Tough Mudder' to get our boot-campers used to climbing cargo nets etc." Variety is important in this exercise class.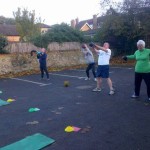 Matt doesn't mince his words and is direct in telling me what he thinks and that is refreshing. The instructors want to get results and are motivated by success so they try to do as many different forms of exercise as possible: "We take our boot-campers on mountain trips – Snowdon and the Three Peaks this year – gyms don't facilitate that. With the growing problem of obesity and all the associated illnesses, I have completed a GP Referral course so that I can run a "beginners boot camp". I have written a boot camp workout eBook so that guys can train in their own time either as an addition or if they can't make it to boot camp. Future looks good!"
Matt is evidently taking this seriously and seems to have the energy of ten men so for those of us that don't have availability for boot camp Matt gave me some top tips:
1. 20-30 mins at high intensity is of more benefit than 50-60 mins on a cross trainer/treadmill
2. Keep the workouts different every time.  Try not to focus on one body part at a time unless of course you are bodybuilding!
3. Eat 'clean' as much as possible, no processed foods.  Eat fresh foods with as much colour as possible.
4. Eat less carbs, especially after 18.00, and more protein.
5. Drink at least 2 litres of water a day and get plenty of sleep.
6. Listen to your body. If you need to rest, if you've lost your "mojo" take a break!
7. Technique is important as it will lessen the risk of potential for injury.
8. Don't spend hours doing cardio exercise… Boring and over time you will just burn muscle and lose motivation.
9. Don't focus on isolation exercises like bicep curls instead of compound exercises like the classic squat.
10. Make sure you train the body how it's supposed to be trained! For example, focusing on chest and shoulder presses, (like most gents do) will not help me in later life to get up from my chair like a squat will! Also make sure you rest!
Life must be different for Matt having come out of the Marines but he doesn't seem to think there is much difference: "I still put my 'greens' and boots in the morning and run around the woods in all weathers and climb mountains for a living! The big difference is whereas I was training potential Royal Marine Reserve recruits, I now train civilians from all walks of society – and I'm not getting shot at or watching where I put my feet."
Matt is motivated by the people around him and says his highlights come from those he trains: "Seeing the progression in people's level of fitness, the weight loss and I think more importantly the sense of achievement people see in themselves…Making people comfortable with being out of their comfort zones. It's great to see the guys enjoying themselves, new people actually having fun doing exercise and for me to be a part of the process. I have great job satisfaction and love what I do."
For me that was the biggest difference in taking part in boot camp, I could see that the motivation behind the boot camp wasn't the same as fitness classes at the gym.  It was more personal, focused and fun! Matt really wants to push you to achieve.
For more information go to www.bootcamp.uk.com. or e-mail: info@bootcamp.uk.com
Tel: 0800 910 1234
Facebook: Bootcamp Matt Lyons
Twitter: @uk.bootcamp
Also check out Matt's eBooks at www.bootneckbootcamp.com e-mail info@bootneckbootcamp.com