Who can Resist a Gingerbread Christmas?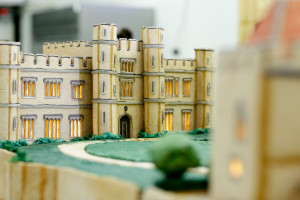 By Liz White.
Christmas is more than just a religious holiday or retailers dream marketing opportunity, it is about enjoying a fantastic experience with your family and friends.  Every visitor attraction is trying to offer their customers something unique and every year I know Leeds Castle tries to go above and beyond expectations for their visitors, so I wanted to see what makes Leeds Castle's Christmas so special.
Last year they planned 'The Twelve Days of Christmas' and this year they are gearing up to launch 'The Gingerbread Christmas at Leeds Castle' so I decided to go behind the scenes and find out about the work the goes into creating a magical Christmas for their guests.  I was in for quite a treat.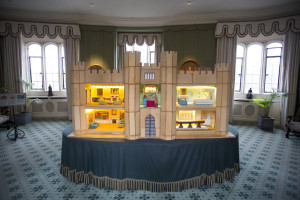 As I entered the Seminar Room in Leeds Castle my senses came alive with the smell of Christmas as the subtle, warm
scent of gingerbread enticed me further into the room.  In front of me was one of the most impressive confectionery creations I have ever seen – a huge dolls house model of Leeds Castle made entirely from gingerbread and icing – a simply amazing, artistic design.
'The Gingerbread Christmas' will be a huge attraction for Leeds Castle and every year they seem to do things bigger and better.  As you enter the Castle you are greeted by a gingerbread nativity and this year every room has a Christmas tree and every Christmas tree is decorated with gingerbread baubles created specifically to reflect the room they are in.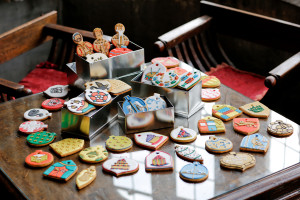 Gingerbread book baubles decorate the library's tree, the Leeds Castle black swan logo adorns gingerbread baubles on the vast Christmas tree in the main stairway – topped with a spectacular floristry crown – and edible treat gingerbread baubles hang on the Christmas tree in the Dining Room.
The gingerbread theme is not confined to the castle, in the new exhibition space there is a scale model of the entire Castle made from gingerbread which is so staggeringly accurate you will be amazed that it is possible.
The Castle's shops are festooned with gingerbread men and the creativity doesn't stop there, the Castle shop has a centre piece of a beautiful peacock bursting out of a pie in a nod to Royal culinary flair in years gone by – it reminds me of the book 'Cooking for King's' and of course the gingerbread theme would not be complete without gingerbread Henry VIII's for sale!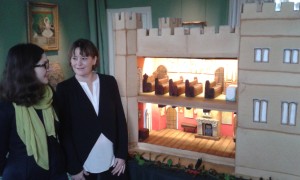 All the gingerbread creations have been made by a company called 'Biscuiteers' who have taken three months to complete this intricate and large scale project.  I met the Founder and MD of Biscuiteers, Harriet Hastings, as she saw the gingerbread Leeds Castle Dolls House fully constructed in Leeds Castle's Seminar Room for the first time.  She looked overjoyed with their creation and said: "I think it is the best thing we have ever done!"
"We are an online gifting business making collections of biscuits but we do a lot of bespoke work which extends to installations such as this." Harriet told me as she checked over the intricate detail of the gingerbread Leeds Castle Dolls House.
It has taken over 3 months to make all the gingerbread decorations, 500 man hours and every biscuiteer who worked on the designs comes from an artistic background.  The build was so intricate the decorators found themselves creating new techniques to accurately depict the different textures and designs of Leeds Castle's décor, working from detailed photographs taken at Leeds Castle to create the nine rooms that the doll's house depicts.
"The starting point was architectural" Harriet explained.  One of her team is a trained architect which is needed in a build of this magnitude; the last thing they want is for their beautiful work to collapse. Each room is depicted in minute detail.  From copying the design of a Royal bedspread through to the tapestries hanging on the walls, all are replicas of the originals in the rooms of Leeds Castle.
All this creativity and flair is amazing and who doesn't associate gingerbread with Christmas? The idea is fun and engaging and it is to the castle's credit that they create such imaginative themes every year.  This year the spark of inspiration for the gingerbread theme came from Curator Tori Reeve.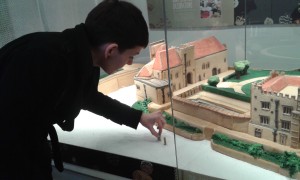 Tori was busy installing the castle model in the exhibition space when I caught up with her and with two days to go until Leeds Castles gingerbread Christmas opens for the public, the project is going well.
"This year we have taken things to a whole new level.  The craftsmanship is amazing" Tori enthused as she positioned a gingerbread character in place.  When I asked about the inspiration behind the idea Tori was modest: "Gingerbread is Christmassy, fun and family friendly.  It started with the idea of creating something inspirational around confectionery and so I e-mailed Biscuiteers and put together a Christmas brief based on the idea of a dolls house [loosely inspired by the famous Queen Mary's dolls house]."
The results are triumphant and the scale model used a 19th century map of the castle to base the gingerbread buildings on "It's very accurate and to scale" Tori adds.
Decorating the whole castle, exhibition space and providing products for the shops has been a huge undertaking and the scale of the project is summed up by the amount of gingerbread needed to decorate one tree alone "I think we ordered between 350-400 gingerbread decorations just to decorate the tree in the main stairway of the castle" Tori confirmed.
Seeing the elements of Leeds Castle's gingerbread Christmas coming together was a real treat – even if I had to resist eating my way through the castle!  The gingerbread man designed especially for Leeds Castle is a character seen throughout the castle grounds and the Christmas magic continues with the Christmas Market – running from 6th to 23rd December.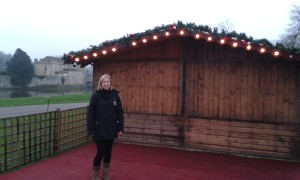 This year the market is bigger than last year with free entry to Leeds Castle ticket holders.  Here you will find over 40 chalet style market stalls decorated with Christmas lights.  The market is also home to Santa's grotto and two very special guests – real reindeers who are looked after by Leeds Castle's Wildlife Team who work closely with Ashford Reindeer Centre to ensure they are well cared for.
Santa's grotto promises to be spellbinding.  I had a look around with Event Manager Alysha Sargent who has been tasked with creating the market this year. "We are on track" Alysha says without a hint of panic in her voice "…we have about 20 to 30 people working on setting this up from grounds men, gardeners and maintenance through to the events team and day visitor staff."
Alysha explained the plans surrounding the smooth running of the grotto and the fun they had planned for the little ones when they visit: "The children and their parents come on a journey through the grotto with their own elf guiding them.  Just before they see Santa they come to the 'Penguin Shy' decorated as a winter scene where the children throw snowballs.  They then go through to meet Santa" Alysha explained.
They are expecting over 2000 children to visit Santa this year and over 49,000 visitors to the Christmas Market.  "Time slots to see Santa sold out within three days of going on sale this year" Alysha tells me.
The market is a large undertaking and this year they have a Ferris wheel and fairground rides as well as a bandstand where live music will be played at intervals throughout the day. It has taken a while to construct as every market stall is made from flat pack.
"The first flat pack pallets arrived at 5am on 10th November – the morning after the fireworks event finished" Alysha told me.  The Leeds Castle team has been building the market ever since.  "We don't use external companies everything is built, designed and managed by the team here at Leeds Castle" Alysha confirmed. "From creating the application forms for stall holders through to erecting the chalets – we do it all!"
The process takes a long time and Christmas at Leeds Castle starts in early summer: "When people submit their applications to be stall holders we never simply say yes, we need to ensure quality control so we ask for a list of products they are selling with photos of everything in advance.  Once we are happy with the products the stall holders are only allowed to sell the products that were on the submitted list."
Alysha tells me the stall holders are a mixture of local traders and those from further afield.  They ensure there are never more than three stall holders selling one type of goods and every 6 days up to 15 stall holders may change to ensure variety.  As well as gift stalls there will also be food stalls at the market selling hog roast, sausages, crapes and hot chocolate but the traditional Christmas food is left to the Leeds Castle restaurant who are laying on a Christmas menu.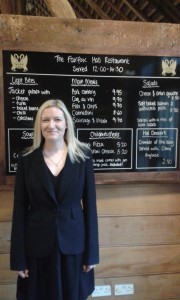 Elaine Jackson is the Catering General Manager at Leeds Castle.  Along with her team of up to 120 staff (including 35 fixed contract and 14 chefs!) she delivers the food for Leeds Castle's restaurants, cafes and functions.  It is a busy job and I spoke to Elaine at the Fairfax Restaurant 5 weeks into her new role: "Just after I started it was half term and it gave me a good idea of how we handle the busy times of year – it's all hands on deck.  I was serving ice creams for two hours, two days in a row because I ensure I pitch in where ever I am needed"
Christmas will be one of the busiest times of year for Leeds Castle hospitality and in preparation Elaine sat down with her Executive Head Chef to agree the Christmas menu.  "We will be having a set menu with Winter Pimms on arrival for £24.95 including classic roast turkey but also alternatives such as wild mushroom and goats cheese" Elaine confirmed and the desserts will be the traditional Christmas pudding, fruit crumble or a dark chocolate dessert.  Hearty food which doesn't sound like it will disappoint.
Leeds Castle are also ready to embrace the new regulations concerning information about food allergens that needs to be available and on display for all customers from 13th December.  "We are building up a menu portfolio for customers with all the information to hand and our customers can always access the chef to talk about and special requirements as well."
Leeds Castle do use some local suppliers for their produce and some organic food too – which is highlighted in the menu and Elaine pointed out they use local Kent supplier 'Solley's Ice Cream' who are going to be twinning ice cream and hot chocolate for a winter alternative at the Christmas Market.
I was surprised to see that the menu did not include gingerbread, however, the restaurant is making gingerbread men for children to decorate at their 'gingerbread craft station' which will be set up in the Fairfax Restaurant from 19th – 23rd December.  "The chefs have already stared to make gingerbread! We think we will have to make about 1000 ginger bread men in all!" Elaine smiles at the thought.
Its gingerbread all round at Leeds Castle and from the hard work I have witnessed it promises to be the biggest and best Christmas celebration for their visitors yet. As Tori Reeve said; "We are always trying to reinvent the visitor experience."  And a wonderful experience is what Christmas is all about.
Images courtesy of Leeds Castle.