Celebrity Opening with Biggins at the Cobtree Manor Park Cafe!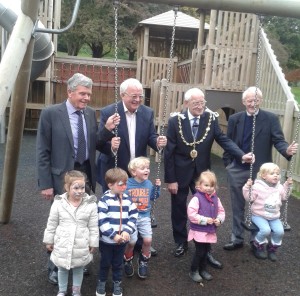 On Monday actor and presenter Christopher Biggins swapped treading the boards and television cameras to visit Maidstone and open the new cafe at Cobtree Manor Park.
Known for his theatre and television acting roles, as well as his warm personality and fun disposition, Christopher Biggins is one of the nation's best loved characters.  Having found fame through programmes such as 'Porridge' and 'I, Claudius' Biggins has also reached out to new generations of fans through his children's television career (Rentaghost, On Safari) and lately has embraced reality television having taken part in 'I'm A Celebrity…Get Me Out Of Here' and stayed a household name through programmes such as 'Celebrity Masterchef'.
On Monday along with Maidstone Mayor, Councillor Daniel Moriarty, Biggins opened the new cafe at Cobtree Manor Park and posed for photos with some of the local children – even riding on the swings himself with a tot in his arms.
The new cafe opening a has coincided with the new parking fees that have been introduced by the council (£1.50 per car) and both have caused some controversy in the media but when I spoke to Roger Hext, Chairman of the Cobtree Charity Trust, he put the parking fee into perspective, "If you think a car can stay here for £1.50 from 7am to 9pm it is a very minimal charge and all the receipts from the car park goes back into the park – it's not going into the council coffers but to the upkeep of the park."
Roger also outlined what the celebrity cafe opening meant to the Trust: "It's a very proud and special moment because it's the culmination of a number of years work to get to where we have today.  The development of the park has been our biggest aim, certainly since I've been at the Trust and the fruition has come today which is a wonderful feeling."
The atmosphere at Cobtree Manor Park was positive and upbeat and it was clear the event had been a success and a milestone for Maidstone.  The Maidstone Mayor said: "It means a great deal [to Maidstone]. I have watched the cafe from construction on-wards and to have someone like Christopher Biggins come down to open it is an honour and a privilege.  To be in his presence has been extraordinary.  I have enjoyed the day immensely and the food is excellent!  In the summer holidays the park was swarming with people and that's what we want – to help children play and be active!"