Chegworth Valley – A local box scheme with a difference.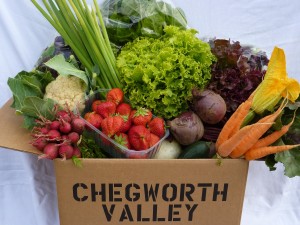 Chegworth Valley is an organic farm situated just outside Harrietsham, near Maidstone.  The farm is family owned & run having been established by the Deme family in 1983.  Initially apple & pear orchards were planted with the main supply being to supermarkets, though today the farm has expanded to cover nearly 100 acres with a mix of apples & pears, soft fruits, vegetables and salads which are delivered daily to independent farm shops, delis & restaurants as well as to households across Kent and London.
The farm also produces an award-winning range of apple juices and blended fruit juices all of which are made using fruit grown on the farm as well as being pressed and bottled on site.  This includes classic juices such as Cox & Bramley apple juice as well as more unusual blends including apple & rhubarb, apple & elderflower and apple & beetroot.  A selection of 5 juices are also produced organically and are certified by the Soil Association.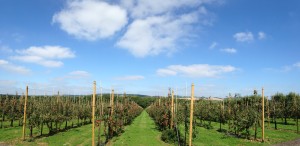 Most recently the farm has introduced home delivery of all of their seasonal produce including a box scheme covering Kent & London.  There is the option to choose a vegetable, fruit or salad box with contents that change each week, or to make up your own box with contents of your choice.  This also includes the farm's juices, jams and chutneys from the Chegworth Kitchen and a wide selection of whole foods.
Chegworth Valley's home delivery differs to many of the schemes available as there are no set ordering or delivery days – just place your order by 2.30pm and delivery is the next working day.  With the majority of the produce being grown on the farm this also means that everything is picked to order in the afternoon and delivered the following morning meaning produce is as fresh as possible having travelled 'food metres' rather than 'food miles'!
For more information or to place an order, please visit www.chegworthvalley.com or call the farm direct on 01622 859272.
Chegworth Valley, Water Lane Farm, Chegworth, Harrietsham, Kent ME17 1DE
'For 10% discount online use code 'MAIDSTONE10'. Valid until 1st August 2014.'