Creativity on the Streets of Maidstone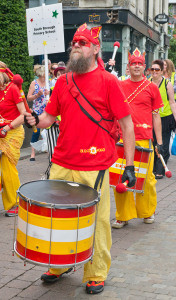 Maidstone Arts Festival once again enlivens the streets of Maidstone.  This summer, delivered by the Maidstone Town Team, there will be an array of events from Saturday 26th June and every Saturday until July 11th.  Jubilee Square will be hosting live entertainment from 1 – 4pm.  Each week will present a different theme to be interpreted.
The Arts Festival provides a platform to showcase the local talent.  Visitors can experience live music, street and theatre performances, visual art and much more.  Making Art Work, a collaborative community of artistic people, will be displaying and performing art pieces.  Younger participants include 'Theatretrain', a local, part time and weekend stage school, who will be showcasing their performing art skills.  Also, experience moves from the USA street dance group, 'You Already Know'.
The ever growing Maidstone Art's Parade will be unleashed on Saturday 4th July and will dance and sing its way through the town centre.  Schools, charities, community and voluntary groups have responded to this year's parade theme of 'Around the World'.  This inclusive theme allows for a wealth of imaginative ideas so be prepared for colour, creativity and wild costumes.
Cool hits the town on 11th July with the funky jazz group, 'The Fabulous Red Diesel'.  If that's still not enough then be prepared to experience live street art, displaying artistic talent in another form.  The artist will be working on a large canvas in Jubilee Square, but with legal walls becoming an ever-present part of the UK maybe Maidstone can assist current and future street artists with their career by providing some dedicated spaces?
With support from Maidstone Borough Council, Maidstone Town Centre Management and the Maidstone Area Arts Partnership you can experience all of the events for free.
By Helen Shewry
About the Author:
Helen Shewry is a writer and a childcare professional.  She writes articles on the arts, novels, short stories, flash fiction, and has a love of scripts and children's fiction. 
With an art history and literature degree tucked firmly her belt she undertook a creative writing course and regularly participates in writing workshops.  Not just a writer, Helen loves to travel and wandered solo through Central and South America in 2011/12 where she found another passion: photography.  On her return to the UK Helen was offered a photographic exhibition in London. 
For a light-hearted read take a look at her Diary of a Coffee Girl blog on (no surprises) coffee, cake, art and regular book reviews.www.artycappuccino.wordpress.com and follow her on twitter @Artycappuccino