Augmented Reality Artist David Williamson
For an artist that is making ground breaking art and leading the way in the market place David Williamson is a very down to earth guy.  David is making waves and needs to be given the attention he deserves – he is an artist to remember and invest in because he is one of the first to create A.R.A (augmented reality art).
Augmented reality started out as a marketing concept and most people will know A.R to be heavily associated with the retail and advertising industries.  David has flipped this idea on it's head and after seeing the way in which the world is heading (augmented reality on a very large scale) David wanted to inject some art into this very commercially driven concept.
"Once I saw the world was going to be turned into a large advertising playground, I thought it would be great if there was some artistic content to all that" David explained.  Pop Art has already been reborn through advertising and marketing technology so why stop there?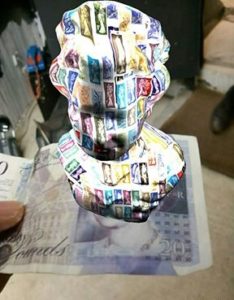 What David has achieved amazes people, "People usually say 'Wow' or 'How?" David tells me as he lifts up his smart phone and waves it in front of his latest art piece,  a 3D homage to Queen Elizabeth II. As I watch the screen, his artwork comes to life.
A 3D bust of the Queen jumps from the screen, an amazing effect that works on many levels, even being transferable to other images of the Queen – a £20 note for example springs to life when the smart phone is in front of it. Take the smart phone away and the piece becomes flat artwork again to be appreciated for the artistic talent David has rather than the technology that brings it to life.
David's artwork is unique and you won't find anyone else producing art to the same standard.  He is ahead of the trend but the pack will be close on his heals as A.R.A is the next big thing.
It is not without controversy.  Some art puritans would have us believe that 'art' is not 'art' unless it is completed by hand in oils but there is no debating whether or not David is an artist.  Highly skilled, David knew he would grow up to be an artist from the age of 4.  He couldn't stop drawing and his talent was clear from a young age.  David remembers: "Suddenly I didn't want to be a fireman anymore.  I liked drawing and went through stages of trying pop art, abstract art and print making.  Is there any artists that is more supported than a 4 year old that is being cheered and has their artwork put on the fridge?"
He followed a traditional art education and focused on print making at K.I.A.D but David was always questioning the methods within art.  He was so inquisitive his tutors limited him to three questions per class.
It is this thirst for knowledge and eye for detail that has ensured David saw and took the opportunity to create a niche – augmented reality art.  After finishing his printmaking course David worked with Metaio in Munich – pioneers in augmented reality and computer vision – he saw the potential of bringing art to life.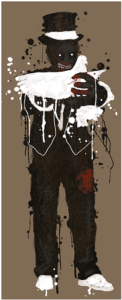 His first A.R.A piece was entitled 'The Magician'.  A black, white and red picture of a  magician holding a dove.  Add smart phone technology and the magician releases the dove to fly straight towards you.  The piece captivates it's audience and the art world started to take notice of David's style.
I spoke to David along with his agent, Alex Mullins, at the Art Lounge Cafe, Maidstone, over a hot chocolate.  This is where he first launched his art.  David is dedicated and he estimates each piece takes approximately 1 month to compete although some vary wildly.
Since 'The Magician' David has completed 12 pieces in his collection, which he has entitled F.A.D – reflecting his tongue in cheek humour.
The process of creating augmented reality includes several different steps.  His first process is inspiration – deciding what to create, what will work as a stand alone piece of artwork as well as a piece of augmented reality art.  David is mindful that those buying his work will hang it on their walls and appreciate it for the aesthetics of the piece not just for the added element of A.R. That is one of the reasons why having a successful and good foundation as an artist has been imperative to David's success.
Although the A.R element is absolutely transfixing, David's work is successful as stand alone pieces of art.
Those who push to know all the ins and outs of David's art creation process are simply told "it's magic" and from looking at his artwork, I would believe him.
To contact David and view his artwork go to www.cloud8.com Facebook: @cloud8 Instagra:m hisdarkhumour or e-mail info@cloud8.com
Download the free Aurasma App on your mobile to view David's work as Augmented Reality.