Fencing for England – A Local Company with National Appeal
There is rarely a sport that encompasses so many disciplines in such a short burst of time as Fencing and I am reliably informed that most points in sabre fencing are scored within ten seconds.  As I limber up for 'the fight of my life' I realise I am facing an experienced fencer, under 17 years of age, who has the agility of a cat and the skill of a ninja.  My hopes are dashed but I am still willing to put myself up as bate.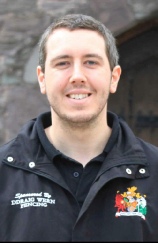 Fencing was never a sport I came across at school and it did have a highbrow and thus restricted stereotype but those days are gone, with many schools now offering an inlet into the sport of fencing and more and more youngsters finding out that the sport can boost their confidence, fitness and social skills.  I met Meg and Phil Shepherd-Foster who run 'Elite Sabre Coaching Limited', based in Maidstone, to talk about their sport, their company and to have a mini fencing lesson!
I caught up with them at the MX Fencing Club at Malling School where Phil coaches a team of under 17's along with fellow coach Chris Schofield.  It is an exciting time for the team as two members qualified to compete in the European Championships, held in Israel at the end of February. Phil puts this into perspective "there are only four people in the country who get to go and we had ranking number 1 and 2 to compete in the under 17's." He seems proud and rightly so because Phil, Chris and Meg give up their time for free to coach and teach the team. They do it simply because they love to nurture talent.
The next big challenge for the team is in April with the World Championships in Plovdiv, Bulgaria – the competition of all competitions. Again they have members that have qualified above anyone else in the country and they hope for medals.
With such passionate coaches the team seem to flourish and Phil has lived and breathed fencing for a long time "I've been fencing since I was 11. I competed in the Commonwealth championship in 2010, retired as an athlete then took up coaching.  British Fencing sent me to Hungary to learn from Laszlo Szepsi (Hungarian Fencing Master) and I spent five weeks with him gaining my level 4 coaching – equivalent to Clive Woodward in Rugby!  Since 2010 we have had G.B squad members in the under 17's club."
Phil is BFA and BAF qualified in addition to holding an FIE diploma as 'Maitre de Sabre' and a previous Welsh Senior Sabre Champion, National Academy Coach and qualified teacher. Pretty impressive! Chris also has a glittering C.V as an Ex G.B fencer, Ex South East and Surrey Champion, BFA qualified and has been Head Coach of 'fighting Fit' and represented GB.
I asked Phil the secret to success "The secret is putting in the hours. A lot of coaches believe in talent and I don't think that exists – I think its hours. If you put in the hours you will get there.  I'm looking for commitment rather than talent – a work ethic is more important.  Of course people can come here and just have fun it's not all about competitions!"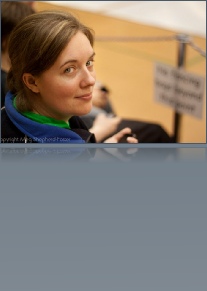 When a new youngster joins, Phil tells me there are several stages they go through to learn the sport; "It varies from person to person but the first thing to learn is footwork – moving up and down the piste (this is the term for the playing area). Getting their stance strong enough for side on positioning, we do this using foam sabres just to get movement and distance right. Metal sabres are not introduced until children are about 8 or 9 years old [the youngest student age is 6].  Then we move onto tactics and how to use everything to win and lastly we coach about the psychology of competing and then escalate everything.  It's like anything; you learn the base level and then scaffold the learning"
There are some key skills which come in handy for fencing.  A tactical, smart mind is a bonus (that's me out then!) and basic fitness and agility is important as the sport is anaerobic.
Although I am here at the under 17's fencing is not just a sport for the young, Meg points out "A lot of people take it upwhen they are mature" and Phil qualifies this by adding "My mum is a two times commonwealth over 60's champion!" So I don't feel quite so bad as I await my fate.  There are several different age ranges that Phil coaches.  On Thursday's he coaches ages six to thirteen, on Wednesday's from age 13 up and on Thursdays from age 18 up.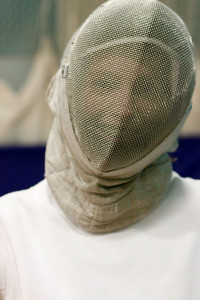 My mini lesson gets started and Chris put me through my paces showing me the moves I need to remember to score points and the way to control my body so I don't look quite so much like a crab lost at sea.  There is a lot to take in.
"At first we just get people to move correctly – otherwise they can damage their knees" Chris assures me and shows me the 'En garde' opening stance. Moving sideways feels wrong but Chris shows me how to shift my weight to ensure I remain light on my feet and ready to advance or move away from my opponent and last of all he shows me the all-important lunge technique which is the key to scoring points.  Anything above the waist is a target using the side of the sabre blade.
Moving whist in the fencing kit also takes a little getting used to.  When I pulled on my fencing mask I felt like I had morphed into a cross between Darth Vader and a beekeeper but the lines of the wire mesh do fade as your eyes get used to focusing through it. Over the top of my jeans and jumper (not the best of outfits to choose) I am wearing a chest protector, plastron (jacket) which loops around the leg too, glove and the fencing mask. I am then handed a sabre.
My introduction is over and now battle commences.   In the films the movements flow like silk shot from a starter pistol, in reality I move like an uncoordinated giraffe as I am encouraged to 'attack'.  The team are supportive and it is exhilarating.
The speed and momentum of the sport is has huge appeal and 16 year old Laura Gladdish, who is one of the competitors for the World Championships agrees: "I just like the speed and aggression mostly!" she says sweetly, "I think you need determination, the ability to think on the spot to fence" To get herself ready to compete Laura has her own good luck routine: "For good luck I get into the zone by listening to music – usually 'The Monster' by Rihanna and Eminem"
Laura started fencing at an after school club and is looking forward to competing in the world Championships: "It's going to be exciting and fun. Hopefully I will be in the last 16 which would get me a lot of points!" Laura is passionate about the sport having been fencing for 8 years already, "I've been fencing half my life!" Laura is keen to encourage others: "if you like a sport which includes speed and psychological side to it then you should go for it!"
Meg and Phil started their own fencing company in Wales in 2007 as a partnership but in 2011 they moved to Maidstone and set up their own Limited company 'Elite Sabre Fencing Limited' and Meg is the Company Secretary and Company Director as well as a qualified coach.  Having fenced since she was six years old Meg is a flexible athlete being competent in foil, épée and sabre fencing "I spent 10 years fencing with the foil, then 10 years with épée – then I met and married Phil who has always done Sabre fencing so I changed"
Their business is run from home and like all small businesses it has its highs and lows "…the main challenge was ensuring we charge what we are worth.  You have to compete against some coaches that coach for free and we have to ensure people know what we can offer." As very experienced coaches with GB success they have a lot to offer and have won awards.  They won a community award from Carmarthen Radio (Radio Sir Gar) for 'Local ssporting Hero – contribution to sport' when they were based in Wales, won the Dragons Sport Award for Business and were recently awarded the bronze award for 'Services to Fencing' from England Fencing (the government body for the sport) which is quite an accolade.
Moving to the South East provided the company with more opportunities.  In Wales their rural setting held them back but in Kent they took over an already established circuit as well as taking over the running of the MX Fencing Club, Malling, of which Meg is the Chairman, bringing their ethos of 'train hard, win easy' to the team. "We wanted it to be like a family" Meg enthuses, "We made an effort to ensure that everyone worked together and upped their training – now the girls [who take part in the championships] train 4 or 5 times a week"
"We work with local Maidstone schools and run lunch or after school clubs.  There is a British Schools Team Championship coming up at Medway Park, Gillingham, which we want to take part in so we can offer our students progression and there is the annual 'Sainsburys School Games' sporting competition too."
They are currently launching a new programme to support the elite athletes more giving them extra support and discounts.  The company's record is pretty impressive with GB athletes in their team since 2010 and with Phil and Meg as captains for Senior and Cadet Winton for the South East Region the South East has been undefeated for 3 years. The MX Fencers won every category they entered at the British Youth Championship Qualifiers in February and every MX fencer that entered also qualified.
As well as coaching and running the Malling Club they also do a lot of voluntary work "We are on the South East Committee affiliated to England Fencing and I spend a lot of time at meetings for county sport.  We wear a lot of different business hats and the volunteer work is something I'm particularly passionate about as I grew up in the South East and feel I am giving something back to the community" Meg is clearly happy to be living back in the south.
The team work hard to keep the business running and create success and encourage new people to come along to be coached.  Meg tells me an average days sees Phil and Chris coaching full time with travel on top of their day. There are usually lunchtime, afternoon and evening sessions and on an extreme day Phil has a 7am session and works through until 11.30pm.  On a quiet day there are just two sessions but they quite often have to work weekends too.
Meg sees the bright side of working so hard: "The benefit is that we get time off in the school holidays – although to succeed we do run extra sessions sometimes too!"  Time off is precious to spend time with their 11 month old son and enjoy family life in Maidstone: "I love Maidstone" Meg assures me, "…it's quite cosmopolitan and it reminds me of where I grew up in Guildford which is also a market town based on the river.   My favourite place in Maidstone is Mote Park."
This family run business is run with passion and their positive approach must rub off on the students. It is clear this Maidstone based company are heading to the top and taking a lot of our local students with them.
To contact Elite Sabre Coaching Limited e-mail Meg at elitesabrecoaching@gmail.com or visit their website at www.elitesabrecoaching.co.uk to find out more about fencing or the MX Fencing Club see www.southeastfencinghub.co.uk or www.mxfencing.org.uk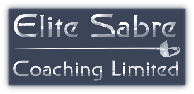 All Photographs credit to Meg- Shepherd-Foster.