FORE! WOMEN – Passion runs deep in the World of Sport.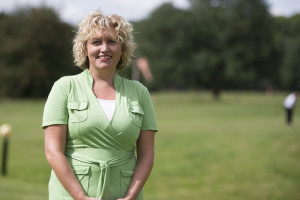 Any entrepreneur will tell you that you have to be passionate about your business to make it work. Felicity Dunderdale, founder of FORE! WOMEN is no exception.  Combining her love of golf and skill for business, Felicity has created FORE! WOMEN filling a niche in the golfing market – making women's golf more accessible for women and more popular which benefits the golf clubs.
Felicity and I met at the Tudor Park Hotel, one of Maidstone's top Golf Clubs and walked around the manicured grounds with the golfing green laid out before us, still lush despite a good summer.  Felicity posed for photos to go with the interview and we had a quick camera shot or two before two gentlemen ambled across to the first hole to start their round of golf.
Young, bubbly and wearing a smart green dress, Felicity doesn't look like your average golfer but then that is exactly the problem with today's golf – people perceive golfers to look a certain way and it is simply an outdated stereotype in need of a shake-up.  Felicity tells me: "Golf is suffering from a negative perception and the number of people playing golf is decreasing –why? – because it's historical and the tradition can get in the way.  People think golf is inaccessible, male dominated and women don't feel they have the ability to play any sport.  Hopefully that will change"
Felicity is passionate about golf having played for 14 years. When thinking of a business start- up, Felicity decided to focus on her interest in golf: "I'm really passionate about golf and I want to add value to it" Felicity says with fire in her belly.  There is a spark about Felicity when she talks about FORE! WOMEN that tells me she means business.
FORE! WOMEN was launched in 2012 with the aim to help golf clubs engage with potential women golfers and to help women build their confidence to play golf.
Since then, Felicity has signed up 16 golf clubs, holds weekly golf coaching events in Sittingbourne and has started a free to join online community through the FORE! WOMEN website www.forewomen.co.uk  The community is at the heart of the FORE! WOMEN ethos – bringing like-minded women together to play golf and build their confidence in an environment away from stereotype. It is free to join and the website provides women with all the information they need to start playing golf.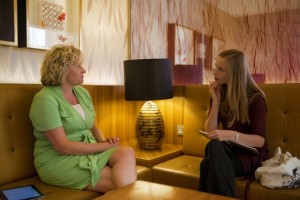 Golf Clubs do actively encourage women to play golf, but there are reasons why women's golf is not more popular.
Felicity told me data from a PGA Coaching Conference 2014 given by Cathy Harbin, Vice President Golf Revenue, ClubCorp said that 50% of women don't feel comfortable at a golf club, add to this the fact that golf has always been a male dominated game and the fact that golf is not taught in the curriculum and you have a portfolio of negative vibes associated with the connection between women and golf before anyone has even picked up a golf club!
This is where FORE! WOMEN comes in, bridging the gap between golf clubs and their potential women golfers.  Like setting up any new business, setting up FORE! WOMEN has been hard work and a process which has had to build slowly to ensure solid foundations.  Felicity had to knock on a few doors before she found the people who could help her  "I mainly talk to the golf pro's at the golf clubs and the county representative for Kent Golf Partnership Trust has introduced me to a few people."
Interest in FORE! WOMEN is growing as Felicity successfully attracts women into the world of golf through her friendly and approachable golfing events and online community. The fact that most women who facilitate FORE! WOMEN have never played golf before is not a surprise.  FORE! WOMEN is giving them a 'safe' platform to learn from.
One woman who has thrown her hat in the ring to learn to play golf through FORE! WOMEN is television and radio presenter Kaddy Lee-Preston.  On 17th September, Kaddy is teaming up with FORE! WOMEN to organise a golfing morning for women at Weald of Kent Golf Club, Headcorn.  The event is called 'Kaddy's Fun Packed way to discover your Inner Golf' and it is for any women to attend and try out their hand at golf.
It is fantastic to have celebrity backing in business and Kaddy's collaboration with FORE! WOMEN came about through sheer chance: "Kaddy didn't play golf…" Felicity tells me "…but through networking I met a friend of Kaddy's in PR and at the time Kaddy was working with a Tunbridge Wells magazine who were running a feature on 'Challenge Kaddy' so I challenged her to a golf morning!  Unfortunately that idea fell through for one reason or another but I bumped into Kaddy at the Kent Women in Business Awards and she was still interested in learning to play golf so we just went for it!" Felicity explained.
The first event with Kaddy, held at Tudor Park Hotel, got great feedback for FORE! WOMEN on Twitter, gaining 76,000 impressions.  Hopefully the second will build on that too. "The brand is slowly building so I can focus on the business and tweaks can be made" I can tell Felicity is enjoying watching the business flourish through her hard work. These golfing events show Golf Clubs a new way of bringing women on-board and although there are already 16 Golf Clubs signed up to FORE! WOMEN, Felicity admits it takes a while to organise: "With the Golf Clubs it is a slow burner – I'm focusing on putting events together to show them how successful they can be by including women.  For the women who attend it's a confidence boost."
Growing up, Felicity didn't play golf but it has always weaved its way through her life "My mum plays golf and my Dad did too.  I was the one in the family who wasn't sporty, but when I turned 21 I asked for a set of golf clubs!" The game got under her skin and she now plays regularly: "I play at least once a week – mainly on Saturday's – and play in competitions like the Ladies Summer Knock-out and in mixed matches for the club."
Turning a hobby into a business happened when Felicity realised women were feeling uncomfortable within the world of golf: "I used to work for a company in Park Wood organising golf days for the team – I went along to the golf days and felt left out" it was a seed of thought that grew into FORE! WOMEN. "It drove me crazy that there is a gap in the market for women to play golf – especially knowing how inflexible some memberships were (that is now changing) and I know if I didn't fill that gap it wouldn't let me go." Felicity seems destined to change the face of golf for the better.
Felicity made it clear that FORE! WOMEN is not a platform about equality – Felicity proclaimed that she is not on any man vs woman mission "the equality issue isn't what FORE! WOMEN is about" Felicity said seriously, it is filling a need for women who feel more confident learning a new skill within a relaxed environment and within a group.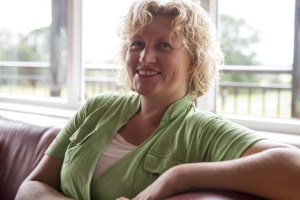 Having gained PGA Level 1 Coaching accreditation Felicity can assist the professionals who are coaching the groups of women and she is getting the word out about women's golf to as wide an audience as possible – including schools: "I attended a sports day at East Borough School with a golf professional and we provided a pitch up game and there were a few girls who came along so now golf is being introduced at school level." The stereotype of golf is starting to change and many clubs are including family golf events too: "It is a sport where you can spend quality time together as a family and in the last few years there has been more of an emphasis on family golf.  Last year I played at a club in Rainham and there was a family playing together – it was lovely to see." Felicity tells me.
There does still need to be change within the golfing world to ensure the game thrives with women as a bigger part of the sport and Felicity tells me how she thinks change should happen within Golf Clubs "I think there needs to be more integration in the clubs for male and female, especially in the Senior Section and I'd like to see more golf competitions for men and women playing in the same field."
It seems strange that the clubs are not moving with the times when they are all businesses – but it seems to be a slower industry for innovation and Felicity puts this down to some level of resistance within the clubs "The handicap system has been changed so more integration can be done.  Men play from the white tees and ladies from the red tees so handicaps can be assessed but some men still have something in their minds saying that the women should play from the white tees."
"Golf is just lagging behind the times a bit in general.  The average age of a golfer is in their 60's and they are still hanging onto what was, how it used to be and internal politics and that is not helping to change younger people's perception of the game" Felicity informs me.
This is where FORE! WOMEN turn the tables because the age range FORE! WOMEN is working with is between 26 to 55 years old – although no one is excluded – and attracts business women, mumpreneurs, women who are retired or approaching retirement and Felicity is bringing these women together through Social Media.
With the awareness for women's golf and FORE! WOMEN rising, Felicity is looking to the future: "In five years I'd like to be well established in the UK and moving out to the USA and Australia.  I've got to get my groundings.  I want people to know that when they sign up with FORE! WOMEN they can have confidence that the Golf Clubs on the FORE! WOMEN website are great and ultimately they will have the confidence to go to the Golf Clubs without thinking about it, as a natural thing to do.  I want FORE! WOMEN to be the first port of call for every woman when they want to play golf."
For more information, to join FORE! WOMEN's community for free or for details about 'Kaddy's Fun Packed way to discover your Inner Golf' go to the FORE! WOMEN website www.forewomen.co.uk Contact Felicity on Twitter @Fore_Women