The Four Kings at Christmas give £16K to Macmillan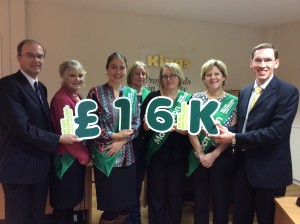 This festive season there are four 'Kings of Christmas' rather than the usual three as four branches of Kings Estates and Lettings raise a life-changing amount of money for Macmillan Cancer Support.
The staggering total of £16,445 has been raised by Kings Estate and Letting, who have been donating money to Macmillan Cancer Support for every letting and sale of a house or flat since September 2012.
£16,000 is a huge sum of money raised for Macmillan Cancer Support, the UK's leading cancer care charity, who provide emotional, financial, practical and medical support to cancer patients, their family and friends.
Macmillan's Kent Fundraising Manager, Jade Millsom, said: "The money could fund a Macmillan Nurse for 4 months which is an amazing achievement."
The teams from the branch offices in Sevenoaks, Borough Green, Meopham, and Swanley have also been staunch participants and supporters in a number of fundraising activities including hosting the 'World's Biggest Coffee Morning' and they are currently planning an inter-branch sporting fundraiser to help raise further funds.
Jade Millsom, added: "Approximately 8,500 people in Kent are diagnosed with cancer every year and across the county we have a team of 134 Macmillan Healthcare Professionals working in hosptials and in the community. I am thrilled to be working with this caring company into 2015."
Crispin Williams, proprietor of Kings Estate and Lettings, said: "I am absolutely delighted that the partnership Kings Estate and Lettings Agents has formed with Macmillan Cancer Support will be continuing for a third successive year. For every property that Kings sells or rents we give a contribution to Macmillan, so our thanks must also go to the owners, buyers and renters, who – by using Kings – help us to achieve this support for such a wonderful charity.
To find out how you can get involved with Macmillan, whether it is fundraising or volunteering, please get in touch with Kent Fundraising Manager, Jade Millsom, on jmillsom@macmillan.org.uk or 07801 307048
About Macmillan Cancer Support
When you have cancer, you don't just worry about what will happen to your body, you worry about what will happen to your life. At Macmillan, we know how a cancer diagnosis can affect everything and we're here to support you through.
From help with money worries and advice about work, to someone who'll listen if you just want to talk, we'll be there. We are millions of supporters, professionals, volunteers, campaigners and people affected by cancer. Together we make sure there's always someone here for you, to give you the support, energy and inspiration you need to help you feel like yourself again. We are all Macmillan.
No one should face cancer alone. Call us free on 0808 808 00 00 (Monday to Friday, 9am–8pm) or visit www.macmillan.org.uk