The Garden of England's Guardian – Kent Wildlife Trust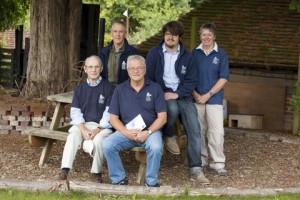 Kent Wildlife Trust [KWT] headquarters is in Maidstone – just off the A229.  I didn't realise this gem existed, so I decided to find out more – what KWT is and how it works.  I spoke to the trust's Media and Events officer, Ray Lewis, and his passion about the work the trust does was evident from the start. Ray invited me to their headquarters at Tyland Barn, Sandling Road, Maidstone, to meet the team.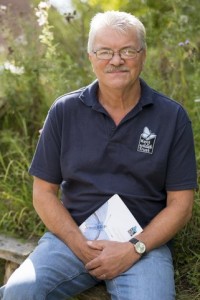 Ray has been working at the KWT for 10 years: "I had no knowledge about Kent Wildlife Trust before so it was a steep learning curve and it is wonderful to see all the reserves: 3,300 hectares and 55 miles of roadside reserves – wherever you see a butterfly on a sign, it means we manage those sites" Ray said, giving me a good idea of the scale of the work involved.
KWT was founded in 1958, and it is a registered charity.  It is the leading conservation organisation covering the whole of Kent and Medway, dedicated to protecting wildlife and wild habitats for everyone to enjoy.
One of 47 Wildlife Trusts across the UK that, combined, make up 'The Wildlife Trusts', KWT is a membership organisation with over 30,000 members who care about Kent's wildlife and support its activities. Together the trusts create a united voice to speak out on issues that affect our wildlife.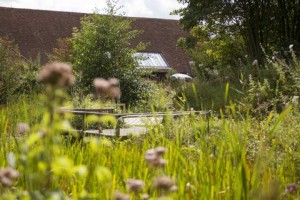 The Wildlife Trust itself outlines the aims the organisation has working through their 47 trusts. "We aim to work with people at all levels to bring about a renaissance of our natural heritage through the local and national programme of 'A Living Landscape' and 'Living Seas'. We are protecting, enhancing and restoring wildlife by working with individuals and organisations to halt and reverse biodiversity decline on land and in the sea."
The Wildlife Trusts manage 2,300 nature reserves across the UK. the Isle of Man and Alderney. Heathlands, meadows, ancient woodland, beaches, moorlands, islands and mountains are all included.  There are 3,300 hectares of land spread over 63 reserves in Kent alone and they are all managed by KWT.
One of the Kent reserves is on a busy A road: "…it is one of the most unlikely places to find a reserve because of the car fumes and litter, but because it is not visited by people it remains unspoilt and has some of the best examples of orchids and an abundance of butterflies." Ray explained and also told me that surprisingly enough, some of the busiest places in the county harbour an abundance of wildlife – the central reservations on motorways for example!
The reserves are managed through experts in their field and a network of trained volunteers. KWT has 1,100 registered volunteers – nicknamed 'The Green Team' – who not only work on the reserves but volunteer in the offices and café.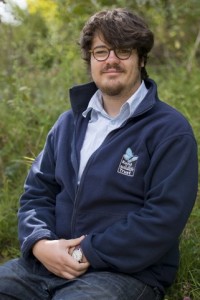 James Carrington is a volunteer at Tyland Barn.  Working with Marion and Ed in the marketing team, James concentrates on tracking and promoting the trust through social media: "I finished my degree in Media Studies this year and volunteer three days per week. My main focus is on social media but also on event preparation."
James grew up based in the Kent countryside and feels his voluntary work is really worthwhile: "I want to help protect the wildlife and everyone is lovely here, it's a pleasant place to work and a beautiful location.  It's quite stimulating working here and there is a lot of freedom – it is somewhere I really enjoy working and I always go home with a smile on my face.  Working here gives me an incredible amount of experience that I wouldn't get elsewhere within an office environment.  It's putting into practice what I have learnt in theory and it's different to how the books tell you!"  James graduated with a BA from Portsmouth and hopes to build a career in marketing within the charity sector.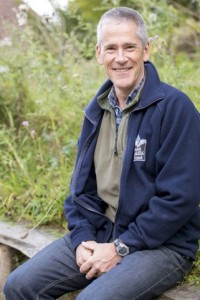 Dave Sutton, Head of Resources for West Kent, oversees the process of reserve management with five managers in West Kent going to reserves every week to manage the volunteers.  Dave looks at the policies side of the business and finds opportunities for new reserve sites.  He tries to link up areas through management agreements and volunteers: "One of the most important things is building up relationships" he tells me.  He is also continually trying to get income for the trust via government grants and this involves a lot of paperwork.  The Heritage Lottery Fund has given support to the KWT and they have to ensure they are reporting back to the fund in detail, accounting for everything.
As well as helping to maintain the reserves, the volunteers are also present in the reserves to guide and inform the general public who visits them.  One of the more delicate parts of the job is dealing with the general public who doesn't realise the damage that can be done if they tramp off the paths, start campfires and BBQs or let their dogs off their leads to run amuck.
KWT works closely with neighbouring county trusts to share experience and expertise.  Their central office gives them the policies and feeds down the conservation side of things.  The trust relies on its 30,000+ members for vital funding and everyone agreed that the trust will need to bring in more money because of government cuts.   To ensure the trust successfully runs from day to day, their backbone is no doubt their volunteers – the unsung heroes.
KWT seems to draw people in and once they are part of the team they love it.  Whomever I met came across as happy in their job and I have decided that although many gain no monetary reward, job satisfaction must be what you get when people work together for a shared passion.
KWT is not an insular organisation – they have a network of support throughout the county and have agreements in place with the local authorities to ensure wildlife is given the best chance of survival.  For example Ray told me: "We have arrangements with highway agencies to cut our grass at certain times of the year and work closely with local authorities." It is obvious that there are thousands of tiny, yet important pieces to this conservation jigsaw.
Wildlife conservation takes up many man hours.  Scrub bashing to remove unnative brambles, weeds, shrubs and bushes is essential and the trust encourages native flora to grow.  One of the toughest weeds to remove is the infamous 'Japanese knotweed'.  It is a plant that can grow through concrete and make the sturdiest of building foundations unsafe.  It takes years to remove but luckily it is rare to find.
The closest knotweed the trust has to manage is in Sevenoaks and it has been trimmed from a huge plant to very small, the seeds have to be collected, and 'rise zones' have been dug in and under the deep seated roots.  It has to be trimmed back and excavated under everyday continually for 18 months. Another non-native plant that needs to be kept under control is the Mexican 'Cotoneaster', Ray said: "It looks lovely in gardens but in reserves it spreads too much with deep roots and it chokes other plants."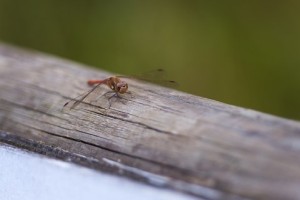 In some of their reserves cattle is introduced to eat their way through the vegetation.  Sheep, wild ponies and even Highland cattle are all part of KWT's conservation projects.  The introduction of Highland cattle in Kent stumped me so I asked the obvious question – why Highland cattle? Ray smiled as he answered "They are an all-weather animal".  The type of ponies that graze on KWT's  reservations are 'Koniki', originating from Poland, and are tough but harmless animals which eat their way through ditches and thrive in wetland and marshland areas, coexisting nicely with the wildlife there.
The trust also works with local land managers (for example golf clubs and farms) to ensure wildlife corridors are created. The trust itself has gardens of its own at the various reserve centres.  At Tyland Barn, they have a cottage garden as well as a small wildlife reserve, complete with pond and the opportunity to pond dip.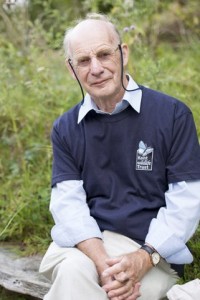 Tyland Barn was opened in 1993 by Prince Charles and since then the funds have been raised to buy the adjacent farmhouse for use as offices.  The trust has created a little oasis off the A229, encouraging natural wildlife habitat back and creating a beautiful cottage garden on the site.  The garden was designed and created by volunteer Mike Wilson who has designed and created 6 gardens for the various centres in Kent to be used by the visiting school children.
Mike is a modest man, shying away from the limelight his work deserves and the fact that these amazing garden spaces are created for free shows the level of commitment from the trust's volunteers.  Mike trained in horticulture at RHS Wisley fifty plus years ago and, during his working life, worked for the county council and countryside affairs.  He has been involved with Kent Wildlife Trust since 1968 and has been a trustee for many years.  When he took early retirement, Mike stepped up his involvement in the trust and is obviously a real credit to the team.
Mary Blackwell (in charge of KWT's Community Education team) told me Mike has been instrumental in building the trusts into what they are today. "He can work in a large or a small space and also helps schools in the local area.  He also helped to build the trust's garden at the Kent Show winning the 'Best in Show Gold Award'.
The beautiful gardens created through sheer passion do inspire others and Mary's job revolves around instilling inspiration into the next generation of wildlife lovers, organising the workshops for school children and teaching the children about wildlife. "We have to pass on our passion for the outdoors and introduce children to nature – the children can see awe and wonder in everything" Mary smiles. As I talk to her about her role at the trust, it is clear to see the passion in her soul for her work and it is inspiring.
"I have been employed here full time for eight years but I started as a volunteer – I started looking for work after 21 years of looking after my children, I applied for a job and got it!" And the love for her work is obvious.
Holding six or seven sessions per week for school field trips, Mary offers them expertise and education and it is important to her that the sessions are good fun. "We find mud and put our feet in it, drape a bed sheet underneath a tree, shake the tree to imitate a windstorm and see what falls out! We analyse what we find closely and the children are always surprised and impressed."
Mary's aim for the future is to build stronger relationships with schools throughout the county. "We want to work in schools to encourage staff to use the outdoor space, to increase the biodiversity and offer the skills and knowledge of the Kent Wildlife Trust." As well as working with the next generation of wildlife lovers, Mary also has the job of placing a value on green spaces: "It's hard because you can't put a value on land and butterflies and fresh air but I have to try and convince people it is better than simply having another shopping centre."
The trust also has a full schedule of classes for adults including forest school, wildlife study days, nature walks and guides on various topics and volunteer opportunities and they run various schemes to get involved in.
'Wild about Gardens Awards' is one of their most popular schemes.  The awards are held annually and are open to anyone who has, or is developing a wildlife friendly garden in Kent. For this year's awards the closing date was in June with the winners to be announced at the end of November.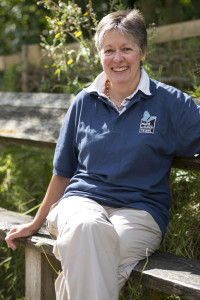 I met Maureen Rainey, KWT's Development officer who organises the competition: "…it is the seventh year of running the scheme and we average about 200 entries per year – this year we have had more entries from Maidstone than anywhere else."  The scheme depends upon volunteers who visit the gardens, help with admin and the events associated with it.
"The aim of the awards is to encourage people to have wildlife friendly gardens.  Any size of garden can be entered from large meadows through to balcony boxes!" Maureen is herself interested in gardening having grown up in the country.  She started working at the KWT as a volunteer when her children were small and then took over the job from a fellow colleague after their retirement. "It has inspired me to take the RHS exams" Maureen admitted and is currently working through three years' worth of practical, scientific and garden design qualifications.
It was clear to me that KWT is not just about protecting their vitally important wildlife reserves, they are also investing heavily in helping to protect the whole spectrum of British wildlife people see everyday – from the hedgehogs you see in your gardens and the butterflies that make summer so special through to the creepy crawlies that keep nature in order.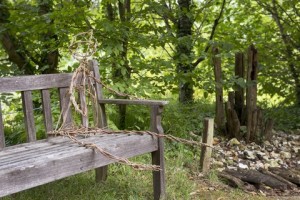 It surprised me that just on this one site (Tyland Barn) there are fruit trees, a vegetable plot, a cottage garden, a mini nature reserve and a pond.  They sell plants and hold birthday parties for the under 9s and last year over 13,000 school children visited them.  The level of work , loyalty and devotion of the KWT team really impressed me and I asked myself the question: 'Without KWT would Kent still be the Garden of England?' Somehow I doubted it.
For full details of all events and activities visit http://www.kentwildlifetrust.org.uk/whats-on
Tyland Barn is open from Tuesday to Friday from 10am to 5pm and on Saturday and Sunday from 11am to 5pm.
Photography competitions and wildlife data recording are all part and parcel of KWT as well.
For families there are a lot of activities too, including 'Fungus Family Fun' and 'All things Spooky' Halloween events.