Help Crowd Fund Artwork to Capture Wartime Spirit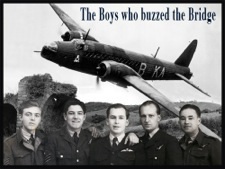 The only surviving member of a World War Two Wellington Bomber crew has a very dear wish – to capture a poignant moment in time, in remembrance of his fellow crew members, as a piece of artwork for the future.  The painting would capture a moment of camaraderie and human spirit that took place during 'Operation Flotsom'.
RAF bomber veteran, Harry Hacker, 91, took part in the operation and Mike Hacker, Harry's son, launched a crowd funding project to raise funds to make this happen and plans to commission top aviation artist Phillip West to paint the scene. Mike, who is a film maker, will then make a documentary film using the creation of the painting to help Harry retell this amazing story!
The story, and painting, is being called "The Boys who Buzzed the Bridge'.  Operation Flotsam was low-level daytime operation to drop supplies to the waiting partisans in the former Yugoslavia. Over 70 Wellington Bombers took off from Italy on 3rd February 1945 and flew towards the snow covered mountain where the supplies were to be dropped. The partisans had signaled the drop zone with a huge X carved in thick snow not far from a river.
After dropping the supplies Harry and the crew noticed a crowd standing on both sides of a destroyed bridge that used to span the river. In high spirits and breaking regulations, they took a vote and decided to have some fun. They circled their Wellington 'U' LP772 around once more before dropping to an adrenaline pumping altitude of just 60ft to fly up the river valley between the bridge almost at eye-level with the cheering waving crowds. The boys all waved back, before immediately gaining height to join the other returning aircraft giving a final 'wing wave' as they went!
What a boost to morale the show must have been and what British Bulldog spirit the crew showed!  Help Harry raise the money to commission this amazing painting. The kickstarter project can be found here or contact Mike Hacker on 077569 27761 or email mikehax@mac.com the crowd funder only has 21 days to go – so donate today!