The Hidden Heart of Maidstone

Tucked away in Barming, just behind the Tonbridge Road, is a tranquil place for people with mental or physical health difficulties or learning disabilities to rehabilitate and learn new skills through activities such as crafts, gardening and cooking.  Blackthorn Trust is a relaxing place where the public have a coffee and support the hard work of the staff and co-workers.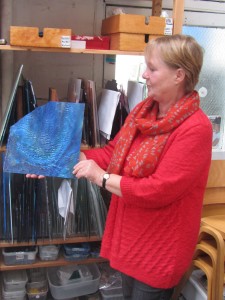 I met with Workshop Team Leader, Renate McGavin who runs the craft workshops and she offered me some insight into the Trust.  The patients referred to Blackthorn Trust are called co-workers.  During their initial trial they're offered a variety of practical workshops.  There are around 8 available of which the co-workers can choose 1 or 2 to participate in for an average of 6-12 months. The practical care doesn't cease there – they are helped with interviews, CVs, and are assisted in getting jobs or voluntary positions. Blackthorn Trust also provide references.
The aim is to get the co-workers ready for employment.  There is a regular routine with working hours from 9am – 3:30pm.  It is a community – they cook all the food and eat together with the public.  All food is organic, bio-dynamic and vegetarian.  The public are welcome to buy items from the workshops including vibrant beetroot bread, intricate stained glass and a variety of culinary and massage oils.  All are sold in the peaceful Garden Café.  Renate says she has very high standards and makes sure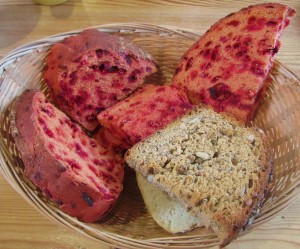 that the work on sale is of a good quality.
All workshops evolve with the seasons.  Renate's co-workers make cards all year round.  She says a lot of the cards are abstract which allows all abilities to participate.  They explore colour through candle dipping and wet tissue paper.  Other techniques include: painting, collage, drawing, stained glass making, weaving and many more.
Her aim is for the co-workers to gain confidence.  "People have been shut off because of illness and it's a kind of therapy.  They don't realise what they can achieve because they sometimes have been told they can't achieve, therefore their confidence is low."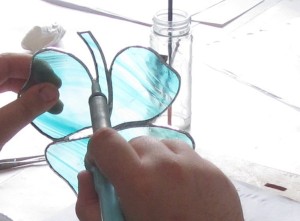 Renate plans her classes depending on the abilities and dexterities of the co-workers and with 8-10 in a class can provide a personal touch.  She is keen to mention she offers guidance only: with a suggestion of complementary colours or form because she wants them to explore and learn through exploration.  She finds the co-workers respond to beauty and their confidence builds when they see the public enjoying and buying their work.
When walking around the garden, studios and café bursts of colour catch your eye as stained glass glints the light.  There is a real sense of peace and compassion throughout the whole complex. The people working there really want to make a difference which was echoed when Renate said to me "I love it and find it very rewarding" and "people enjoy coming".
Blackthorn Trust is popular with the local community and has received commissions for stained glass. The Vine Medical Centre asked 6th formers from St. Simon Stock Catholic School to design 3 windows with a vine theme and the Trust were asked to make it.  Another commission was a large commemorative piece for The Colleg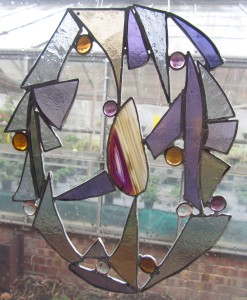 e Practice – a snowdrop set simply against a bright blue background.
One co-worker, whilst soldering some glass, explained to me the importance of the trust.  After being wounded in the army he has found a place for quietude.  By focussing on creating an object in a peaceful environment it has helped him calm his mind and clear his thoughts. He described it as "time out" and "real therapy" finding "the colours therapeutic".  Although he has been offered other support nothing has worked quite as well for him as Blackthorn Trust.  He has now come full circle and volunteers for the Trust.
Renate's craft studio is mid-renovation.  Her old cabin is being replaced by a larger one funded by Maidstone Borough Council and donated by Gallagher.  Futures For Heroes, who support veterans, offe
red their assistance in the removal of the old cabin and were hard at work, in the rain, when I arrived.  The new craft studio should now be ready alongside a dedicated job club so co-workers have access to equipment such as computers.
There's a real sense of community and during mid-morning coffee and home-made bread, 'Futures For Heroes' thanked Blackthorn Trust for their hospitality and presented gifts.  This was reciprocated by the Trusts CEO Jan Prior, who was very hopeful for future collaboration between the two charities.
Blackthorn Trust not only provides an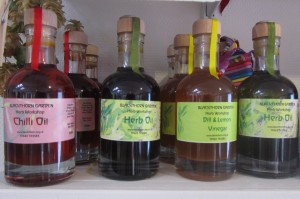 inclusive, safe, therapeutic environment for the co-workers but workers at the Trust have given their hearts to the Trust creating an environment which is friendly, supportive and mutually beneficial.  It's a real hidden treasure in Maidstone.  It feels like you've stumbled upon a secret garden miles away from the hustle and bustle of the town centre.
The Garden Café offers a well-priced coffee and food and at your leisure you can browse the cards, candles, breads, oils,jewellery and much more. There is also a volunteer run charity shop on the premises.  So, if you're intrigued, inspired or just fancy some peace and quiet then take a trip to Blackthorn Trust and see their productive garden and creative achievements.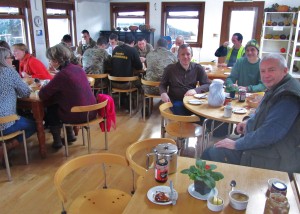 Opening hours 9:30am – 3:30pm Mon – Fri
Free Entry.
Address: St Andrews Road, Maidstone ME16 9AN
Website: www.blackthorn.org.uk
Images credit to: Blackthorn Trust
 CLICK THE BANNER TO READ THE NEXT ARTICLE
Maidstone Area Arts Partnership