Hidden Talent: Maidstone's Milliner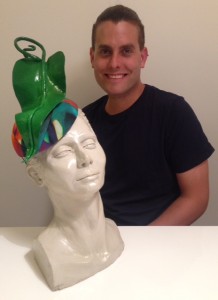 Chris Garner is motivated and highly skilled. He is in fact a rare craftsman – a Milliner.  Based in Maidstone, Chris has launched 'Julian Garner' www.juliangarner.com creating head wear for all occasions.
To find a milliner is rare and millinery is a very niche market to work in. The fact that Maidstone is a real hub for emerging artistic talent is not surprising, but to have our very own professional milliner within the town is quite a coup. Chris studied Millinery at the London College of Fashion before taking the plunge and branching out on his own.
Chris told me the background about getting into Millinery: "About 5 years ago I thought that I would start making hats.  In my spare time I started making small head pieces and twisting fabric around foam cardboard as a way of trying to find out how people made hats!  At the time I worked at Harrods and was the D&G brand specialist for two years, then did an internship in the buying office and moved into Menswear and loved it.  I wanted to learn all I could from working at Harrods – I viewed it as almost an apprenticeship into high end fashion."
Chris ended up working in Harrods by day and making head wear to sell at Christmas markets in his own time.  Chris taught himself the basics of hat making and experimented with dozens of materials to see what worked best.
His first real break into the world of millinery was through a chance meeting on a train: "There was a lady sitting next to me reading 'Grazia' Magazine and I saw the headline 'Grazia's Hat Factor' and I thought it looked interesting.  The lady caught me reading over her shoulder, which we had a chuckle about, and when she got off the train she left the magazine for me.  I turned to that page and it turned out that if you went to Grazia's head quarters they would judge your hat.  The competition was to make a hat based on the London Olympics and the judges were Philip Treacy, Stephen Jones, Paula Reed, the Editor of Grazia Magazine and a representative from the Mayor's office of Arts and Culture."
Chris took his barbed wire and leather head wear along "I was incredibly nervous when I was surrounded with all these amazing designs and I thought to myself 'you are not here to win, just to get feedback.'"  When Chris explained to the judges he was self-trained (this was before his London College of Fashion days) Philip Treacy actually stopped him and said to Chris he was doing an amazing job.  This gave Chris the confidence boost he needed "I realised I had something."
Chris didn't go to the bank for a loan to set up, he has financed his 'Julian Garner' label through the head wear commissions he has completed and by holding down a second job at Mu Mu in Maidstone. Leaving Harrods was a hard decision for Chris but one he needed to make to allow him to set up on his own.
During our interview, I had the privilege of being given a sneak preview of the collection he is launching later in the year.  As a new start-up, Chris' home is his work space and there were delicate hair ornaments drying on the cooker hood and a fantastic array of hats lining his dining room table. He is currently working on 'The Collection' – head wear inspired by Ikebana (Japanese floral design)  and Shibari (an ancient Japanese artistic form of rope bondage) which will be exhibited at the Maidstone Museum's Glass Room from 22nd – 24th October.
Everything Chris makes is hand-made and he likes working with thermoplastic.  "You heat it with a heat gun and then you can manipulate it.  I have been using this in my collection and hadn't seen this used in millinery before, then I saw a hat for Ascot that had been designed using thermoplastic so it is a growing trend."
As well as using thermoplastic Chris also works with many other materials including sinamay and buckram.  He hand paints, spray paints, stitches and drapes his materials to achieve his desired effect and Chris predicts that 3D printing will be a huge trend in millinery soon.
Chris makes head wear for a range of people "I like to design for all ages.  In my press campaign shots I have a lady in her 60's modelling some head wear, a burlesques dancers and a younger model too"
As for the time it takes Chris to make one of his designs the answer is not straight forward: "It's the drying time that takes ages – it can take up to three days to get the block dry and then the trimmings have to dry – but as for my actual working hours, a design can take from 8 hours through to many days to complete, and that's not taking into consideration the design and research stage."
The collection is beautiful and thought provoking with a story behind each design and Chris is looking forward to his first exhibition.  It is refreshing to see such new talent rising in our county town and you can follow Chris on Twitter @TheJulianGarner on Facebook Julian Garner Headwear or e-mail Chris on cjuliang@yahoo.co.uk and support him by attending the exhibition – see you there!
Julian Garner head piece prices start at approximately £75.