Hilary Steel – A Business Woman who follows her instincts.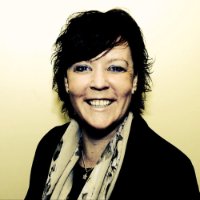 It is rare to meet someone that drips business sense in the way they walk, the way they sit, the way they drink coffee but even before Hilary Steel starts to talk business with me, it is clear she is a business woman, an entrepreneur. The way our interview is time managed without me noticing, her interest in my background career and the fact she loves good quality coffee, and drinks plenty of it, all points to someone who is used to working hard and networking.
Hilary is a business owner and entrepreneur who has developed an idea so bold and simple (filling a publishing niche in the market while she is at it) that everyone one around her must be thinking 'Why didn't I think of that?' A year ago, Hilary launched 'Kent Women in Business Magazine' (KWIB Magazine) along with Sue Smith. Four issues later, the magazine is going from strength to strength with approximately 250 stockists, over 1500 subscribers and a price tag of £15 for annual subscription or £3.95 off the shelf.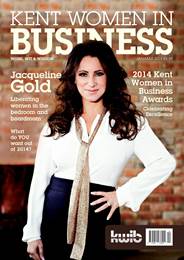 The magazine is under the umbrella of Hilary's company 'Kent Ideas Ltd' which in itself is a huge success being the catalyst behind 'Kent Independent Trade Awards' and now 'Kent Women in Business Awards' as well as KWIB Magazine. Hilary's ideas seem to gather momentum like a skier being chased down a black run and she is clear about her future and where her business is going.
KWIB Magazine developed after Hilary announced to a friend in the pub during a discussion about her forthcoming awards ceremony "…I will be launching a 72 page, glossy Kent Women in Business Magazine". This was news to everyone – including Sue Smith who is the design and creative behind the magazine. Within three days of the announcement the title was registered with the British Library and ready to start building.
Hilary has benefitted greatly from the support given to her by her mentor Bev James who is herself a business coach, speaker, author and MD of The Coaching Academy.
It is clear that as it stands now Hilary is currently teetering on the brink of even bigger things, however, I am getting ahead of myself. Hilary may be a gutsy, successful business woman today, but how did she become a woman with such fire in her belly?
"I'm half creative and half geek!" Hilary smiles, "…and when you are at school that's not good because the teachers are not sure where to pigeon hole you. You are not academic – unless you need to be." Hilary clearly didn't fit into the tick box system of school life. "I won a talent competition at Maplesden Noakes School doing impressions of Jimmy Cricket when I was 11 years old" Hilary continued and I get the feeling that Hilary is quite a character with bags of confidence "I do everything with a childlike enthusiasm" Hilary explained.
Being confident in yourself seems to have been one of the keys to success for Hilary "I think business confidence comes down to having confidence in yourself and your own abilities." Hilary said, "I see an opportunity and grab it and I don't sit in my own comfort zone for long. Everyone has the most powerful success tool within themselves. Your gut instinct is so strong. I question myself a lot. I might deviate off my plan but I can correct it because it's in my head. People should definitely listen to their gut instinct."
Hilary hasn't always had her own business. Hilary worked for Bank of America, Goldman Sachs, ABN AMRO and Hewlett Packard before setting up her own company. The path Hilary has navigated to get to her success has been an unusual one sparked by opportunity. Hilary explained how a bizarre situation in a beauty salon led to her own start up. She spotted a mystery machine she was intrigued by and asked what it was. Hilary was told it was a machine that removed hair permanently. Seeing an opportunity Hilary asked if she could train on the machine. "Eight weeks later, I had my first client walking through the door." Hilary explained. She then set up clinics across Holland, where she was living at the time until in 2006 the decision was made to return to the UK. This allowed her to set up a training and distribution company for laser and aesthetic equipment.
This is a whole different focus to where Hilary is now, but it shows her tenacity and her eye for opportunity. "Kent Ideas came up because I realised I was good at getting listings high on a Google search and was asked by other people to help them do the same. The marketing and development of Kent Ideas grew from there"
Fast forward to today and KWIB Magazine is the current buzz publication. A new magazine filling a niche never tackled before and launched as a glossy – bam! Have that! The industry must still be feeling the shock waves a year on. It isn't often a glossy mag launches with such speed and timely appeal.
"It is for the professional woman in Kent. Its content driven – we listen to readers and get content back" Hilary explains the magazines appeal, "I wanted fun in the mag too. It's not a newspaper – it's quarterly and we have a magazine soap as well as a tongue in cheek agony aunt," clearly Hilary's remit is to include a balance of business knowledge and insight with light hearted fun. The magazine is going strong and celebrated their 1st birthday on 26th February.
With her business acumen on full alert it is amazing to hear that one of the biggest projects she runs is an awards ceremony to celebrate other women in business! The Kent Women in Business Awards was launched in 2013 and will be held on 27th March this year – so look out for the winners' details on the website and in our April issue.
Hilary wanted to showcase some of the hidden talent from across the county. This ceremony is very transparent. Awardees are nominated and if they accept their nomination they are sent a pack including an application form. A panel of experienced business people shortlist five nominees in each category and then the three judges choose the winner and runner up in each category.
Hilary doesn't do anything by half measures "Everything I do is from the heart. People who understand that know it's kind of cool" Hilary is thoughtful about KWIB Magazine and I can see she has her next business steps planned out in her mind, so when I ask 'what's next?' I am not surprised when her eyes light up and she tells me of her next business 'adventure' which is writing her very own business book, aptly titled 'Balls of Steel'.
Follow KWIB Magazine on Twitter
Image Credit: Schumann Photography.
 CLICK THE BANNER TO READ THE NEXT ARTICLE
Behind the Scenes at Dandelion Time – A place where families bond