Just a Thought – Looking to the Future.
Written by Joan Langrick.  illustration by Jamie Gare.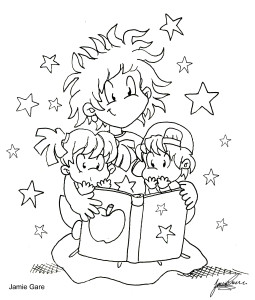 The Kent History and Library Centre is a magnificent structure of glass and steel. There it stands, protecting precious Kent documents dating back to 699AD, within a mere stone's throw away from Maidstone Bridge on the banks of the River Medway.
There are letters penned by the hand of Jane Austin along with another from the intrepid Lord Nelson. There are fourteen kilometres of fragile historic material incessantly demanding exactly the right temperature and humidity so they won't disintegrate in the sands of time.
Visitors are given free access to the records of their (probably not) so famous ancestors on the Centre's "Find my past" website. There are experts to advise, rooms which can be booked, an army of computers and exhibitions and talks to attend and this can all be located in the History section of this awesome building.
Then, alongside it runs the new library with its 40,000 books, a story time for little ones, author events and reading groups and so the positives continue.
However, in addition to the hundreds of thousands of pounds paid for this state of the art building there is also a very heavy price being paid which cannot be measured in mere monetary terms. For, in order that this exciting project could be pursued, other libraries had to be sacrificed. True, many of the students and researches who frequented Springfield Library are now happily trawling through the books and manuscripts in the Kent History and Library Centre. However, the majority of those who frequented Faith Street Library mourn the loss of their little oasis in the midst of bustling Maidstone town.
To them Faith Street Library was more than a place crammed with books and IT equipment. It was somewhere shopping weary mums could relax for an hour while their children discovered the magical world of books which would be destined to change their lives. The young and not so young who hadn't fared so well at school,  sometimes found themselves simply "dropping in" to a none threatening place of learning out of sheer curiosity.  Something most of them could never dream of doing at the vast and imposing emporium down by the riverside.
Then there were the unemployed busy on the computers or frantically making notes from the free newspapers. The elderly, who looked forward to seeing their contemporaries and now found, without their own transport, getting to the new library is "mission impossible." Oh, and there was also a gallery upstairs where local artist could exhibit their wares.
There is no doubt in my mind Faith Street Library was the beating heart in the very centre of town. For it had nurtured the hearts and minds of past generations and had opened their eyes to the wonders of the universe.  However, who knows, maybe in time when the sheer grandeur of The Kent History and Library Centre ceases to overwhelm us, that too will become an old and familiar friend.  It's just a thought, but an inspiring one at that.
Tell us what you think of Joan's opinion and share your thoughts on Twitter @maidstoneeditor
or e-mail editor@maidstone-magazine.co.uk
Illustration by Jamie Gare