'Kentish Chocolates' – Our Local, Inspiring Chocolatier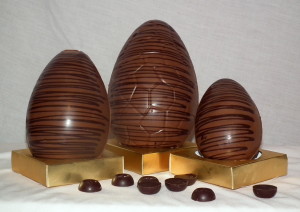 Meet Graham Hogan, the Chocolatier behind the company and brand of 'Kentish   Chocolates'.  Graham is modest and he throws into the conversation that he               trained under one of the masters of Belgium chocolate, Barry Callebaut, as if it       really is nothing to shout about – but it is.  The Callebaut Academy in Belgium           turns out some of the finest chocolatiers in the world and Graham is one of them.
"To see someone so passionate was amazing" Graham says about his Callebaut         training, "I have barely scratched the surface of what you can do with chocolate     – it opened up a whole world of possibilities for me" Graham enthused.
Making chocolates from his base in Coxheath, Graham has built up 'Kentish Chocolates' over the last eight years.  Graham was born and raised in Maidstone but his initial career as a chef took him to Scotland where his love for working with chocolate took hold of him.  Graham was the patisserie chef at a restaurant and spoke to the restaurant owner about making petit fours.  The idea was embraced and soon Graham started to make them for local shops.  Chocolate covered petit fours were a big hit and Graham's chocolate business started to blossom.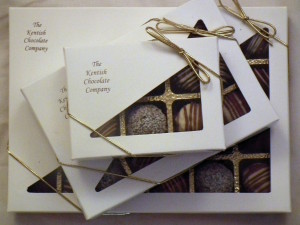 "It started when I made a box of chocolates for a Christmas present" Graham explains "and going from making petit fours to individual chocolates was driven by demand from the shops and I suppose it was a natural progression."  Graham moved to the Shetland Island of Unst and enjoyed a monopoly as a chocolatier.
From the Shetland Isles Graham relocated to the South of France and then back to Kent.  At every move he continued his chocolate making and once he finally settled in the Maidstone area, 'Kentish Chocolates' was born.
Graham supplies whatever chocolates people want but 'Kentish Chocolates' have a set range too including a standard and alcohol box of chocolates, chocolate slabs, drops, wedding favours and truffles.  Graham is currently making Easter eggs and bunnies for the Easter rush and takes on any commissions – this Easter he has successfully made a large milk chocolate Easter egg filled with caramel!
"Our philosophy is to make the best chocolates we can with the best ingredients we can afford." Graham is obviously passionate about his chocolates and insists that although his life is awash with chocolate he never gets sick of it "my favourite is the champagne truffle" he confirms.
In his chocolate workshop I am surrounded by gorgeous chocolates including caramels, Kirsch, coconut, orange, rum, whiskey, brandy, strawberry, amaretto and coffee flavoured individual chocolates and then there were the marshmallow topped milk chocolate slabs, cranberry infused bars, mint and ginger dark chocolates…the list seems endless.
The flavour combinations are quite impressive and Graham is open to suggestions and challenges "I made Ouzo chocolates for one commission" he admits and agrees that they were probably the most unusual types of chocolate he has ever made.
Their chocolate range only includes chocolates Graham likes himself – although he will make any flavour combination as a commission – because he needs to feel passionate about the chocolates he is creating and selling. It is reassuring to hear this and Graham tells me that 'Kentish Chocolates' is not in business just to make money "I do this for the love of chocolate" Graham adds, convincing me that he truly is passionate about his job.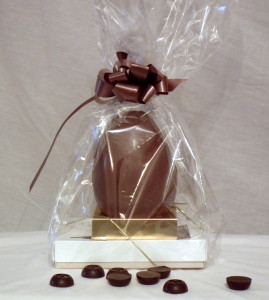 The chocolates themselves deliver in flavour and look fantastic hand decorated.  The    cocoa content is good compared with many high street products with the white  chocolate containing 30% cocoa, milk chocolate containing 34% cocoa and the dark  chocolate 64% cocoa using chocolate from Callebaut and Schokinag (De Zaan).  At the  moment, cocoa is at an all-time premium cost so it must be hard not to give in to the  temptation of cutting the amount of cocoa in his products but Graham is strong in the  belief that quality is key.
Graham used to made every chocolate by hand but keeping up with demand has been  hard and now he does have the help of two chocolate tempering machines "this way I  can be working on up to four different types of chocolates at the same time and hand  decorating the chocolates while the next lot of chocolate tempers"
Making chocolates is not as easy as you may think "the hardest part is tempering the  chocolate" Graham confides.  He used to hand temper on a marble slab but his business has moved on from that, "it doesn't matter how good the filling is if the chocolate isn't right."
Making chocolates has to happen in several different stages and tempering the chocolate is one of the secrets to achieving good results. Tempering is a melting and cooling process which results in the crystallisation of cocoa butter in a pattern which creates a sheen and texture in the chocolate.  A good temper gives the chocolate sheen, a smooth consistency and hardens the chocolate ensuring a snap when biting into it.  Keeping the finished chocolates at the right temperature is also key: "I try to keep the room close to 18 degrees Celsius."
Graham sells Kentish Chocolates through gift shops, farm shops and at craft and farmers markets (see stockists list below) and his chocolates find their way to all the corners of the globe "tourists buy them to take a little bit of Kent home with them" Graham explains.  He loves his sweet creations and tells me that every chocolate looks different: "…everything I make is individual; even if I am making a hundred champagne truffles each one looks slightly different." And that is a quirk Graham enjoys about his creative job.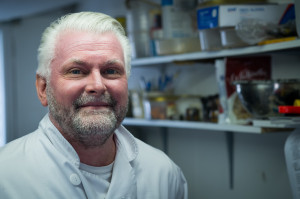 Working from home means Graham has a good work life balance and his wife and daughter are an inspiration to him "I started making the chocolate slabs when we were experimenting for my daughter – I was adding chocolate sprinkles to the chocolate and the idea carried on from there." I spoke to Graham about holding chocolate lessons and workshops but he was not keen "I can't give away my secrets!" he smiles.
One group of people Graham is happy to teach is school children and has done a few chocolate workshops in schools "having my own young daughter means I can relate to five year olds!" Perhaps teaching a new generation about quality chocolate making may discourage them from buying cheaper products with nasty added ingredients.
'Kentish Chocolates' is still a small company enjoying success simply through word of mouth but Graham would like to expand to supply more outlets and in future look into using Fairtrade cocoa but for now he is happy doing what he loves – creating the best chocolates in Kent, "there is nothing I don't like about chocolate – it's a great job."
'Kentish Chocolate' gifts:
Chocolate Easter eggs range from £3+, Easter Bunnies £2, £3 and £5, Boxes of chocolates in three sizes priced at £3.50, £5.50  and £10, Chocolate drops £1.50, Chocolate slabs from £2, Chocolate bars from 75p.
'Kentish Chocolates' Stockists:-
'PJ's Farm Shop' in Sutton Valence, Maidstone, 'Maureen's Florists', Lenham, 'Stuffed and Spoilt'. Handmade Kentish Hampers, 'Whitstable Local Produce Store',33 Harbour Street, Whitstable, 'Croft Cottage Foods', The Market Place, Brogdale Farm, Faversham, 'The Sweet Scene', Preston Street, Faversham, 'The Whitstable Hamper Company', Whitstable, Kent and Sussex Railway, Tenterden.
Farmers Markets Kentish Chocolates can be found at:-
Sutton Valence 3rd Saturday of the month, Headcorn 2nd Saturday of the month, Upchurch 4th Sunday of the month, & Newington 1st Sunday of the month.