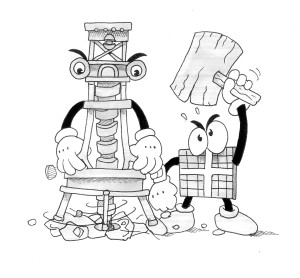 Words by Joan Langrick.
Illustration by Jamie Gare.
In America they call them "nodding donkeys" as they slash through the earth and extract precious black gold. Now their very new cousins, across the pond, are stalking towns and villages in their search to frack for gas. There was a time when the battle in Balcombe to preserve their way of life seemed a million miles away from the people in Maidstone. Now, however, as licences are granted to drilling companies to carry out exploratory searches, suddenly the nightmare becomes a possible reality.
Those who had previously allowed themselves to drift away, into their own little world, as facts and myths surrounding fracking emerge, are now paying attention. From Blackpool's minor explosions to contamination of the water supply and, as the drills constantly need cooling, to the very real possibility of water shortages in an already arid Kent. Fleets of lorries constantly and noisily rumbling by throughout the night, housing prices dropping because no-one wants to live on a battlefield, the eternal clamour of the drills and the loss of their lovely countryside.
True, we are told nature will restore flower and fauna when all the gas has been extracted, True the PM has told us this is the only way we can be sure of having our own energy for years to come, and with wars raging throughout the world, surely fracking makes sound economic sense.
However now there is a new plant thriving in fields surrounding Maidstone. It is sparkly and shiny and one which insects approach at their peril. Like the farmers in Texas, savvy Kentish farmers have now discovered their own nodding donkeys destined to provide yet another source of energy. They will tell you how they are tired of slaving all hours to provide cheap food for supermarkets and have happily given a fifth of their field over to solar panels. Watching the sheep weave their way through these shining aliens as they chew the grass, appears slightly incongruous, But their owners are happy as they count profits made through generating power for the local community.
Now that energy companies such as 'Ecotricity' are steady customers these futuristic farmers are finding it easier to ignore the protesters who believe their solar panels deface the beautiful Kent countryside.  However, even they must agree those sparkling solar panels look far prettier than mechanical nodding donkeys or, Heaven forbid, those "dark Satanic" nuclear power stations.