Lisa Cutts – Putting the Truth into Crime Fiction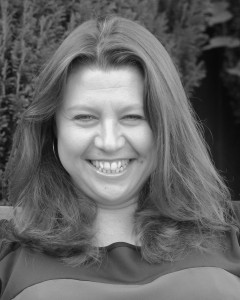 As a child she was kidnapped, along with her sister, and yet despite living with such trauma, Nina Foster is a well-balanced, respected adult. Sure, she likes a drink and works long hours but she makes one hell of a good police officer!  As the pages of Lisa Cutts' first novel, 'Never Forget' flick by, Nina becomes so real it is with a tinge of sadness that I have to admit Nina Foster is fictitious, a character given life by Maidstone author Lisa Cutts.
Nina Foster has fired the imagination of the reader and Lisa has embraced the success of her first crime fiction book and penned her second, 'Remember, Remember' which went on sale in August this year.
Lisa's writing has been well received and she is signed to Myriad, but Lisa hasn't given up her day job, and it is just as well.  She is a serving Police Officer and it is this experience that has been the key to her whirlwind of success as a writer.
With a successful career as a Police Officer spanning 18 years, Lisa hadn't planned to be a writer, however, after reading a book by a Kent Police civilian employee, Lisa realised writing was something she wanted to do too: "I thought what do I know about? Murder! I have been working in murder investigation for quite some time, I had to go through the correct channels at work to get secondary employment clearance and they agreed I could write crime fiction.  I also went to the legal department and informed them that my writing would be completely fictitious as far as characters were concerned and wouldn't even be set in Kent.  They were fine as long as I didn't characterise real people such as victims, criminals and colleagues."
Lisa is adamant that her crime writing is not based on the crimes she has worked on and vehemently opposes the idea of using such information: "I wouldn't do that because it would be very upsetting and distressing for the victim's family, if anything I go out of my way to write about things I haven't dealt with, for example 'Never Forget' is based on a serial killer, I've never worked on a serial killer case and 'Remember Remember' is about a cold case and I've never worked on a cold case either."
Once Lisa had her first novel underway she entered it into the Myriad Editions Writers Retreat competition and was amazed to get shortlisted: "All I was hoping for was for their editor to go through it with me and give me some advice – that's as high as I was aiming so I was over the moon to get shortlisted." Lisa told me.
The fact that Lisa then went onto win the competition made her dreams come true.  Lisa's face broke into a huge smile as she told me about the moment she realised she had won:  "I got shortlisted and then I won it! It was the most surreal thing – out of everything that has happened since, that is still the most brilliant moment because I just thought 'I've got no chance of winning'.  I didn't know who I was up against and it was the first thing I had written."
Lisa's fantastic win led her to a book deal with Myriad "I had heard all these stories of people being rejected or waiting ten years to get published and I know I have been so lucky. Myriad offered me a two book deal and I took it."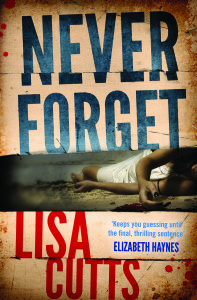 It struck me that Lisa's skill set as a police officer must be surprisingly handy for her as a writer, the two go hand in hand, "I do notice what everyday people are doing and as a writer that's important. As a writer I can make up any story about them but, of course, when I'm at work as a Police Officer it's only the facts I am after.  When I am writing I am always very keen that I get the police procedures right but anything else is just game on!  There is a lot of paperwork involved with being a Police Officer but as a writer I can write about a murder, resolve it and the person can go to prison in just a few months, where as if I was doing it for real I could be working an 80 hour week for months on end so writing is a nice way of dealing with a murder!"
To think that the lady I am interviewing has the day job of helping to solve murder cases is quite amazing.  She is a smiley, relaxed woman with a happy air about her.  But what was I expecting?  Someone to turn up in Police uniform or wearing a red cape and mask of a super hero? Lisa is a normal everyday person and that is one of the key points she wanted to put across to her readers  – police officers are just humans the same as us all.
Conveying this to the reader was part of the inspiration behind creating the lead character of Nina Foster: "Nina is normal, down to earth, honest and really just wants to do a good job but also likes to have fun and wants to meet someone to settle down with.  Her friends are very dear to her as are her family.  A normal, straight forward, down to earth police officer – as most of us are!"
It was important to Lisa that the book conveyed the reality behind the job mixed in with the drama of crime fiction, in contrast to most other crime fiction books: "I've read books where police officers go off and solve murders all by themselves, do the most maverick things and in reality they would get themselves into all sorts of trouble.  I wanted to show people that really there are a lot of normal hard working police officers out there who just get their head down and get on with it."
With Nina as such a big part of her books, Lisa had to get the character right – a balance of professional and personable: "I started to write and outlined her character as someone that likes a drink and swears a bit and my husband read it and said 'I think you are in danger of creating a female DCI Hunt from 'Life on Mars'.  He said he didn't think the public would like it.  I thought about that and decided I wasn't going to give her an excuse to behave badly, but I thought if the reader understands she's got a bad past but doesn't let it interfere with her day to day job, they might be a little more forgiving.  I thought the readers would like that. So that's how her character developed really!"
Lisa has no shortage of people to call on for advice.  Her husband and father both worked in the police force before retirement and she has a team of loyal friends who give her truthful feedback on top of the support from the Myriad team: "There were incidences where my editor said 'I don't think you need that detail' and if I felt it slowed the pace down I would take it out, but equally there were a couple of times when I wanted to keep things in because readers like the details – a little thing like including that fact that we don't have hot chocolate in custody anymore because it's too expensive is a detail that other crime writers may not know about."
It is those little details that make Lisa's writing stand out and her experience in police work invaluable to the crime fiction genre.  Details based on first-hand knowledge give the book credibility.  One part of the plot that shows this is in 'Never Forget' where Lisa includes an in-depth description of finding a dead body.  It includes the kind of detail that only someone having experienced this would know about, bringing a sense of realism to the fiction.
Excitingly, there is a possible TV deal on the cards for 'Never Forget' and the production company involved have told Lisa's agent they would like to option it, at the moment that is as far as it has got but Lisa is waiting to hear what will happen – as are we all! Lisa is mindful that she probably wouldn't be involved in the whole process of the TV deal anyway, but people do keep asking her who she would cast if she had the opportunity.  She answers tongue in cheek: "I think Jonny Depp's amazing but he wouldn't do it and I doubt I would get a say anyway!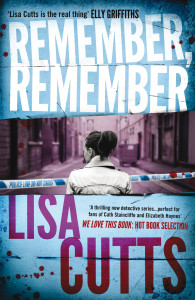 Lisa is a true example of a rising star and she is keen to encourage others too: "Just do it! Sit down and write.  Keep writing, keep reading and don't be afraid to ask for help. I've been amazed that other authors have offered help so just ask!  Keep going and don't give up."
Lisa likes to write at home, in silence in her spare room "I do keep nosing out of the window or if it's a nice day I take the laptop into the garden but if something breaks my concentration I get distracted and find myself checking Twitter or e-mail and a half hour goes past without doing any work!"
"I sit at the computer and literally just write and write.   I don't carry a notebook around with me because I think if something has caught my attention or is funny enough then I will remember it.  I've got a stack of information I've printed off the internet for research that I find quite interesting but I will probably never get round to reading it!  I do keep articles that interest me."
"Often what I do when I think 'I've had enough today' is get to the end of a chapter and leave it on a cliff hanger and I won't know what I'm going to write next.  It helps keep the flow going." Lisa seems to surprise even herself with what will happen next and it keeps the drama alive.
As an author who prides herself on including truthful police work, one of the challenges Lisa surmounted was keeping the plot flowing: "I only keep essential detail or detail I think would be interesting so the plot continues to flow.  The editor at Myriad was great and we tweak and rewrite and then she passes it on to be read by someone who isn't so close to the work.  Once that process is done the book gets sent to the copy editor, then the proof reader – it's quite a long process!"
Lisa is just finishing off the third book which deviates away from Nina Foster but she is planning to bring Nina back and told me: "Nina is going to be moving departments but I haven't decided if she is going to be working back with her old colleagues yet  – although Wingsy is definitely going to be in there." As someone who fell for Wingsy that is a relief to hear!
It is all well and good writing a book, but when it comes to marketing some authors fall down.  This is where Lisa also shines – as a Police Officer she has to be a 'people person' and so attending literature festivals, library talks, writing articles and PR seems to come as second nature to her: "I've done quite a lot of online marketing – Facebook, Twitter, a blog and website and  I love going to readings at libraries. My publishers organise PR such as an article for the Crime Writers Association Magazine and I was involved with 'Books are my Bag'. I've found them all very varied.  I've just been asked to go to a secondary school to give a talk to them and I'm going to the Folkestone Festival as well."
There seems no stopping Lisa: "Whatever it is that I am working on I am always looking forward to the next project and I can't wait to get started.  It's all up here" Lisa says tapping her temple, "I have the plan but it's getting the time to write it!"
Crime Fiction with a twist of truth is a winning combination so look out for Lisa Cutts – a truly inspirational local writer.
For more information see Lisa's website www.lisacutts.co.uk 'Remember Remember' is in the Kindle sale for just 99p at the moment so take the opportunity to read the work of this up and coming Maidstone writer http://www.amazon.co.uk/Remember-Lisa-Cutts-ebook/dp/B00JZCD704/ref=sr_1_1?s=digital-text&ie=UTF8&qid=1414621579&sr=1-1&keywords=Remember+Remember