All for the Love of Hot Chocolate…

My search for Maidstone's best Hot Chocolate begins!
I am not a caffeine girl – I don't crave coffee and don't give a sniff about tea but there is one drink I simply couldn't live without – luxurious, decadent, steaming hot chocolate. My love affair with hot chocolate started when I was a teenager (I'm not counting years!) and I have had some shocking teeth rotting hot chocolate imposters in my time. I have also found the best hot chocolate in the world – in a fantastic café in Bruge. The hot chocolate was simply melted 70% cocoa, sugar and cream to add served with a side order of Belgium chocolates. It will never be beaten…or will it?
My quest for finding Maidstone's best hot chocolate begins and over the next three months I will be star rating every hot chocolate I taste in a Maidstone establishment under the categories of 'Taste', 'Look', 'Sweetness', Temperature' and 'Bottom' (the latter category alluring to the amount of sludge at the bottom of the cup which should have been mixed in with the drink itself!)
So without further faff here is my first chocolaty victim…
Harpers Café
12 Market Buildings, Maidstone Tel: 01622 692148
Regular sized £2.10 Cadbury Hot Drinking Chocolate.  The choice of adding marshmallows and cream is available.
Taste 3 stars
Smooth and frothy it was exactly as I expected.
Look 3.5 stars
Served in a traditional, tall, clear glass with long metal spoon provided to stir up the hot chocolate a treat.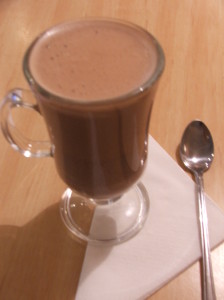 Sweetness 2.5 stars
A sweet tooth is required for this Cadbury's drink.
Temperature 5 stars
Hot and inviting!
Bottom 5 stars
No sludge – thanks to my long spoon!
Fortify Café
32 High Street, Maidstone Tel: 01622 670533
£2.60 Fairtrade organic 30% cocoa chocolate Abyss. Regular size.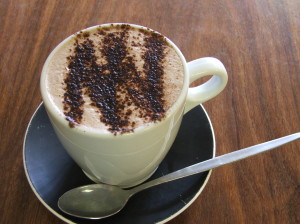 Taste      5 Stars
Smooth not grainy with a cocoa hit softened by sweetness and coats the mouth in creamy chocolate rather than a watery consistency.  Made with milk, not water.
Look  3 stars
The hot chocolate that is dished up looks rustic – like a cup your nan would have in the cupboard from the 1970's. A thick brown and cream decorated tall cup and saucer.
Sweetness 5 stars
At last a hot chocolate where I can taste the cocoa  before the sugar!
Temperature 5 stars
Not too hot, not too cold – just right.  Goldilocks would be proud.
Bottom 5 stars
No sludge or grains left on the bottom to taunt me.
Pop's Café
18 high Street, Maidstone.
£2.10 Regular size basic hot chocolate – although cream and marshmallow option is available.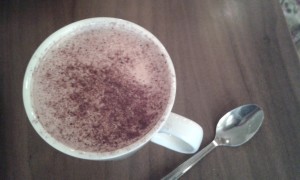 Taste      3 Stars
A perfect little pick me up Hot Chocolate.
Look  2.5 stars
The white tall cup and long spoon was perfectly adequate but quite thick set china.
Sweetness 3 stars
A good balance of sweetness and cocoa, although still a little sweet for my liking.
Temperature 5 stars
Hot and steaming but cool enough to dive right in.
Bottom 5 stars
No sludge or grains!
Mr. Beans Café
Address: 45 Weeks Street, Maidstone Tel: 01622 687666
£2.10 regular size Cadbury Hot Chocolate. Again, a cream and marshmallow option is available.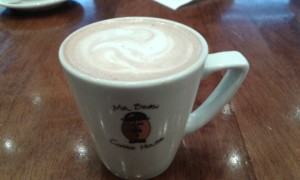 Taste      1 Star
Sweet and a little sickly.
Look  2.5 stars
The chunky, white tall cup and no spoon offered.
Sweetness 2 stars
Although it's the same brand of hot chocolate as many other cafes offer, it just tasted sweeter than others to me.
Temperature 5 stars
Hot enough and ready to drink.
Bottom 2 stars
This was grainy – the lack of spoon caused me to have a disappointing bottom!
The winner this issue who will have to stand up against next issues competition…
Fortify Café awarded 23 out of 25 stars!
 CLICK THE BANNER TO READ THE NEXT ARTICLE
Scoff and Quaff March 2014