Maidstone Lady wins Leeds Castle's Triathlon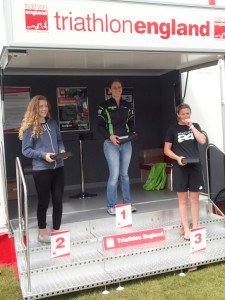 Over 300 triathletes took part in Leeds Castle's inaugural triathlon event last Saturday and the women's winner was Maidstone Harriers Tri Club member Hayley Trevelyan.
Hayley said: "It was an amazing event to take participate in and the marshals and crowds were fantastic. It felt quite surreal when I crossed the finish line and it was announced I'd won!" and yet Hayley is no stranger to triathlon success having won the Brett Ashford Sprint Triathlon in June.
It was the first ever sprint distance triathlon held at Leeds Castle and eighteen members of the Harriers Tri Club entered this inspiring event and completed the 750 meter swim in the castle's moat, followed by a 20 kilometer cycle on the surrounding roads and a 5 kilometer run through the picturesque castle's grounds.  Hayley raced the course in a rapid 1hour 27 minutes – 3 minutes faster than her immediate competitor!
Following the triathlon, Leeds Castle held an Olympic distance race as part of the new Mid Kent Tri league which aims to boost friendly inter-club competition.  The triathlon season has started and I'm sure there will be many more victories, but for now let's celebrate our home grown athletes win!  Info for Maidstone Harriers Tri Club http://maidstoneharrierstri.co.uk  Leeds Castle see http://www.leeds-castle.com/home