Maidstone's Best Roast Dinners!
With Easter less than a week away and four days of holidays to fill, fitting in a roast dinner to savour is surely a must! For those emerging from lent it is time to spoil yourself so don't chance an eatery you can't be sure of, take a look at my list below and you will see 5 of the best roast dinner options open to you in Maidstone!
I have been lucky enough to sample a few roast dinners in my time and Maidstone does boast some exceptionally good food – here is my top 5 list, see if you agree…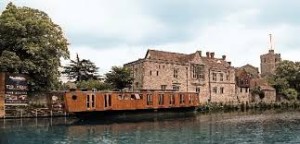 1. Embankments Restaurant, River Medway, Town Centre, Maidstone. Tel: 0800 689 7888
This intimate, stunning setting could easily dish up food that was as wishy-washy as the river because the location is simply wonderful but this fantastic little restaurant does the opposite – you get the best meal to go with the best views. I enjoyed melt in the mouth roast beef. The portioning was good, tastes intense and staff efficient and friendly. I relished my meal and will definitely go there again. This is roast dinners with a twist from this 'Surf n' Turf' restaurant. Roast dinners are £10.95 or set menu of two courses for £12 or three courses for £17
2.Mumu's, 108-110 Week Street, Maidstone. Tel: 01622 669800
You may not associate Mumu's with roast dinners but they have to be tried to be believed. This haven of food really wants to please its guests. I enjoyed roast beef and not a soggy Yorkshire pudding in sight! A great meal to get the taste buds tingling. Sunday Roasts start from £9.95 – £13.95.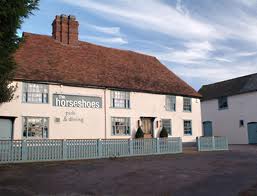 3. The Horseshoes, Dean Street, East Farleigh, Maidstone. Tel: 01622 741683
I would describe The Horseshoes as a gastro pub and the food is generous, piping hot and good! The prices for roast dinners range from £9.95 – £11.95 served on a Sunday.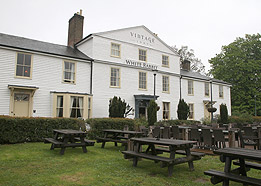 4. The White Rabbit, Sandling Road, Maidstone.  Tel: 0845 112 6103
For family friendly, good tasty food the White Rabbit has it all.  Full plates with all  the trimmings and lashings of gravy too.  The price is competitive and the food is        consistently good which is a relief because when you are spending your hard earned     cash at a restaurant the last thing you want is for the chef to be having an 'off' day!  Prices £8.95 – £10.95 or platters (beef turkey and Pork) £11.50 for one or £22.50 for   two.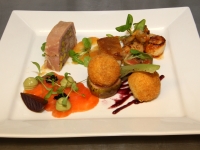 5. The Townhouse, 74 King Street Maidstone, Tel: 01622 663266
Not your traditional roast dinner and it is a little pricey but it is an indulgent 'spoil yourself' restaurant which really does cook fantastic fine dining. The restaurant has set Sunday roast menus with two courses for £17.95 or three courses for £24.95