Masters & Munn have the wind beneath their wings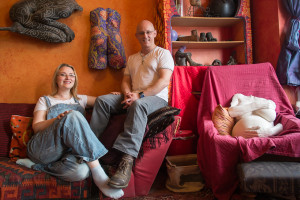 Within Maidstone there is a wealth of artists and creativity and working away in their own home workshop are two of Maidstone's brightest stars, artists who have finally gained some recognition for their work and although fame and fortune is not currently beating down their door, it should be.
CJ Munn and André Masters are extraordinary, multi-skilled artists having learnt so many different skills due to being commissioned to do so many different things.  I looked through the Masters and Munn portfolio and their artwork has covered almost every genre – I see photographs of models and weaponry crafted by André,  life casts and William Morris inspired design created by CJ, bronze animal feet casts, sculptures, crafted tools and armours, body casts made for 'Super Size vs Super Skinny', impressive and rare Cuir Bouilli leatherwork by André, a Kate Bush puppet used in her come back video… the list really is endless, diverse and pretty impressive.
They have so much experience between them that they make a powerful combination and together they have created a masterpiece which won the Global Award for 'Rising Star' at the 3D Printshow 2013. http://3dprintshow.com/global-awards/rising-star/
It is a huge accolade and achievement, acknowledging the heart and soul André and CJ put into the artwork that won them such recognition, 'Icarus had a Sister'.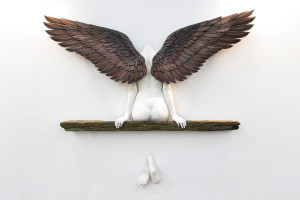 The stunning artwork shows a winged lady perching on a stone plinth made of slate. The beauty of the piece is in the detail and it took 9 years to complete, mainly due to the high standards they set themselves. 'Icarus had a Sister' was André's vision and he wanted the piece to be perfect. For this to happen, he needed to wait for the technology to catch up with his imagination to capture the delicate, fine precision of the sculpted feathers. It wasn't until the couple diversified into 3D print that his vision became possible to create, and even then they invested copious amounts of time and money in the project as well as relying on the kindness of friends and strangers alike to get the project finished.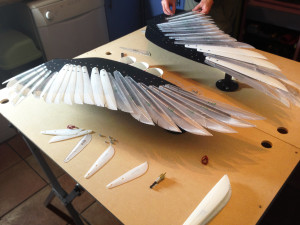 The result is award winning art that has been exhibited at the Louvre in Paris and at the London Business Design Centre and cost £10,000 to create.Before CJ and André combined forces and created 'Masters and Munn', CJ was a television producer and writer and André a model maker in the film industry. In 2008 André had his own workshop – started in 2004 – and was a self-confessed workaholic in what André describes as the 'no eat-sleep society'. His work was all consuming and his handcrafted models were fighting against a new age of computer graphics and in 2008 with low profits and mounting pressure in his life to 'get a normal job' André shut the workshop and got a full-time job. He hated it.
"It was a lesson for me to follow my heart. I shouldn't have listened to other people about how to live my life. I have to be true to myself. If you have an inner voice calling you, you should listen to it."
Growing up André had always had a passion to make things and was inspired by Ray Harryhausen (an American visual effects creator, writer and producer) and the Sinbad movies and knew he wanted to be a model maker: "It was such an exciting time!" André enthuses as he thinks about his childhood experiences. It was this passion that kept him on the right path "At 18 I was at Art College working my socks off." André tells me.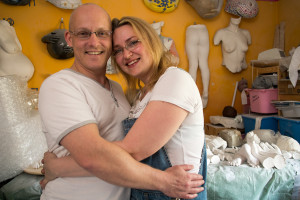 Having a vision for your life to follow at such a young age proved to be a struggle for André. His parents chose his options at school and without telling them, he changed the options and with that one change set out on his own path. His parents viewed his art as more of a hobby and André had to break away from the pressure to follow his father into the family business rather than go his own way. André was resolute and knew his life would follow the route of art.
CJ had a similar dilemma with her artwork. Both of her parents were artists and because of that, CJ set out in an opposite direction, urged to find a stable job with a better income. CJ became tired of the corporate world so following her love of art, she started to sculpt low definition body casts and this amazing talent has led to the company 'Rockabelly Lifecasts' http://www.rockabelly.co.uk/ which CJ launched after she cast her own pregnancy bump.
'Rockabelly Lifecasts' flourished and together CJ and André work on casts for all sorts of reasons – from the popular pregnancy casting through to unusual commissions: "We were asked to cast somebody famous' nose once…" André shows me the rubber cast which feels like putty.  The famous nose they cast belonged to pop singer Labrinth.
As artists both have had their low ebbs in life. André had to diversify away from model making when computer graphics took the majority of film work away from him and CJ suffered a spell of poor health that left her bed-ridden but together they have come through it all and one reason for this is because they worked together: "At least if there is two of you, you have the backup of another crazy fool to help you chase your dream. We boost each other, support each other and give each other backup and confidence" they agree.
One of the changing points in their careers was when they decided to embark upon including 3D print media within their work "If you can't beat them join them" André smiled. Although they both had a vast body of work and experience between them in the world of art, neither of them had embraced 3D print technology before but they knew if they wanted to compete in the market they had no choice but to accept its arrival.
With heavy hearts they looked into 3D printing and found the solution to creating the featured wings for 'Icarus had a Sister': "3D printing and ZBrush became part of us. We had to evolve and it's opened up new horizons to us" CJ tells me.
They went through the step by step process of 3D printing with a consultancy and then spent their life savings to buy a computer and software to design the feathers for 'Icarus had a Sister'.  The consultants were so impressed by the idea of 'Icarus had a Sister' that they became a sponsor for creating the wings. They trained with industry gurus and chose to embrace ZBrush 3D design software, "Learning about the software is like learning to walk – you fall over many times!" André chipped in. They had the knowhow and the printer but they still needed to fund the entire project – the 3D art was just a part of 'Icarus had a Sister' not to mention the exhibition costs and time they spent on the artwork.
They applied for Arts Council funding and were turned down 3 times. By this stage they had the sculpture half made and desperately needed funding to complete it. That is when CJ came up with the idea of 'crowd funding': "I had a dream before the crowd funding was launched that on the 1st morning it went live our kick-started goal of £1000 was raised." CJ tells me.
She put the dream on Facebook telling the person who had featured in the dream what had happened. On the night the link went live CJ and André were too tired to tell people about it, instead opting to launch it properly in the morning. The next morning before publicising the link, just as CJ had dreamed the kick -starter goal had been reached "CJ thought she was dreaming again!" André remembers.
The crowd funding snowballed from there and they were able to complete the sculpture: "When the feathers were complete it was so exciting we jumped around." CJ smiles at the memory. The sculpture was the talking point of the 2013 3D Printshow and winning the award was a career highlight for both André and CJ.
Their work is extensive but some of the most beautiful pieces of artwork that caught my eye were casts André and CJ had taken of animals. 15 years ago André had the idea to make casts of animal feet, their textured skin and recognisable features after a trip to Bristol zoo: "I was drawing the animals at the zoo and a family was standing by. The child was blind and was asking the parents all sorts of questions…" André thought the best way to communicate the scale and look of the animals that blind children would never have access to touching would be make casts of them to compare to animals they could touch – for example casting a lion paw and a domestic cat paw and displaying them together to show the difference.
He sent letters to every zoo and the WWF over a number of years to get interest in the idea – offering his services for free. Only Woburn and Chessington said yes.
André cast a patch of skin on an elephant called Chandrika at Woburn Zoo and was struck by the animal's intelligence. André built up a collection of casts taken from different animals and Woburn and Chessington would contact André when an animal was due for any work that required anaesthesia so he had a very short window of time to cast a foot, or ear or skin patch whilst the medical work was being carried out. The potential in the idea was immense, however, for one reason or another the idea was never embraced by the zoos and André's vision had to go on hold for 15 years until his dream would come true.
It was not until May 2013 that André would see his idea come to life when the WWF returned his call and asked him to supply casts for their new 'Living Planet Centre' in Woking. So 15 years later, André  and CJ went back to cast Chandrika together at Woburn zoo and to André's delight Chandrika remembered him, placing her trunk on André's shoulder she showed him how much she had grown since they last met. André and CJ together cast her foot, two patches of skin and even her elephant poo!
WWF wanted casts of all sorts of animals – some of which were impossible to cast in the timescale they needed and so with some ingenuity André and CJ approached the Maidstone Museum and discovered their archives hold a huge array of ancient animal specimens.
Between visits to the zoo and Maidstone Museum they managed to cast all sorts of animals including lion and tiger paws, gharial crocodile skin and a sea turtle face and flipper! The casts were delivered on 3rd November 2013 and are pride of place at the Living Planet Centre.
The timing of realising this dream coincided with the delivery of 'Icarus had a Sister' – the 3D Printshow was on 7th November so after 15 years André and CJ saw the animal casts in place and after 9 years completed 'Icarus had a Sister'. It was a heady time for them and they admit to living off of caffeine: "We worked 18 hour days, had 3 hours sleep and lived on caffeine" André and CJ can laugh at this now but at the time it was huge pressure for them but worth it – 'Icarus had a Sister' was the flagship sculpture of the show and the animal casts will live on forever.
There is one virtue they both possess that must bring them rewards and that virtue is patience. To wait 15 years to see a dream come true and never give up throughout that whole time, is inspirational in itself. André has been known to be invited into schools and colleges to talk to students and he is frank with them: "I've always been honest about how life is to students. I don't sugar coat life."
Success has brought them recognition and a new level of respect in the art world but not the fortune some would assume such success would bring. Money is always a moveable entity when it comes to art and neither CJ nor André are artists for the money, in fact I get the impression that even if they were offered a £1million commission but for something that didn't interest them, they would turn it down.
André and CJ have to 'feel' their work and get carried away with a passion only creating art can sate and that is arguably why they are so good at what they do – perfectionists to the end.
For more information, images and contact details visit http://www.mastersandmunn.co.uk/ or http://www.rockabelly.co.uk/. Casting prices start at £34.95 for a 'Kiss' cast and can be priced into the thousands depending on the commission.