Mixing it up with 'She Who Bakes'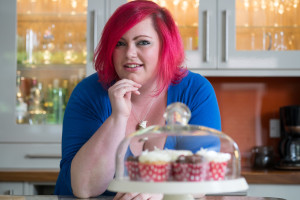 The joy of watching a cake rise in the oven, golden and firm, is something that rarely happens to most people. A cake can look beautiful before you open the oven door and then, as if lifted straight from a scene in a 1930s drama, the cake swoons into a dead faint, slumping back down into the tin as if embarrassed to be a cake at all, leaving you with a reciprocal sinking feeling. Still, it's your cake and nothing stops you from eating it!
All the measuring, sieving, beating and baking is worthwhile when things go right and it is the euphoric feeling of creating something that brings joy to others that inspires people to dedicate their career to baking. One of these bakers is the wonderful Maidstone based Britt Whyatt – otherwise known as 'She Who Bakes'. Britt has quite literally taken baking and made it accessible – she has cut through the stereotype of 'the perfect cake', showed the world that you don't have to be a grandmother to bake a good Victoria sponge and made it okay to get it wrong.
She is no Fanny Cradock or Mary Berry and you won't find airs and graces around this cool cookie. Britt makes stunning cakes for all occasions and, importantly, her blog and website tells you how she does it – every step of the way. You are with her as she ices the birthday cake, follow her progress as she invents a new recipe and laugh out loud with her when she admits a failure. Britt is the only professional baker I have seen to tell everybody about her baking nightmares – and she provides pictures to prove it! Put simply, 'She Who Bakes' is one of us.
I met Britt at her home in Maidstone where she took a break in between icing cakes to chat with me. Becoming a baker was not always Britt's ambition but was instead borne out of boredom; "I had an appendix operation and I couldn't go back to work for ages. I'm the sort of person who can't sit still for too long and my friend (who ran a playgroup) was raising funds for Children in Need, so asked me to bake a cake. I'd never really made a cake before in my life so I bought a packet mix, terrible icing and made a horrendous cake with a Pudsey face that was square, but as soon as I had made it I stepped back and said 'Oh my God I made that!'" It was the burst of positivity and creativity that Britt needed to launch her onto a new path in life.
"Within the next two weeks I made about 50 cakes and I decided to move away from packet mixes and see what I could do for myself. I got so into it because of the way it made me feel. It made me feel happy, it took my mind off things and then I decided to teach myself baking. About 6 months later I made a friend's birthday cake and they loved it – and the feeling that someone was so happy because of something I did was great, I thought 'Nothing can beat this.'"
And so Britt decided to change career from office work to baking. Britt holds an NVQ in health and hygiene, a PME diploma in sugar paste and a City and Guilds qualification too and was working in a shop that made cakes, teaching courses, and in the end she found she was baking so much for her own work that she decided to do it alone and 'She Who Bakes' was created.
'She Who Bakes' was Britt's own personal blog but it caught the eye of the nation through a chance find in Sainsbury's. Britt explains: "I was in Sainsbury's and spotted they had a product called 'Flower Paste' which is essentially a hard setting icing but way before things like 'The Great British Bake Off', you could only find flower paste in specialist cake shops, so I bought it, used it and loved it. I wrote up a review of it on my blog – which had about 3 readers at the time! – and I tweeted Sainsbury's the review and they retweeted it and messaged me saying they had a blogger network but they don't have bakers so they wanted me to be part of it in partnership with them!"
Britt has built upon this relationship, reviewing products for other companies and building her profile and readership. It has happened quickly and Britt admits: "Before I knew it my Facebook was up to about 6,000 likes, 6,000 followers on Twitter and 12,000 readers in the last month!"
Britain simply loves baking and of course the boost in recent years can be put down to 'The Great British Bake Off' but Britt also thinks the recession has helped the baking boost: "Some of us can't afford to go and have a day out and people just started baking instead and got hooked on the feeling of making something and finishing it – even if it's burnt around the edges or soggy in the middle it doesn't matter! We can't afford holidays and people who have children bake with them. It's also a classic British thing to do. It's becoming less of a Women's Institute thing. Marks and Spencer said the sales of whisks and mixing bowls has gone up 69% and 72% respectively over the past few years. Brits love to bake."
As 'She Who Bakes' is internet based, Britt is not restricted to the UK alone. People have a sweet tooth around the world and baking trends do differ according to countries. It's a topic that interests Britt "The icing we tend to cover the cakes with here in the UK is called 'Plastic Icing' in South Africa. Other places don't use it at all and Italy uses buttercream, America uses sugar-paste icing; so there are very different ways to make cake! You can almost look at a cake and know where it's come from. I've noticed that in India they don't cover their cake boards whereas in the UK and in America we tend to cover our cake boards with a layer of icing. Also cupcakes – a cupcake in England is a 'fairy cake'; America changed all that and the cupcake has increased in size by about 36%. Giant cupcakes are popular – we are getting a lot of trends from America."
It is a creative industry and the sky is the limit. Making new recipes is part and parcel of being a baker and Britt has her favourite cake which has become her signature cake: "It's a peanut butter and chocolate ganache five layer cake – it is immense, 6 inches round and 6 inches high!"
Britt has no shortage of people offering to be cake testers (and it is a good job, because Britt herself doesn't like cake) but there are only very few people she trusts to taste her cake recipes: "I always get a second opinion. I have two friends who are really close to me and they are the most ruthless, honest people.  If something doesn't taste right they will tell me and if something doesn't look right they will tell me. I know I can trust them and they have both given the peanut butter chocolate ganache their seal of approval!"
The most popular request Britt receives is for vanilla Madeira cake with vanilla buttercream and raspberry jam, closely followed by chocolate fudge cake with salted caramel; and when I arrived she was finishing off a children's birthday cake by adorning the top with a 'Skylander' character. Britt completes about 7 cakes per week and the four things she couldn't live without are her pallet knife, a decent rolling pin, her scribe (for bursting icing bubbles) and a piping bag. Britt struggled over her choices but didn't falter when she chose her silicone rolling pin: "Chuck out your wooden rolling pin! I know it might have been in your family for fifty years but I don't care! Fine for pastry… but for icing if you want it to look nice, get rid of it because the wood grains on it make an impression and anything wooden you can't get 100% clean."
Throughout the interview we enjoy a good banter and Britt is the type of person who wears her heart on her sleeve and doesn't care who sees it. She is very open about her life and life hasn't all been as happy as today. Orphaned at 16 years old, Britt experienced some extremely dark times and openly admits to having suffered with mental issues which is why she became associated with 'The Depressed Cake Shop', an initiative set up to fundraise for and highlight mental health issues. Last year the cake Britt made for the pop-up 'Depressed Cake Shop' in London featured on the Daily Mail website: "The Depressed Cake Shop is a network of bakers that span the entire world. Some get together and create a pop-up shop and the idea of it is that the cakes are black and grey on the outside but rainbow and colourful inside and they focus very much on the fact that 1 in 4 people will have mental health issues."
Before Britt lost her mother she was destined to be a singer and won a scholarship to the Sylvia Young Theatre School in London. She was on 'This Morning' and the 'Big Breakfast' TV show with her mum as her driving force, but following her mum's death Britt stopped it all, unable to face the emotions singing brought with it. Years later Britt did pluck up the courage to sing again after she had experienced the thrill of achievement from making her rather sorry looking, square-faced Pudsey cake: "I did a couple of panto shows and it was the first time I had sung in public since my mum died. I don't think I would have had the confidence to do that if I had not made that one cake."
Today Britt is brimming with confidence and declares "In five years I definitely want to be doing TV" when I ask her where the future is leading her. Before that Britt has her very own recipe book being published. Still being written the book will be unique on the market: "It's going to be different because with a lot of recipe books that are out at the moment they are just assuming you will get it right first time – and I know you probably won't because you don't bake day in day out – my inbox is jammed with questions saying 'My cake's done 'this' how do I fix it?' and I just thought there needs to be something out there rather than just googling it, so there will be a large section of the book dedicated to 'If it goes wrong this is what you need to do next time.'"
"Also I really hate it when there is just a recipe and no pictures – no picture of what it should look like or a picture half way through and that's where it can go wrong because people look at their cake mix half way through and think 'It doesn't look right, I'll add more' so it all goes wrong. So step by step photos too."
Britt bursts into laughter when she tells me about her catastrophes in the kitchen "OMG my worst catastrophe ever was a whole week of catastrophes! It got to half way through the week and I said 'I'm not baking again!' so I went off and made candles for two weeks, hated it and of course came back to baking." A relief for us all.
"I had baked a pink lemonade cheesecake and it was an American recipe and you needed lemonade concentrate which isn't sold over here… So I thought I could use lemonade, but just not so much of it. I put it in the fridge and it didn't set so I put it in the freezer. I took it out and it looked lovely – nice and pink and as I unclipped the tin it just went 'whoosh' all over the floor. I had pink liquid all over me, all over the kitchen floor and I burst into tears. Also that week I baked some cupcakes and I put no raising agent in and they came out like biscuits, so I did it again and without thinking used self-rising flour and added raising agent as well and they pretty much exploded. I think I screamed. I also baked a cake, turned it out and it was hollow in the middle! I turned it all into a positive though as I put my catastrophes as a blog post – so I know how disheartening it is when things go wrong."
Since 'She Who Bakes' has gained momentum Britt has found herself in demand too having judged a bake off at the 'Cake and Bake show' in front of 4,000 people between the two winners of Britain's Best Bakery. At these times Britt pinches herself: "There's a part of me that says 'Are you sure you've invited the right person to do this?'"
As well as the 'She Who Bakes' blog, website and forthcoming book, Britt has featured in three issues of 'Cake Decoration Heaven Magazine', written the foreword for 'Brilliant Baking Magazine', featured in Women's Own Magazine, launched her own You Tube Channel and is due to report on the 'BBC Good Food Show' at the end of the year.
Britt can hardly believe the success so far: "It's really weird because I can't think of the progression, all I can think of is that it's just kind of happened! I woke up the other day and I'd had 127 new likes on my Facebook page overnight! It's been really cool and I've made designs which have been appreciated by champions in my industry – there's a TV show called 'Ace of Cakes' and Duff Goldman retweeted one of my cakes saying he really liked it, so major people in the industry have started to take me seriously."
When I ask why she feels people have taken to 'She Who Bakes' Britt says: "I think it's because it's so real. There are things I've made and it hasn't worked but instead of hiding it I tell people about it and say what I'm going to do next time."
Success has seemed to come to Britt overnight but it is due to her hard work and ingenuity: "As soon as I decided to take things by the horns it's gone forward with perpetual motion, things just started happening. I asked 'How is this all happening?' and my friend said to me 'Because you pulled your finger out of your arse!' Once you start doing things it's surprising how things come together."
The future may well hold TV for Britt, she has already been on Radio 1 a few times and she has the most amazing presence which would work well in TV. With dazzling red hair, tattoos and piercings that just seem to fit her and a smile which lights up the room, Britt was born for TV. In the meantime Britt is due to teach for Adult Education in September and will keep doing what she does best – baking with true passion and zest.
Britt's Crumbs to Crunch…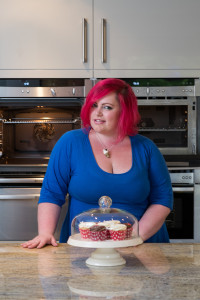 "I'm exceptionally picky and unless I'm 100% happy with it, it doesn't leave my kitchen."
"For a celebration cake I will use a Madeira cake because when you bake it, it's good for about two weeks if you store it properly and cover it in icing so I make cakes at the beginning of the week and then take my time over them."
"Baking is not cheap. A decent cake tin is about £15 for a 6" round."
"I use proper PME cake tins.  You can do a tin test! Get the cake tin and push the tin between your hands, if you can feel any give it's not good enough – and I ice cakes everyday so I've got some upper body strength – I can really go for my PME tins and they don't have an inch of movement."
I asked if she is a fan of loose-based cake tins:
"I hate them! With my cakes I turn them out so that the bottom becomes the top so I get a nice flat level; with the sprung ones you have a rim around the edge so you can't get a smooth finish."
"If you are icing a cake make sure you make the cake the day before you ice it."