You are Never Too Young to be an Entrepreneur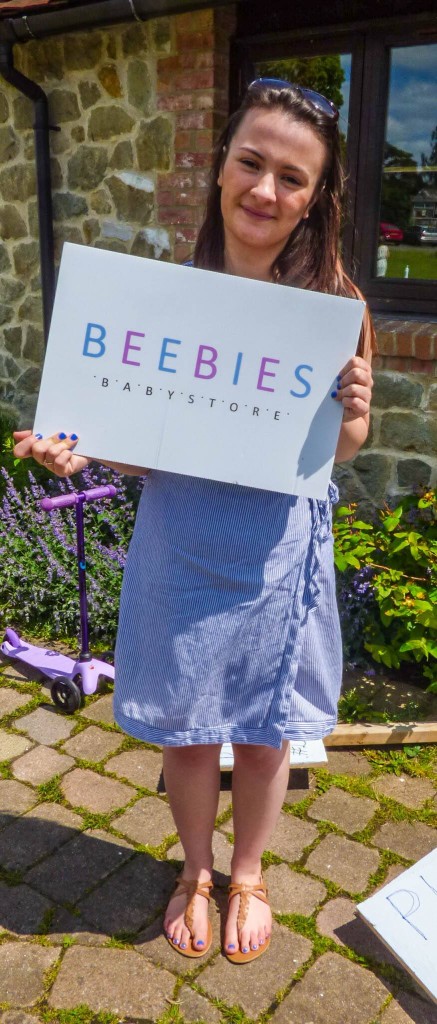 Ami Holt embodies all that is great with the business world today.  At the tender age of 20 she has set up and runs an award winning internet based company that is simply blooming.  It is called 'Beebies Babystore'.  Even more surprising is that Ami was just 17 when she started on her entrepreneurial journey after starting to sell 'nappy cakes' – presents for the parents of new born babies.
Ami knew she wanted to go into business from a young age but found herself drifting down the academic path to university simply because she was encouraged to do so.  Ami told me; "I remember writing my personal statement about wanting to go to university and thought to myself 'why you are lying?' It just didn't feel right. I went against what everyone in the world told me but I had every faith it would work.  Building a business doesn't happen overnight – you don't suddenly become Richard Branson!"
Ami didn't go to university; instead she took a job at an estate agent and saved money to set up on her own.  In March this year she left her job to fully focus on the business.  It is a decision that seems to have paid off.
Ami applied to the 'Loved by Parents Awards' and found herself shortlisted up against companies such as Kiddicare.  She created a campaign #welovebeebies, so anyone using the hashtag 'we love' would see the campaign and the week before the awards Ami sent out party parcels to bloggers so they could see what Beebies Babystore was about and encourage them to vote.  Whether the campaign tipped the balance, of whether Ami's business was a favourite from the start, we will never know but Beebies Babystore won the 'Best Independent Retailer' category by an incredible vote.  It seemed to validate all the hard work Ami had put into the company.
"I set the computer up in the morning to keep track of the category winners being announced.  My team were all sitting on the edge of their seats waiting for the category to be announced too and I thought we weren't going to win as one of the retailers we were up against had won for the last four years running – then came the tweet!" Ami smiles at the memory which was obviously a momentous moment for her as a business woman, "I didn't know what to say, I was overwhelmed.  I had put in so much work and it was all worth it!"
Ami seems more mature than her 20 years and has a determination that all successful entrepreneurs seem to share.  She explained that the fire in her belly stemmed from the adversity she has had to overcome in her life – from witnessing her parents' messy divorce through to suffering from depression herself.  After a school life dogged by bullying Ami decided she was going to prove them all wrong and the day she stood up to her bully was the day she regained her confidence and yet because of some painful memories, Ami always just looks forwards – which is a great attribute for a business woman.
Ami also aims to help others through her online store as she is a supporter of 'The Lullaby Trust' – the only organisation currently researching the cause of SIDS (Sudden Infant Death Syndrome).  Ami chose to support The Lullaby Trust because one of her close friends lost a child to S.I.D.S and has witnessed first-hand the devastation a child's death causes.  By coincidence, her own grandmother lost a child to S.I.D.S too so it is a cause close to Amis heart.
Speaking to Ami is inspiring as she wears a smile on her face the whole time, a genuine smile that must come from the heart.  She is not afraid to show her human side and admits that she is different to the business women stereotype: "I am a business woman with a difference – my main focus is not sales.  I run a business as a person rather than a robot."
Ami went from making nappy cakes for friends and family to sourcing popular baby products being reviewed and loved on social media.  Ami found out what was trending and contacted the suppliers to see if they would be interested in selling on Beebies Babystore – some were interested and some were not, but she kept knocking on doors until they let her in. One of the first brands Ami stocked was the 'Poddlepod' and the 'Nodpod' which have turned out to be best sellers for Bebbies Babystore, "I love them!  They hadn't been seen before and they are practical.  I never stock anything I wouldn't buy myself" Ami assures me.
With no business set up costs and marketing through social media, Ami is ensuring she keeps costs to a minimum "Twitter is a Godsend! My youth helps as I have grown up with social media and I am very lucky to have a friend who is a blogger – bloggers are the key to success in the industry"
Now Ami has businesses approaching her, wanting to be part of Beebies Babystore and Ami puts all the products she sells through their paces with her team of seven ambassadors who  test the products before Ami agrees to sell them.  As well as baby products Ami also sells maternity clothes: "the clothes range from £7.99 to £24.99." Ami tells me.
The business is growing steadily and that is just what Ami wants, although she admits that this time 12 months ago she saw the business going in a different direction "this time last year I really wanted a shop – I don't want that now.  I don't have to compete with the High Street.  I just want to keep growing and I'm hoping to bring out my own skincare product range.  I'm waiting for the samples to test out, so hopefully my own brand will be the next step!"
Ami says this as if it is the easiest thing in the world to organise but behind Beebise Babystore is hard work and a support network.  She gives credit to her partner for his ongoing support and like all good business people Ami knows that success isn't a one way street – she is getting back exactly what she is putting in and enjoying the award winning business she has created.
Twitter: @beebiesbabystor
Facebook: https://www.facebook.com/BeebiesBabyStore?ref=hl
Pinterest: http://www.pinterest.com/beebiesbabystor/