New Talent in Maidstone – Artist Ioanna Papadimitriou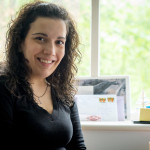 Ioanna is on the brink of breaking into the Maidstone art scene. As a printmaker and textile designer from Greece, Ioanna has only been in Maidstone for a short time and is fresh from completing her MA. "I started with costume design and pattern cutting for three years and then went to the School of Fine Arts in Greece to do printmaking."
Ioanna completed her MA in Textile Design at University of Arts London (UAL) in Chelsea and has since had her work – etching prints – accepted into the Cultural Centre of Milanovac, Serbia. "I made small etching prints from blanket material and wax, carving into the wax" Ioanna explains the work that caught the attention of the Cultural Centre. Her art is detailed: "I do everything by hand and it takes a long time and I try to be ecological too" Ioanna is a thoughtful artist and has an excitement in her voice when she talks about her work.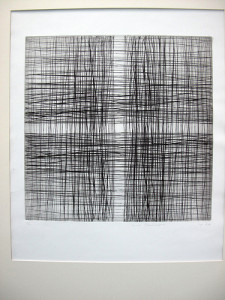 "When I did drypoint for the first time it was amazing!" Ioanna brims over with enthusiasm at the memory "…You have a metal plate and when you start making a design it is very direct, there is nothing between you and the metal. For me it was magic. You can print it more than four times and turn it as you go. It works as most of my work is square." she continued.
She is an artist whose first love is printmaking and her work is very precise: "I like symmetry and clean lines. You can make something that has movement and depth by turning the square and printing over it again."
Her skills include screen printing and printmaking, stitching and sewing, etching and drypoint and so it is surprising to hear that she didn't grow up in an artistic environment: "Although I didn't have an artistic childhood I did love art from when I was a little kid and I always observed others and the art around me."
For inspiration Ioanna looked to Lissitzky who was an important member of the Russian Avant-Garde movement. She was inspired by his art which created structure within art. This inspiration led Ioanna to find her own style. "I would like people to see the depth in my work and to feel it – to feel the movement within it. The art has its own life, own space." Ioanna gives me an example of this by telling me of her final piece of work for her MA. She breathed life back into an old army tent by screen printing the material and making it water repellent by waxing every inch of it – to portray the sense of safety and protection. She achieved her desired effect by waxing the tent with a mixture of olive oil and soap and then ironed the wax hard.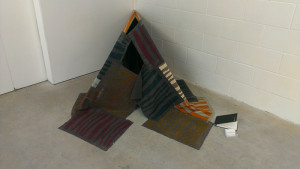 One of Ioanna's last projects was very personal to her. She printed her own wedding invitations on silk handkerchiefs and posted them so each guest had an individual piece of artwork from the happy couple. "I think it is most important to be creative" Ioanna smiles as she tells me of the happy reactions of her guests on receiving this most unique of invitations. Over the next 6 months she aims to use her skills in printmaking to make useful things – probably things to wear.
Her long term goal is to have her own studio but in the meantime, Ioanna is upbeat "I always find a way" she smiles and she has reason to smile, having already been accepted to exhibit her art, she is making a new life in Maidstone and is one of Maidstone's up and coming talents to look out for.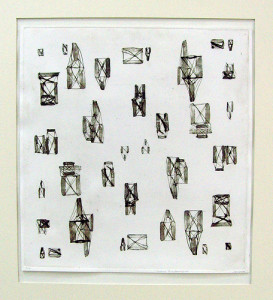 "I like everything about art! My work is detailed and in-depth and I feel fulfilled when creating my art." Ioanna concluded.
Ioanna accepts commissions and the price of her work varies with every piece and she likes to talk it over with those who want to commission her to ensure she can make things to suit every budget. Take a look at her artwork at this Flicker link www.flickr.com/joanopus or contact Ioanna directly at joanopus@gmail.com.