Petrus Madutlela – the smiling chef who is serious about food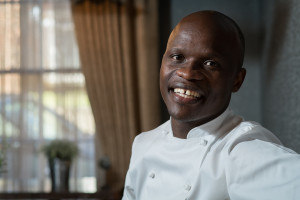 Petrus Madutlela has earned his place as head chef at The Hengist Restaurant, Aylesford. He has an impressive CV, having learnt to cook from Margot Janse and represented his native South Africa in the 'Jeunes Chef Rôtisseurs Competition' winning 4th place out of 21 countries. He won the South African "Unilever Chef of the Year" award in 2010 and was chef of the year, by invitation, for 2011.
Petrus came to England, with wife Shirley, and gained the job of chef de partie at the Savoy before moving to the area for family reasons and becoming the sous-chef at The Vine in Sevenoaks, before moving to The Hengist as sous-chef from where he applied to be on MasterChef. He took part in MasterChef: The Professionals in 2013 and got through to the quarter-finals. Petrus worked his way up to head chef at The Hengist and the position is a dream come true for him. He told me "It is a career highlight because in South Africa if they read about this it will inspire a lot of people."
Petrus refers to the township where he grew up – Mothotlung, near Pretoria in South Africa – where he hopes his story of success will be inspirational. He grew up in a large family with his parents working away from home. With this in mind, his mother would buy food in bulk: "She would buy 20 kilos of cabbage so we ate the same thing every day – boiled, fried, cabbage cooked every way! But I'm glad I was brought up like that. If you don't have food or water then it's worse. It taught me not to compare myself to other people with what they have. Tomorrow is another day."
Petrus left school with his Matric qualification (equivalent to AS levels) and at that time job opportunities were scarce so he jumped at the chance of becoming a kitchen porter, a job Petrus says was a blessing in disguise: "I knew if I didn't take the job seriously I would be out on the streets." Petrus clarifies. He knew if he worked hard, then if another opportunity arose he would hear about it. At this point Petrus didn't know he wanted to be a chef. His hard work and dedication were noted and one day they simply asked him if he wanted to be a chef so he answered "Yes chef!"
Petrus didn't know the first thing about being a chef: "I've learned to love cooking" Petrus admits, "I just kept asking questions and kept reading books. You have to have a vision, have to see something and know you are fortunate." Petrus grabbed the opportunity with both hands and threw himself into the job with vigour.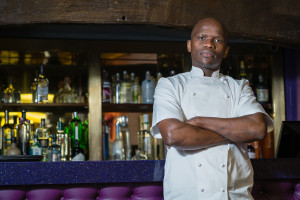 Petrus is a positive person with the brightest smile this side of the moon. His smile is infectious and his happy nature goes hand in hand with the success and contentment he has found in his career. "The secret is to have a smile on your face. The smile changes life. People feed on that smile and energy." Petrus' philosophy in life is clear and makes him a likeable character. He has attracted a certain amount of fame since taking part in MasterChef in 2013 and is currently in South Africa filming 'The Ultimate Braai Master' television cooking competition but this time instead of being judged, Petrus will do the judging as a judge and mentor for the series.
When I ask him about his fame, his smile fades a little. It is not a concept that sits easily for him and he doesn't think he can class himself as famous. Even so, he is recognisable and his eyes light up when he speaks about his MasterChef experience: "It was the second time I had applied and when I got through I was so pleased! Everyone works to be successful at what they do, The Hengist organised cover for me and so I went for it! I'm from a township in South Africa and then on MasterChef!" He was sworn to secrecy about the results of MasterChef due to the delay between filming and going out on air, so when Petrus saw Michel Roux Junior at a food festival before the programme aired everyone was wondering why Michel greeted Petrus with such excitement.
As seen on MasterChef, Petrus loves to cook with simple ingredients "I love to cook bread." Petrus tells me and I am lucky enough to have eaten his bread lavished with truffle oil butter. His menu at The Hengist includes traditional fayre "Everyone loves the pea velouté which is very traditional" Petrus agrees and tells me: "Every dish has to be 'WOW' but people also want good food so you have to get the basics right. I have tried to include seasonal food in the menu too."
Petrus doesn't class what he cooks at The Hengist as just 'food'. He says food is to keep you alive "Food for me is when you go out hunting, you cook on an open fire and the meat may even get burnt but you eat it and it is just so nice because you are hungry. It can be the simplest of food like onion or chicken and taste great." At the Hengist your appetite will be sated but Petrus' creations are artistic as well "I had to learn how to mix art with food. I try not to think too hard about it and suddenly the solution comes to me – it could be at a completely different time." Petrus has so many different ideas about his cooking and finds inspiration everywhere but insists he still has a lot to take in "I've still got a long way to go – I feel like I'm just at the beginning!"
One of his favourite dishes to cook is South African 'Pap en Vleis' similar to polenta meat salad and a staple dish in South Africa everyone knows. It is a simple dish but seems to bring joy to Petrus to make it "Food brings people together." he explains. His own family all love to get together for mealtimes especially in South Africa, and here in England his young son is already showing signs of a chef's palate – he opens the fridge and simply eats the broccoli heads and Petrus laughs as he tells me how much his son loves raw food. "I do cook for him though!" Petrus adds.
Life at the moment is going well for Petrus and he hopes the future will bring him his very own restaurant one day. "I see myself with my own restaurant – a simple restaurant, for people to walk into with their family. Fine dining is not a must for me."
Petrus is very down-to-earth and puts a lot of his success down to simply working hard and giving 100% all the time rather than striving for success or money in his career. "I always say money is like a slow moving animal. It will come to you, don't run towards it. Work your way up and give 100%, which was the advice given to me. Enjoy each and every moment in the kitchen – if you are a commis chef be a good commis chef. Life is too short. Even if I have to give the commis chef the same job for a week it doesn't matter – all jobs in the kitchen are very important, even peeling potatoes. I gave it my all so people might look at me and say 'We must keep this man he always gives 100%.'"
Petrus is one of life's positive people and instead of believing his talent is unique he believes that there is a cook in everyone "I've watched a lot of competitions on TV and you just have to put yourself in a chef's shoes." He makes it sound easy but a chef's job is long hours and constant professionalism and also eating things you don't necessarily like yourself: "Growing up I never ate pork meat, but you learn to love it. In life you can always learn to love something."
His sentiments are given from the heart, and from experience, but even so, Petrus still can't bring himself to eat cabbage, raw, fried or boiled!
Take a look at The Hengist menu at http://www.hengistrestaurant.co.uk/menu.php.