ASK Maidstone's 1st Birthday £1000 Giveaway!
It has been one year since ASK Maidstone opened it's doors in Earl Street, becoming the fourth Italian restaurant on the street.  To celebrate, ASK ran a competition for local youth sports clubs to apply for the prize of £1,000 in cash with the winner being decided via a voting system online and through the restaurant.
The winners and runners up were invited to the birthday party celebrations for a meal and the Mayor of Maidstone, Councillor Daniel Moriarty, presented the winning club, Meridian Girls Football Club, with their £1,000 cheque.
The runners up were the Blue Eagles Football Club (under 11yr olds) and Yalding Cricket Club (under 15yr olds). Club Chairman Adrian Arnold, Club Administrator Paul Basden and Club Secretary Don Turner were all in attendance and winning the £1,000 means they can invest in the under 10 year old's football equipment and kit for the next season.  Don tells me: "I think it's a great opportunity for our under 10's to have the kit and equipment they need to develop on the pathway to ladies football.  This is a great recognition for girls football"
Restaurant chain ASK are no strangers to supporting charity having been staunch supporters of Great Ormond Street  for many years staff take part in fundraising efforts for the charity but for Maidstone's 1st birthday celebrations they wanted to give something back to the local community.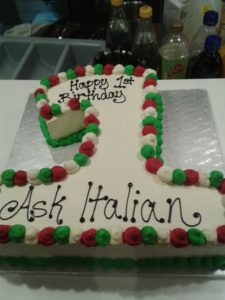 Restaurant Manager, Shyam, said: "In the last three years we have raised £600,000 for Great Ormond Street as a whole company but we also recognise local charities too."
The Mayor was pleased to present the cheque to such a fantastic club.  He said: "These are the sort of occasions I love.  Tonight was something different – anything to do with sports and athletics I love to support in general.  Maidstone should be proud of their young people and it's good to see them being invested in."
All were offered free meals by ASK on the night offering a very diverse and traditionally Italian menu.
ASK Maidstone – 31-33 Earl Street, ME14 1PF Tel: 01622 671300.  Open Mon – Sat 11:30 – 23:00 and Sunday 11:30 – 22:00. See their website for more details.