Review: Wagamama – As good as they say it is?
Wagamama review – Maidstone, Earl Street.
Both Yelp and Trip Advisor consistently score Wagamama as a 4 star restaurant with gushingly good feedback so it was with high expectations that I entered the new Wagamama restaurant in Earl Street, Maidstone for lunch. There were three of us eating – two adults and one child and I can safely say eating when you have children can be a nightmare. Not at Wagamama.
I was greeted warmly and professionally and shown to a table with ample room for the push chair and a highchair was rustled up pronto but the first thing that struck me was the cleanliness of the restaurant. The floor was spotless, the tables were being efficiently cleared and wiped down and all with a relaxed atmosphere. The open plan layout was not stark and the open kitchen – which seems to be all the rage – worked well. You could watch the chefs' work but you didn't get over powered by the smell of cooking.
Although the restaurant had only been open a matter of days, the staff knew the menu well with the waitress having memorised all the numbers from the menu to correspond with your order. When I asked how she had managed to do this in such a sh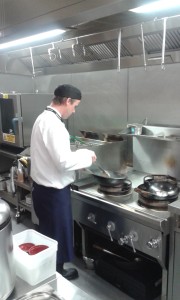 ort space of time she explained she had been training at the Bluewater restaurant for a while. This was a revelation – staff who knew what they were talking about!
Our food was served within 7 minutes of ordering and throughout our lunch the free (yes free!) baby chococinos were in constant supply without a bat of an eyelid when we asked for another. Now let me make it clear that I had not told anyone I was reviewing and did not attend on a busy Saturday when all staff would be hands on deck, it was a cold, Tuesday lunch time and no one knew I was reviewing until after our lunch when I asked to take photos.
You could argue that as the restaurant is new the place should be spotless and the staff should be on their best behaviour, however, it only takes one day to make a restaurant filthy – especially with little ones around – and the facilities really were good with a lift for convenience to the first floor.
It's rare to have nothing negative to say so I asked another diner – a couple with a young baby – they were full of praise stating that the baby change was really clean which was 'so good'. They seemed relieved; as if they had finally found a restaurant that is family friendly instead of simply pretending to be.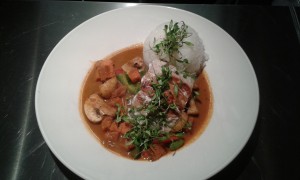 It's great to have cleanliness, good staff and facilities but that all means nothing without good food and again Wagamama does not disappoint. We ordered a mix of food, all of which was hot and appetising. Chopsticks were available but forks also provided and the menu was full and mouth- watering. There is a separate menu for children and not a chicken nugget in sight! Phew. I feel this restaurant has raised the bar in Maidstone for standard of service, food and value for money. I have to say the reviews I read are gushing and praise where praise is due, I am forced to agree with them.