South East Open Studios – Opening the Doors to Maidstone's Talent.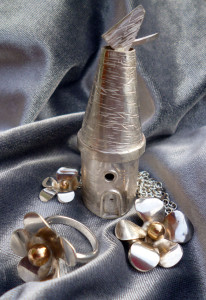 By Helen Shewry.
Phenomenal artistic ability opens its studio doors to you as part of South East Open Studios (SEOS) 2014.  This free event takes place from the 6th – 22nd June.  A studio says a lot about an artist and I take great enjoyment from exploring their place of creation.  I have been speaking to the artists to uncover, not just their art but their studios too.
Some of the studio spaces this year include: a converted barn, stolen spaces within a house, a Swedish cottage design and some garden hidey-holes.  Participating artist, Sue Batt, says about her converted garage/stable, "[It's] where I can close the door and play" and "It holds memories and artefacts I have collected or been given."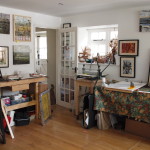 This is what SEOS is all about – getting under the skin and into the mind of creative people who don't just make things for a living: they make things because it's a passion.  Sue Williams is so dedicated and driven that she admits to buying her home because of its garage and its potential to be her studio.  She excitedly describes it as, "All my space".  There's real excitement among the whole of the artistic community in Maidstone – and they want to share it.
The bountiful garden of England is a source of inspiration to many.  Sue Batt is focussed on painting, sculpture, printmaking and mixed media.  Her studio overlooks the Weald of Kent.  She says, "Much of my work is inspired by the surroundings of my home and studio.  I am enthused by patterns and shapes in the environment which has led to layering of different textures and surfaces in print and collage creating abstract and figurative artwork."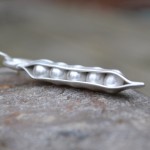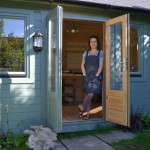 Mary Larkin and Carole Robson take inspiration from their green-fingered hobbies.  Jewellery maker Mary Larkin comes from a long line of artists and green fingered creators.  She connects strongly with this and poetically declares, "To this day the scent of tomato plants transports me straight back to my grandfather's greenhouse and the soft velvety texture of the leaves."   Experimental painter Carole trained as an Illustrator at St Martin's School of Art in London and worked as a freelance artist for major London publishers.  She has lived in Kent for most of her adult life and finds that plants and her natural surroundings are continuously an inspirational source.  She doesn't paint outside as she likes to throw water onto her canvas – washing part of her work away, experimenting with techniques, textures and mark-making.  Carole is also interested in 'resist techniques' – mixing paints which don't mix such as oil and water.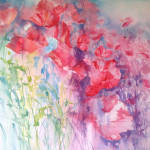 As experimental as Carole is she still found one request tricky, "One of my first commissions was to illustrate a series of 50 snakes for an encyclopaedia, which for someone with a snake phobia was a huge challenge!"
Another unusual commission was for Sue Williams, a talent in painting, pastels and porcelain.  Sue has a true love for flowers and plants.  In New Zealand she was commissioned to design a series of 12 stamps for the Pitcairn Islands.  Sue travels a lot and also works in Zimbabwe's botanical gardens where she (along with others) paint and exhibit, helping to fund the botanical garden's educational project.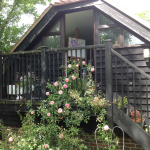 Sue has a visit to Kew Gardens in the 90's to thank for her inspiration to paint and recently exhibited there.  Her passion for flora and fauna hasn't stopped and she's currently undertaking the documentation of plants in the Chelsea Physic Garden, London.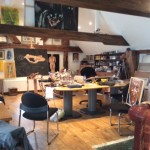 Away from nature, you'll find painter Steven Sanford who enjoys, "creating raw and honest images of the human form.  These images are not always flattering but I believe do show some of the character of the individual."  His work is reminiscent of Francis Bacon, who Steven admits is a hero of his.  His work may not be of nature but his process seems to take an organic form, "On every picture I work on I set out with an objective, be it to capture movement, skin tone or texture, the mood or character of the model; this determines the nature of the pose, the size of the canvas, the paint I use or even the time of day or night that I actually work."
The diversity of art continues with these local participants.
Maidstone Artists:
Paula Jackson makes bespoke, handcrafted jewellery capturing important moments.  Paula works in silver and semi- precious stones.
Inspired by the beaches and seashores close to her home, Lesley O'Brien makes unique fused glass wall art and silver plated jewellery.
Charlotte Rice-Landman designs and makes bold, bespoke jewellery.
Jan Wilson produces pencil drawings and limited edition prints.  She has a delicate touch, capturing the beauty of the individual flowers which make up the cottage gardens and orchards surrounding her home.
Sue Pearce undertakes a variety of colourful subjects in pastel and dry media.
West Malling Artists:
Victoria Wainwright loves everything arty and found herself with a desire to make jewellery.  She explains her process, "I make silver and gold jewellery because I am attracted to the warmth of the gold cooling against the silver. My inspiration is eclectic, a mix of my fascination with nature and my sense of humour. I need to create a cohesive collection but I am constantly seduced by random ideas and the need to experiment."
Jamie Walsh is a printer and writer. He's been experimenting with biting with salt, leaving them in the greenhouse to see what kind of effects he can achieve. 'Much of what we all do in the studio is experimental, resulting in what we call "happy accidents". Although sometimes we are not as delighted with the accidents, we do learn new techniques in the process.'
Alison Brown is a printer and a jewellery maker and also takes impressions of children's fingerprints to create silver keepsakes. "I've been fascinated with print making ever since living and working in Japan and a lot of my work is influenced by this."
Potter Tim Harker has worked with students at Chelsea College of Arts.   He's joined the SEOS this year to focus on his own ceramic work.
South East Open Studios is a great opportunity for the public to visit, chat to artists in their own studios and even purchase art.  Opening times vary.  Visit the SEOS website for more information. www.seos-art.org