Flora, Fauna and Fortuitous Fame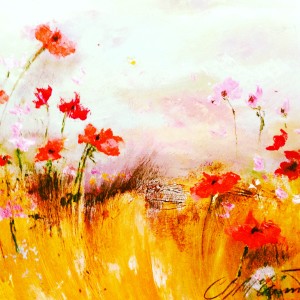 By Helen Shewry
Maidstone Artist Cathy McClymont is becoming such a runaway success it took even her by surprise.  Her work is becoming so well-known and sought after that currently her time is taken up solely with commissions.  She receives most of her requests from the numerous shops around Kent where her work is hanging, including Harpers in Maidstone and Hunker Down Daisy in Bearstead.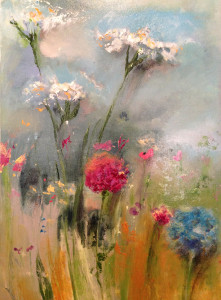 After studying art at college, Cathy found she craved a career; she wanted to work, not idle her day's away painting for fun wishing she would one day make it big.  Resolutely she embarked on, what turned out to be, a successful career in graphic design.  Due to her graphic design background Cathy is content to receive commissions and work to the clients requests.   She says her work is definitely her and looks a certain way and a certain style, but if a client would prefer a purple background instead of a pink one then she's happy to accommodate them.  However, she was keen to point out, she wouldn't change her style as that's who she is and what people are looking for in her work.   Having said that, she feels she isn't precious about her work as other artists might be.
With a family to take care of Cathy now does something she's happy with and finds it 'amazing escapism' from her
hectic daily life.  A shed (her studio) at the bottom of her garden is where she produces her art.  A perfect retreat – close enough to the family while offering some solitude as well as a place to house her creations and tools and not worry about clutter or little fingers in paint pots.
Cathy likes to work on a larger scale as she enjoys the freedom it offers.  She focuses on the landscape and produces works incorporating wild flora and fauna.  She walks in the countryside with her dog and absorbs the landscape and the colour surrounding her while basking in that freedom.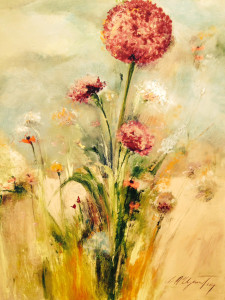 Many artists feel the desire to express something through their work and although Cathy stated to me she is happy with
being considered a commercial artist, what Cathy is conveying through her art, and seems to be at the heart of what she is doing, is freedom: the feeling of freedom.  She works mainly from her head and doesn't copy, but does find she is frequently surround with 'vases of dead weeds' – as she liked to put it.  Her inspiration comes from the impressionistic style of lose brush work and an interest in light.  Another major influence is the late 19th early 20th Century, French symbolist and post-impressionist, Odilon Redon and his use of colour.  Cathy's works are mixed-media including: Acrylics, glue, oil, pastel, charcoal and chalk furniture paint and you can definitely see Redon's influence in the loose pastel, dream-like quality of her work.  Have a look at Redon's work to see how Cathy has been inspired www.odilon redon.– org
With Cathy's ease at being commercial I asked her if the reason her work is becoming so successful was because of her good marketing skills.  She presented me with a resounding no.  She said she's not very good at that side and has the Weald Fair and Frankie's Farm Shop in Staplehurst to thank for getting her name circulating.  She says she's stumbled across things and people come to her and it's snowballed from there.  Now Cathy has her work all over Kent she was surprised and thrilled to have been at a charity event where people recognised her and spoke to her about her art.  Fame is creeping up on this local lady so keep your eyes open – you've probably already seen her art and not even realised it.
For more information on Cathy McClymont and her work visit her pages on Facebook or Linked In.