Switch Café – Serving the Future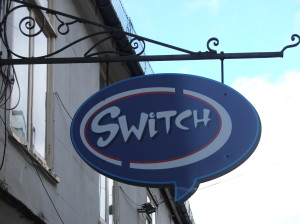 I have come to Switch Café to meet Youth Worker Participation Co-Ordinator Hannah Patton.  The café is in a state of transition with a new manager arriving in early March, in the meantime Hannah is showing me around.  Switch isn't like any other café in town – dedicated to the youth of Maidstone the café plays a different role to all who come there – a social hang out, a place for advice, a quiet place to do homework, seek medical advice or even a refuge from home.
The café provides more than discounted price hot food and drinks. The youth workers help young people achieve their goals and furthering their education. Setting up events and being part of the wider community enables those who come here to connect with the real world beyond school.
The café is a base for groups to meet. Groups such as 'Headroom' (who meet there every Thursday) the Women's Chocolate Institute (who meet there every 3rd Monday of the month) and the Maidstone Youth Forum (who meet every Wednesday).  This year the Youth Forum has put together the 'Switch Festival' going ahead on 29th March at the Corn Exchange.
Switch is involved in every element of the event even down to some of the team making tee shirts for the volunteers. This artistic input goes towards an accredited arts qualification through 'Arts Award' which is a Government incentive accredited through Trinity College, London. Another example of accredited courses held at Switch is the Sound Workshops. A course of six workshops which once completed all go towards an accredited award.
The projects and events are all started from suggestions given at the Maidstone Youth Forum (MYF) and having taken over the running of MYF from the council last year, the Forum are always looking for new ideas and will soon be launching a Careers Advice drop in service.
One project they have successfully gained funding for is to be a music hub for 'Big Music'.  This means that ten 'music champions' will work with young people over the next two years through peer training.
Switch Café is for any young person. Hannah tells me "The idea is that whatever issue young people have whether it's connected to school, home life or sex, they can get advice and have a chat with us youth workers and nurses."  As well as advice, youngsters can also learn about safe sex and can get a free c. card for free condoms or take away a free chlamydia test.
They can also simply relax here.  Hannah showed me all the facilities available "They can come here and play on the play station, Wii, use the free Wifi, docking stations, Spotify, board games and crafts. Most people want to chill out.  We are not like a youth centre though, people don't have to sign in or have structured terms of events."
Switch has a conference room above the café which is a space to rent out (rates £20 for the first hour and £15 thereafter) and the café itself has been decorated by young people – the bathroom has been designed as part of a Mario Brothers computer game and the hallway is one long painted piano keyboard decorated through projects run with The Princes Trust.
The place sounds whimsical but Hannah stresses "…we have some people who come here that are very needy – you get shy girls who come in for a c. card or people just coming here to do their homework or fill in application forms."
Funded by the lottery for five years Switch is in their fifth year of that funding.  They are living 'rent free' from the Maidstone Borough Council but money needs to be raised to continue their work.  There are currently two paid members of the team running the café and all the services it provides, as well as a team of volunteers who support the café and offer their mentorship for free. "What we earn comes from room bookings rather than the café" Hannah explains and her aim for 2014 is to ensure Switch has a 2015.
Hannah is clearly dedicated, being a member of the Youth Forum herself, she is running the café in the absence of a manager as well as studying for her university course.  Her dedication is earnest and evidently knows no bounds "I'm jumping out of a plane in July to fundraise for Switch!" she throws into the conversation. With supporters such as Hannah it is clear Switch has a future – it just depends on how generous the community is as to how long that future will be.