By Helen Shewry
For most of Maidstone's population Dave's Tattoo Art on Lower Stone Street is a well-known landmark – whether you have body art or not.  Open seven days a week from 11am – 5pm the family run business has their dad to thank for their name and their livelihood after he opened his shop (or should I say studio?) in 1997.
I spoke to Larissa Margarete, who works at Dave's Tattoo Art alongside her brother Joseph, sister Angela and partner Adam, about the artistic nature and styles of tattoos.  Larissa has been inking the people of Kent for 7 years and says she has her dad to thank for becoming a tattoo artist.  On asking how she got started Larissa said, "Someone offered up some skin."  So off she went making her first mark on one brave person.  She was adamant Tattoos are an art form and was not hesitant in her reply when I asked her if she considers them so.  She said lots of people come in wanting mainstream designs: stamps, and the creativity she can employ all depends on the customer and what they want.
Larissa told me tattoos have trends.  Contemporary designs include: pocket watches, birds and feathers and infinity symbols.  The pocket watches are an unusual request but can be linked to the present popularity of steampunk – a sub-genre of science fiction which features steam-powered machinery and is often set in an alternate Victorian, futuristic setting.  The art world is influencing decisions too; more specifically a piece by graffiti artist Banksy of a feather with birds flying out of it as if they have morphed from the feather itself is a popular choice.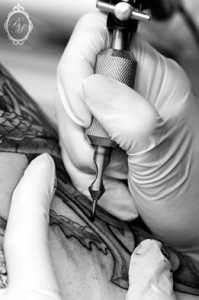 The reasons behind tattooing one's self are not always as 'edgy' as graffiti and steampunk and, as history is about to show us, it dates back a little further than one might imagine.   In an article by Cate Lineberry at Smithsonian.com, 'Joann Fletcher, research fellow in the department of archaeology at the University of York', explains that the historical tradition of tattooing goes back 5,200 years after the 'discovery of the Iceman from the area of the Italian-Austrian border in 1991'. She goes on to enlighten us saying that his tattoos were, 'essentially therapeutic.' (January 1st 2007) Tattoos  – The Ancient and Mysterious History. [Online]. www.smithsonianmag.com.
Throughout the years different cultures have decorated themselves for darker purposes such as tribal recognition, war, marking prisoners and punishment.  On the lighter side tattoos were used for healing, spirituality and decoration.  People seem to tattoo themselves, or have tattoos put on them, for a variety of reasons including the need to express one's self through art.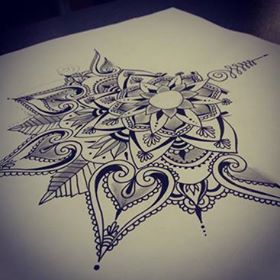 The artistic nature of Dave's Tattoo Art doesn't stop when the machines are put away, it continues after hours and during consultations with customers.  Designs are drawn up depending on the individual's requirements or/and inspirations.  Some people bring in paintings, objects or photographs.  Larissa says she prefers realism and therefore likes to work from a photograph to try to capture the image exactly.  When she is not inking people or drawing their designs she is painting for pleasure.
It's interesting where we find creativity and it can be found in the most unexpected of places – where we often pass and look but don't see.