Teddy Bears Picnic anyone?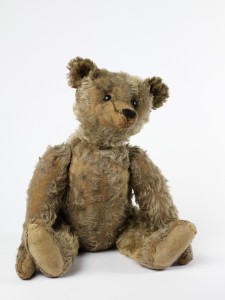 9th August – 1st November – Maidstone Museum & Bentliff Art Gallery.
Teddy Bear Story, a major Victoria & Albert Childhood Museum exhibition exploring the fascinating history of the world's most popular toy, is coming to Maidstone Museum this summer.
Celebrating the tale of the universally loved teddy bear, this heart-warming exhibition will feature nearly 100 teddies from the unrivalled collections of the V&A Childhood Museum, including rare and diverse examples; some with their own stories, and many from books, films and television.
The first toy bear was designed by the German company Steiff in 1902 and, although a relatively modern toy, its success has been phenomenal and international; teddies have quickly become an important part of many children's lives.
Maidstone Museum's major summer exhibition will reveal the development of the teddy bear from its early conception and designs based on real animals, to modern character and designer bears.
Come along and see early examples of toy bears like the Master Teddy made by the Chiltern Toy Works in 1915 and the Miniature Bear made by Schreyer & Co in the 1920s. Take a nostalgic journey and see their progression to more modern teddy bears, with characters like Teddy Postman, a 1978 Chad Valley toy, and Bully Bear, made in 1983 by the House of Nisbet.
You will also see many famous bears like Paddington, Rupert, Winnie the Pooh and Napoleon Bearnaparte, which are sure to excite the younger audience, and discover interesting facts about teddies such as how they got their name from the American President Theodore 'Teddy' Roosevelt.
The exhibition has something for everyone and will include a number of interactive features such as Goldilocks' house and a teddy bear picnic area.
So head to Maidstone Museum: learn about teddy bears, take a selfie with #BrenchleyBear, have a play picnic, join in with our many related events and experience the tale of the season!