The Future of Maidstone Volleyball Club – a top team with a top coach.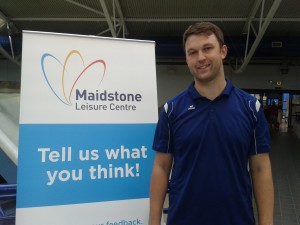 Volleyball is a sport which does not enjoy the same spotlight as football, cricket or tennis and yet once you try it, Volleyball has a way of getting under your skin and the pro's of playing are hard to beat. Mainly because it is an enjoyable sport for any age, has mixed teams and is non-contact so injury rate is comparatively low.
Since the London Olympics Volleyball has seen an increase in interest yet we still do not have any professional teams in England.  It is brilliant that the games highlighted this family friendly sport but Maidstone Volleyball Club was established long before the Olympic legacy.  They are a non-profit organisation and affiliated with Volleyball England and welcome everyone 14 and over into their club.
In the last couple of months the club has welcomed a new coach into the fold – Luke Thomas.  He has played Volleyball since childhood and holds the highest qualification in Volleyball – the FIV level 3 International – was Head Coach for the Ashcombe Dorking women's team (National League Super 8's) and coached in France – where the facilities are amazing in comparison to England.  Luke returned and settled in Maidstone and heard of Maidstone Volleyball Club through Facebook and approached them to coach.
I caught up with Luke and asked him about his plans for Maidstone Volleyball Club and it is clear he has his sights set to win the Kent League and the SEVA.  He is obviously passionate about the game and his enthusiasm is infectious: "It is a great team game, you have the excitement of rallies and it's fast-paced."
Based at Mote Park Leisure Centre the club meet on a Tuesday and Wednesday at 7pm (Tuesday for more targeted team play and Wednesday for simply recreational Volleyball) with a junior team (aged 14 – 18 years) on a Monday night at 6 pm too.  Beginners are warmly welcomed as well as seasoned players and if you so wish there are opportunities to become referees and coaches.
If your interest has been spiked then why not join Maidstone Volleyball Club for a free session on this Bank Holiday Monday from 10-11 or 11-12?  Maidstone Volleyball Club are taking part in the 'Go Spike Big Weekend' so it's the perfect chance to try the sport – give it a go!
Contact Maidstone Volleyball Club on twitter @MaidstoneVolley e-mail them on maidstonevolleyball@gmail.com or visit their website www.maidstonevolleyball.co.uk