The Home Gallery – Trackside Contemporary, Aylesford.
Trackside Contemporary is a gallery with a difference.  Nestling within a gorgeous town house in Aylesford, with stunning river views, this gallery is like no other because owner and curator David Mackereth has simply turned his three storey house into a spectacular art gallery.
As an artist and art teacher David runs 'Red Square Art Akademie' from the studio in his home and exhibits his students work in his home gallery.  The whole house is a gallery and along with his students work, David also exhibits inspiring artists from around the globe, many from Berlin where David has a second Akademie.
Trackside Contemporary's current exhibition has created a stir in the art world bringing work from four leading German artists to Aylesford.  I attended their open day on Saturday 16th July and it was quite a treat.
The German artists currently on show are Klaus Böllhoff, Birgit Fechner, Paul Reimert and Ute Hein along with David Mackereth's work and art from Richard Bilous – a student of David's who has recently had his photograph entitled 'Rear Window' accepted and hung at the Royal Academy Summer Exhibition this year – next to Royal Academician, Sarah Lucas.
Pieces from Klaus Böllhoff's latest collection 'The Golden Section' are hung in the dining room. Other pieces from his 'Kirche series' and 'Geometrics' are on show too.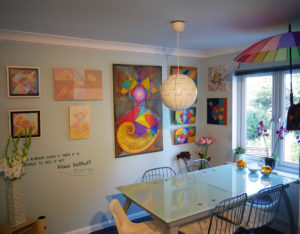 Klaus was at the open day and was a pleasure to talk to.  Having just finished 'The Golden Section' (which comprises of 20 paintings) Klaus is not territorial about his work: "You can't keep the kids when they are grown up!" he mused.
Having been a painter for over 45 years Klaus has experienced evolution in his painting: "30 years ago I tried to give a message in my work and it troubled me, it held me back.  I found an inspiration through experimental sound, music, and that led me to abstract painting.  Once I was told 'abstract painting will interest you all your life' They were right."
Birgit Fechner lives and works in Berlin.  Her work is seen in the living area of the house gallery and focuses on expressive abstract painting. In addition smaller works on paper and ceramics arise out of the creative process.
Birgit explains: "In all of my works I use a collage technique. I work with glazes and layers, the Revelations of breaks and the use of transparent surface reveal the past and That Which Lies Under the Surface.  In this way I try to draw out the complexity of life. I want to give form to the contradictions and the Increasing difficulty of Assessing and catagorising reality. Intensity, the unfathomable and vitality are always close together."
Paul Reimert's work is collected worldwide with pieces in private and public collections.  He started out as a painter and also worked as an art lecturer before turning to sculpture as his chosen medium.  Paul became annoyed about people liking the kitch figures which are regularly sold at flea markets, so he decided to re-work these figures and create new pieces from them:
"I decided to show what to my opinion, should be done with those useless objects. Smash them, brake them and put the pieces together in a new form. After the first more or less abstract sculptures I started to make human forms, using also broken utilitarian pottery."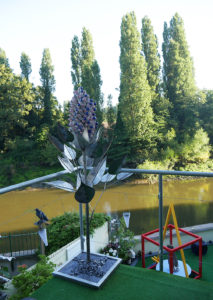 One of Paul's sculptures takes pride of place situated on the gallery's balcony, overlooking the river Medway.
This is the first time Ute Hein's work has been presented in the UK and her work adorns the second floor bedroom. Having embraced a life in art ten years ago,   Having attended workshops at some of the most prestigious art schools in Germany and studied under some of the foremost professors of fine art painting specialising in the 'abstract', Ute has seen success in German and European exhibitions.
Richard Bilous produces pieces using various media including painting, drawing, etching, linocut, screen printing, sculpting and photography.  His four-piece work entitled 'Quadrille' made from linocut is hung in a hallway and inspired by the lyrical movement of the water in the River Medway.
David Mackereth's work is not a focus in the house, although adds real emphasis to the gallery being on show in many different areas of the house.  He makes drawings, paintings, photographs using a range of techniques including cyanotypes and unique experimental printing processes, 3 dimensional objects, print-making of all types and enjoys nothing better than to produce installation type pieces, which challenge the viewer's expectation.
David is modest in showing his work, allowing his students and guest artists to shine. He is the curator and bringing all the pieces together to flow as one exhibition throughout the house must be a tough task.
I asked David about this role: "I can see the exhibition come together in my mind's eye.  The tonal range that is needed and what to include to stay true to the 'art in a home' scenario.  I'm not interested in precious artists, there's an understanding and trust between me and the artists. The gallery is about expanding into the lives of ordinary people, about engagement"
David is also not interested in only supplying investment pieces: "I prefer people to buy the art for the relationship they have with it".
Art is truly David's passion.  He runs runs Red Square Art Akademie and provides art appreciation lectures every 3 weeks and has of course created this townhouse gallery he lives in.  when I ask him what it is like to live in a gallery he replies: "The beauty of living here is that I have time to look at the work and appreciate it all the more."
This is an exhibition not to be missed and in such relaxed surroundings everyone feels at home in the gallery simply because it is a home. There is no stuffy gallery attendant peering at you over their half glasses, no awkward silences you may feel you have to fill with your opinion on art and there is no red line for you to stand behind.
In short this gallery does not adhere to the art gallery stereotype and this is a very refreshing. Relax on the sofa and take in the art around you in the living area, see how art works in the dining room, hallway, bedrooms and even bathroom! This gallery really does allow you to visualise art for the home – as it should be viewed.
Get in touch with Trackside Contemporary via their website for opening times phone (0)7507794690 or e-mail info@redsquareartakademie.com