The Picture of Dorian Gray at the Hazlitt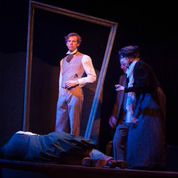 Fresh from a critically acclaimed UK Tour and West End run of The Trials of Oscar Wilde, European Arts Company returns with a thrilling adaptation of Oscar Wilde's only novel – The Picture of Dorian Gray – to celebrate the 125th anniversary of its publication.
Having seen The Trials of Oscar Wilde, I would recommend seeing The Picture of Dorian Gray which is coming to the Hazlitt Theatre on Thursday 21st May. Set in the decadent world of Victorian London, The Picture of Dorian Gray has been adapted by Wilde's grandson Merlin Holland and John O'Connor.
A beautiful, narcissistic young man, Dorian Gray, becomes infatuated by the exquisite portrait that Basil Hallward has painted of him. He makes a Faustian pact that he will remain forever young while the picture grows old.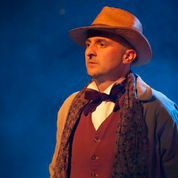 Combining drawing-room comedy and gothic horror, this is a gripping and hugely entertaining theatrical event that showcases Wilde's remarkable talent. The production is touring to 55 venues all over England, Scotland, Wales and Northern Ireland. It finishes on 20th June at St James Studio Theatre in London on the exact date 125 years ago that Wilde's only novel was published.
To buy tickets for the Hazlitt Theatre click here.
ThePicture of Dorian Gray features a talented cast familiar from stage and screen, including:
Guy Warren-Thomas as Dorian Gray (Spooks The Greater Good, Downton Abbey),Gwynfor Jones as Lord Henry (The Woman In Black in the West End, The Hound of the Baskervilles, Oldham Coliseum), Rupert Mason as Basil Hallward (Eastenders, A Touch of Frost and most recently The Trails of Oscar Wilde for EAC). Helen Keeley as Sybil Vane (The Importance of Being Earnest, London Classic Theatre. To The End, Southwark Playhouse): It is directed by Peter Craze (Doctor Who, Blake's Seven). With a lighting design by Duncan Hands and Set design by Dora Schweitzer.
The Picture of Dorian Gray is supported by Arts Council England and Unity Theatre Trust in association with the charity Stonewall.
European Arts Company is a national and international touring theatre company based at the Hazlitt Theatre in Maidstone, Kent. For the past 13 years, they have been touring classic plays all over the UK, Ireland, Germany, Greece and Italy.
www.europeanarts.co.uk | @EuropeanArtsCo | Facebook.com/Europeanartscompany