trackside.contemporary – A Gallery Home from Home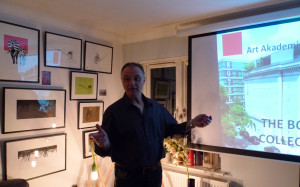 I pull up to the smart town house in Aylesford Village and check the address          on   the map I have been sent by art teacher and Lecturer David Mackereth.  I      have  arrived at the correct location. One of the houses in the line of townhouses has a   different look – a small art plaque outside.  David welcomes    me heartily and I am immediately immersed in art – David's whole house is an    art gallery.This is a new concept for me and it is the simplicity of the idea that just pulls         you  in. David started Red Square Art Akademie two years ago but the gallery     only sprung to life recently with his first exhibition launched on Saturday 29th    March. David's house is 'trackside.contemporary gallery' dedicated to David's     art, the art of his students and various well established artists showcased.
Going to an art gallery should be an experience that enriches and excites us all. Of course going to an art gallery is not everyone's idea of a good time, but why? For some they simply don't like to view art – fair enough – but for many others, they could be put off by the perceived pretentions surrounding the art world. Inadvertently stumbling across the stereotyped 'tumbleweed gallery' where you can hear a pin drop and an assistant sits at the far end of the high-walled room peering over their half glasses, summing you up at a glance, is enough to put off the staunchest art lover and there-in lies the problem with the art world – breaking the stereotype and ensuring art is not just for the elite. I am happy to say that the daring concept art gallery 'trackside.contemporary' couldn't be further from the stereotype.  You won't find any mothball smelling art critics here. Simply art at home.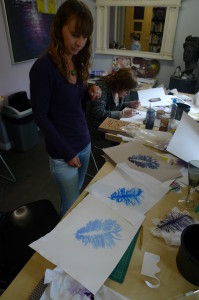 As I am shown around the house I feel as if I am discovering a private life of the art displayed. Did I just see the whippet sculpture wrinkle his nose? Have the family in Mick Durrant's photorealism artwork stopped mid-sentence to look at me as I enter the room? It is a fascinating feeling. Framed on the walls in what I casually call real space – there is no acre of white wall separating the paintings, no led light above them to light them from a certain angle and best of all no line on the floor telling me to stand at least one foot away from the canvases. Here the art owns the space and viewing the artwork on the wall in David's home looking so natural means you can envisage it hanging on the walls of your own home.
David set up 'Red Square Art Akademie' after he left his career in higher education behind him.  He was head of faculty and an art lecturer but became disenchanted with the education system which David said: "charged students £9,000 per year and jammed as many pupils as possible together." He cut down his workload to a couple of days a week and set up his private art school where he doesn't set 'programmes' but instead lets people book sessions in advance to fit around their own lives.
Red Square Art Akademie offers a two year part-time Visual Arts Higher Diploma, 1 and 2 day workshops, evening classes or is happy for you to simply design your own course or session to suit you.
David also holds lectures in art history at the gallery – although these lectures are structured more like a learning discussion and he points out that his lectures don't follow an 'ism' (impressionism, cubism, modernism etc.) simply a different topic each time in a cosy setting, sitting in David's stylish second floor room on soft sofas with a cup of tea, coffee or a glass of wine.
David came to teach art privately by self-advertising as a teacher using the 'atelier teaching system' (working in an artist's studio/workshop).  This led him to taking on a few bi-lingual school aged students as their continental parents instantly related to the 'atelier' concept of teaching.  His youngest student is 6 years old but his students range hugely in age and experience. "Usually people turn up highly self-critical with confidence issues but usually these feelings ease because during the first session each student completes a large scale A1 size drawing standing at an easel." David stresses that all students will go home with something complete after one session and realise they can achieve something in art. He is also passionate about the fact that his students don't do the same thing – students can do whatever they like and no two students are working on the same idea. David covers all aspects of art "I teach them everything I do myself from painting and photography to wood carving and sculpture."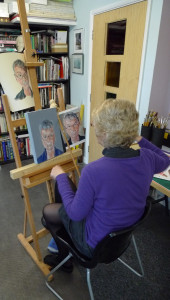 The works of art on show from the students cover a huge variety of art mediums and David is thrilled for his students as each have sold at least one piece of art since the launch of the gallery. David advises them on price and every piece of art produced is a limited edition of no more than 25 (of any size) in a run.  The prices themselves vary to suit most pockets.  "If you average out the prices in the gallery it probably comes to about £200 per piece but we have some that sell for £95 and others for £1000." David guides me through the gallery – his home – and one of the pieces David points out is a framed Andrea Ventura for £200. Ventura is an established artist and illustrator for the New York Times and yet this art is in Aylesford accessible to all.
In trackside.contemporary gallery's current exhibition, alongside David's and the students work are pieces from featured artists including Yann Vameer, Dal Maximilian, Angela Bartlett, Andrea Ventura and Emily Gray who is from 'Urban Soup' Gallery in Tunbridge Wells and her laser cut acrylic work looks striking in the lounge room of the gallery. David's work is also prominent.  His specialised interest in Urbex (urban exploration) leads him into disused buildings, run down and crumbling to capture unique photographs and his love of photographing graffiti has led to many successful images.
Although photography is David's great love, he turns his hand to the majority of art forms and one of his pieces 'Tracey and the Swan' has been accepted into the next round of the Royal Academy summer exhibition selections this year. A successful artist himself, David has also been lucky to teach students that have gone on to great things including Roseanne Corlett who submitted a life-sized self-portrait (painted on a door) into the Royal Academy Summer Exhibition in 2000 and model maker Norman Foster.
David clearly gains a great sense of achievement out of teaching and some of the students work is surprising – especially the detailed cat etchings completed by David's youngest student of six years old and another young artist who has just turned 15 and sold well with her Kingfisher artwork attracting attention.
One thing that strikes me in the first few minutes of taking in this incredible gallery is that there is no theme, no limitations. The artwork on display is hugely varied from sculptures and screen printing to oils, acrylic, photography and etching. One eye catching photograph caught my eye: "…that's silver foil photography" David points out. It is one of David's photographs and shows a graveyard in East Berlin: "…that's a technique I developed about 10 years ago but they don't make the silver foil anymore so I won't be able to continue when my stock runs out." This is a great shame as the effect is truly brilliant.
The photograph is just one in a collection titled 'Captured in Time' featuring photographs David has taken that can no longer be taken – buildings which no longer exist, weather conditions which cannot be recreated, a twinkle in the eye of a talking couple.  One of these remarkable photographs shows a bust of Lenin surrounded by green flora.  It has an irony, humour and sadness which is hard to explain.  I am evidently not the only one taken by the image as it was accepted into the Royal Academy which is quite an accolade.
The Art  Akademie studio is at the back of the property, with a veranda overlooking the river and large windows letting in the natural light the small studio is an ideal spot where David can teach up to four students at a time.  Whatever the student is working on is photographed after the end of each session and e-mailed to them so they can see their work and think about what they want to do in their next art session, "I create each student an art file which is really important to track their progress." David assures me.
David is meticulous in his approach and on hand for advice whenever the students want even if he is out of the country.   As well as running the Red Square Art Akadamie in Aylesford and trackside.contemporary gallery, David also takes students to Berlin.  He has an apartment in Berlin which acts as his studio and base for exploring the city from a locals view point.  Residing in what was 'East Berlin' the students get a feel for Berlin as a living, breathing, working city and gain the real experience of the culture and art it has to offer "in the morning I could take the students to Gemäldegalerie and then onto something completely different so they experience a variety of art" David explains.  He also arranges for students to attend other artist's studios to sit in and watch professional artists at work.
The study visits to Berlin are proving very popular and 'Red Square Art Akademie' is attracting students who want art education personalised for them instead of for a mass market. David stresses that he is not in competition with higher education but has finally become the art teacher and lecturer he set out to be when he entered the education system: "I am doing now what I set out to do in education which was eroded away by paperwork and bureaucracy where the students came second."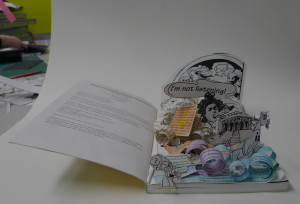 Trackside.Contemporary Gallery is a unique space and the current exhibition runs until July 6th with the gallery opening on weekends from 17th May – see their website for further details and support this local art concept on our door step.  Please note the Art Akademie is running their Art History and Appreciation programmes at trackside.contemporary gallery as follows:-
Wed 9th April presentation on the 'Boros Collection',
Wed 21st May discussion on German stars Gerhard Richter and Anselm Kiefer,
Wed 4thJune lecture on  'Femme Fatale: Great Women Artists'
Wed 18th June 'Pop goes the weasel: What is Pop Art?'
Wed 9th July lecture on 'Das Bauhaus'
Wed 16th July lecture on 'Eastern Promise: Art from the Far East'
Contact website www.redsquareartakademie.com e-mail redsquareartakademie@hotmail.com Tel: 07507 794690