Trisha Wood – A local artist bursting onto the art scene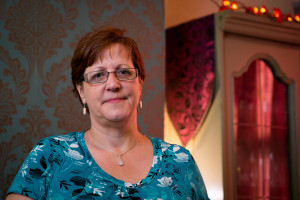 The name Trisha Wood may not be famous in the world of art now but it should be! The piece of artwork that caught my eye, having been framed at Gilbert and Clark Frame & Print, was Trisha's artwork of the Twin Towers in New York – not for maudlin reasons but because of the structure of the piece. The straight lines created a bold piece of art and I couldn't work out how the effect had been achieved. "By credit card" Trisha casually told me.
This is surely going to be one of the signature styles that Trisha becomes renowned for. 'Credit card art' usually conjures up the idea of mosaics made of chopped up credit cards, or the artwork printed on the credit card itself but Trisha uses the credit card in a very different way – as a tool. The effect is fantastic and lends itself to cityscapes: "The first artwork I did with a credit card was of the Gherkin in London" Trisha told me. Battersea Power Station, the houses of Parliament, Big Ben and New York with the twin towers have all since been the subject of Trisha's paintings using the credit card method. It is a style which should earn her recognition but it is not the only type of art Trisha creates.
Like many artists Trisha has many strings to her bow and her upbringing did not create the supportive environment that would have nurtured her talents. Despite her mother being a seamstress who worked with David Emmanuel and Zandra Rhodes she never taught Trisha how to sew and the skills she does have are simply her own gift. Trisha admits she is good with handicrafts and tells me of her love for painting, sewing, knitting, crochet and even plastering! She can turn her hand to most things: "I've learnt over the years that being a 'Jack of all trades and master of none' isn't necessarily a bad thing." Trisha is referring to the fact that most artists have several strings to their bows.
Trisha's bow is pretty heavy, laden with not just her watercolour painting. Trisha's background was as an auxiliary nurse and social worker and in such a caring profession Trisha enjoyed helping people who couldn't help themselves "I got the most out of palliative care and many people I cared for were terminally ill but I used to make a difference – washing their hair, changing sheets and leaving them fresh and feeling human again." But this profession was ill-timed with her father's illness and she left the profession.
"I had the bright spark idea of making period medieval costume and naïvely left my job to go off to London College of Fashion and then became self-employed. It was a terrible move!" Trisha admits: "I was naïve in business and I had always been employed so it didn't work. I went from that to sales which I didn't enjoy so much. My 'pull' is people and I managed my sister's beauty salon and although I didn't like the beauty side of it I did enjoy the health side of things, so I started the holistic side of my business about 8 years ago."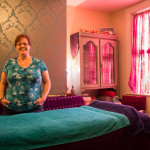 Trisha is a qualified social worker, massage therapist, reflexologist, Reiki practitioner, beauty therapist and has been credited from the Federation of Holistic Therapists. She runs her business so well she was a finalist for the Kent Women in Business Awards 2014 for the award of 'Home Based Business' and aims to win it next year.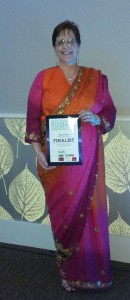 For Trisha the holistic business and her art go hand in hand together: "I love painting and holistic work so if I can run them in parallel that's great! I'm an entrepreneur expanding my skills and seeing where it goes. I'm enjoying the ride!"
It was her holistic therapy which sparked her artistic talent: "Whilst doing Reiki 18 months ago I got visions of certain pictures. I'm a spiritual person so I get spirits coming to me. At first I thought the visions were related to the receiver of the treatment but the same vision reoccurred again and again and one day I shot upstairs and got my son's paint pots and painted the vision. I walked away and the next day I looked at it and realised 'I did that!' It was like a tree of life and so I looked up Buddhist meditation for artists, did that and since then my art has been flowing and I get artistic energy in surges – and blocks too. Saying the spirits guided me sounds fluffy but it's true." Trisha explained.
With talk of the spirit world you may be under the false impression that Trisha lives a stereotype, but as I interview her it becomes clear that she is as down-to-earth as they come and she gains a great deal from her artwork.
"I started with things like flowers and things I like to see but when I stopped and relaxed I found myself drawing my own characters. The first was 'Ollie the Owl' – who is a bit naughty. He has a cat girlfriend called Mabel and has an affair!" The characters made her smile and from there she completed artist miniature cards and sold them for a ridiculously small price on EBay. Now she is taking things more seriously and looking to set up a line of cards.
Watercolour is the medium Trisha prefers – although she is experimenting with acrylics – and she was inspired by a memory of an old television advert for the chocolate bar 'Flake'. The advert showed poppies blurred by rain and Trisha wanted to see if she could create that effect. She used YouTube for inspiration and completed the online tutorials and this is where she saw the idea of painting with a credit card. Online a credit card was used to swish the paint across a canvas but Trisha adapted it to use the straight edge of the credit card to paint buildings and structures.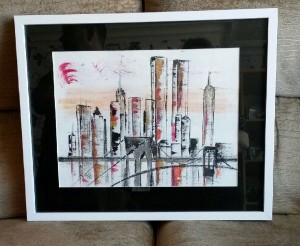 "I love it – absolutely love it. My art teachers at school told me I was rubbish because I couldn't draw something like an apple but my art is naïve, abstract, quirky and expressive, which hopefully people will love and treasure." And it is clear that her art has won over minds. When she completed her first credit card artwork she posted it on Twitter #London and was contacted by the boutique 'Gorgeous George' in Tonbridge who were setting up their own gallery – Portelli Room. They asked to see her work and to Trisha's amazement, they asked her to be an invited artist in the gallery. They have four pieces of her art which were all framed at Gilbert and Clark Frame and Print in Maidstone.
It is the start of something big for Trisha and when I brought up the subject of the price she wanted to put on her art: "God it's hard, very, very hard to price your artwork. In the end I have just gone with my initiative and said 'I want X for that'. For the credit card art I didn't hesitate to put a price of £350 on them as it takes over 40 hours to complete one and £50 for framing. It's horses for courses when it comes to pricing, smaller ones are cheaper of course but someone is buying a piece of me. I do sell originals but I won't part with my first paintings [of the tree of life] as they have to stay in my treatment room because I feel they came from the spirits and I feel like they are hugging me! I also won't part with my first drawings of my cats."
Trisha has several different art styles from credit card art and watercolour flowers to cute characters who would be at home in their own comic strip. I pointed out to Trisha that maybe her art was something for herself after spending so much of her energy on other people "I hadn't looked at it like that!" She said thoughtfully "I suppose it's my 'me' time and the art comes from within. The more I do the more my confidence builds."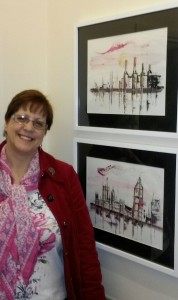 As a new emerging artist living in Maidstone Trisha has made a good start to letting people know about her work so support her and take a look at her website www.trishawood.com or to contact Trisha about her art or holistic work tel: 07861 801063.