The Truth behind 'The Trials of Oscar Wilde'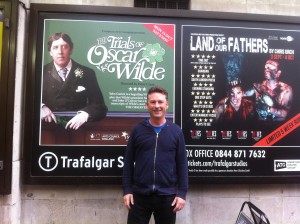 I am having coffee with John O'Connor who runs European Arts Company (EAC) based at the Hazlitt Theatre.  It is late in the morning and I can see the cogs and wheels of business turning in John's brain as we start the interview – he is a busy man but polite and approachable and a spark of excitement crosses his eyes when I raise the subject of his latest theatre production 'The Trials of Oscar Wilde'. Written by John O'Connor and Merlin Holland.
John is himself an actor but changed his career to set up EAC 12 years ago to fit around family life: "When my son came along it wasn't fair to be an actor – unless you are wildly successful and can have people manage your life for you, you always have to disappear to castings or if you get a job you disappear to the other end of the country or on tour.  Even if it's an advert you are away for a couple of days somewhere.  Setting up on my own was a way of trying to juggle kids, family, everything!  Actually it's a bonkers way of trying to do that! It's a lot harder in reality"
It was a brave step to take and you need to put in herculean efforts to produce profitable theatre ventures but John has been successful and puts this down to many things: "At the beginning I was going to do a show in Edinburgh [fringe] but I worked out that for the total cost of doing a show in Edinburgh, up against hundreds of other productions, I could actually go to Athens, do a show and make our money back.  I had contacts in Greece, one was the production co-ordinator on 'Captain Corelli's Mandolin' and 'The Bourne Identity' so she said if I came to Athens she would be my production manager so I said 'ok!' I got some money from the British Council and that kicked us off. We did three tours of Greece before the economy went kaput"
"I realised eventually it was bonkers – lovely though it was going to Greece and doing theatre in the home of drama – it didn't make much economic sense and as we are based in England why aren't we touring the country? So that's what I started doing"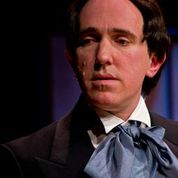 EAC's has been touring Britain for years and the latest production 'The Trials of Oscar Wilde' started touring back in May.  The first date was at the Hazlitt Theatre and soon it is making its West End debut at the Trafalgar Studios from 13th October – 7th November.  Before then the play is coming back to the Hazlitt Theatre on Saturday 4th October.
'The Trials of Oscar Wilde' is causing a stir in the world of theatre, and rightly so, for it is the very first production to be written based on the actual words spoken by Oscar Wilde during his trials.
Oscar Wilde was a man who was the toast of high society with his wit, quick thinking and intellect. His writing has been a gift to the world which has proved so fundamental to literature that today it is still being studied in the school curriculum and yet for many people there is a huge piece of Wilde's life that remains unknown – what did actually happen to bring about Wilde's fall from grace?
Over the years John has produced, directed and acted in Oscar Wilde's plays, and last year suddenly realised that he didn't know the final part to Wilde's life.  Standing next to the statue of Oscar Wilde in London, John decided he wanted to know the truth behind the trials.
The subject of the Oscar Wilde trials has been debated for decades.  In 1895 Wilde brought a lawsuit against the Marquess of Queensbury, the father of his lover, for criminal libel after Wilde received a card from the Marquess addressed to 'Oscar Wilde posing as somdomite [sic]'. It was his undoing as the case turned against Wilde, and homosexuality was still against the law in 1895, Wilde found himself the subject of two criminal trials concerning his sexuality.  He was found guilty and sentenced to two years in prison with hard labour.
What the public knew about the trials set within the four walls of the Old Bailey had for years been based on newspaper coverage, however now the truth has finally been uncovered and 'The Trials of Oscar Wilde' gives audience's what they have been looking for – the real words of Oscar Wilde.
Out of curiosity John did some research about the trials of Oscar Wilde and admitted what he found: "blew my mind".   I asked John why this topic sparked his interest: "…the fact Oscar had sued the Marquees of Queensbury and the whole thing had backfired was incredible, I thought 'I wonder if there is a transcript of the trials?' as it would be amazing to hear him in his own words. I found out that there were two criminal trials following on from the libel trial, the first was a hung jury so they tried him again, so in fact there were three trials in total.  "
John heard about a book written by Merlin Holland (Oscar Wilde's grandson) which having read gave him the confirmation he needed in his mind to say the play 'The Trials of Oscar Wilde' had to be written.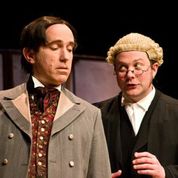 The book was based on the transcripts of the Libel trial, transcripts everyone, including Merlin Holland, thought lost. In 2000 Merlin was curating an exhibition for the centenary of Wilde's death in the British Library and one day someone walked in and handed him two plastic carrier bags, saying 'I think you might be interested in these.' They handed him the complete transcript of the libel trial on which Merlin Holland based his book.
Through the Oscar Wilde Society John contacted Merlin with his idea of a stage play based on the transcripts and to John's surprise Merlin said it was an excellent idea and wanted to write the play with him.  John tells me: "That was November last year. From having an idea to being in the West End has taken less than a year." An amazing achievement.
John and Merlin set about working on the play but with John based in Maidstone and Merlin in France, the process took place via e-mail.  "My idea was that everybody loves a courtroom drama and it just so happens that this one features the wittiest man that ever lived so that was the draw for me.  We went on a bit of a journey.  With the transcript of the libel trial we could basically pick out the best bits, put them together and weave them into a narrative that has a dramatic rise and fall.  For the criminal trials we had to be a bit more resourceful so we included newspaper reports and eye witness accounts which are accurate."
"The first half is the libel trial and the second half is the two criminal trials merged into one – weaved within that are some excerpts from De Profundis [a 50,000 word heart felt letter Wilde wrote during his time in Reading Gaol] because we wanted it to be authentic.  We use some excerpts from letters too.  It's to build the internal monologue.  The amazing thing is when we think of Oscar Wilde we think of someone just loosely tossing off beautifully constructed epigrams but here he is thinking on his feet. Here are his actual words so you can hear the rhythm to how he spoke we can hear him deflecting, lying and evading, stumbling and eventually falling apart."
The play is hugely exciting because there has been nothing like it before or since.  Today's celebrities have nothing on Wilde, he was the most famous man in London who had chosen to sue a Peer of the Realm and the media circus that ensued makes our paparazzi look like pussy cats.
The play has toured to 43 venues before it's West End stint. The set has been designed to adapt to any size space and John said: "Out of the 43 venues there were spaces such as Greenwich Theatre with 500 seats through to a 45 seat venue in Scotland.  The great thing is the play itself could be done with nothing if you wanted because it is all about what happens between the establishment and Wilde.  It's fascinating."
Casting was interesting for John.  With such a famous face to fill, John took the responsibility seriously "Casting gave me sleepless nights because everybody has their own idea of what Oscar Wilde was like, so much so that we didn't want to put the actor on the poster because I know that if I saw a picture of an actor playing Wilde and I thought 'he doesn't look right' I wouldn't go and see the show.  Wilde was an extraordinary looking man, he was 6ft 3" which for the time was a giant and had a very distinctive face, a musical quality to his voice and a magic to his conversation so all of that had to be right".
Such exact casting takes a while and John admits good fortune with the process: "We were lucky! We looked very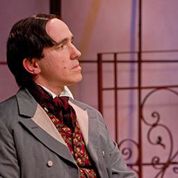 carefully through Spotlight, specifying exactly what we wanted – we saw some completely unsuitable people but luckily we saw John Gorick, who does bare a physical resemblance to Oscar.  He had to pass the 'Merlin test' – of course Merlin didn't want someone to play the part as 'camp' because at the time there were people who knew Oscar well who were genuinely shocked that Wilde was gay.  I've had e-mails from audience members saying it was like being in the presence of Wilde.  One chap said that for the first five minutes I couldn't concentrate because I was disappointed it wasn't Stephen Fry but then I completely forgot about that and then forgot it was an actor, forgot I was watching a play and I actually felt I was in the presence of Oscar Wilde himself."
For audiences to be bowled over is high praise indeed as the Brits seem to feel they know this Irishman well and anyone trying to replicate Wilde comes under huge scrutiny.  The high expectations of the audience, was another daunting responsibility for John but he has been happy with the audience feedback: "I think it surprises a few people. It does confirm a lot that we know about Oscar -the fact that he was incredibly witty, the fact that has was a great charm and had great capacity for language but there are a few surprises in there as well.  The main surprise being that he manages to put himself in this position and then tries to talk his way out of it.  It's excruciating in the best sense of the word, but although the wit in a courtroom context is quite admirable, it's the blackest possible situation and yet suddenly these moments of lightening wit come out."
"In the first trial he came across as very arrogant, and that is partly his undoing as well, but in the criminal trials I think he suddenly finds his voice, for example in the first criminal trial he is asked 'What is 'the love that dare not speak its name'? [poem by Bosie] and he suddenly comes out with an amazing speech about gay love and he got a round of applause from the public gallery.  At a certain point he must have thought 'this is my moment'.  In a way although it is a terrible tragedy and his family and other people were destroyed by it, he became immortal by bringing this action and going through these trials.  He is not just a writer of Society Comedies in the 1890s, he means a lot more than that all over the world. So although you you spend the whole play wondering why he brought the action against Queensbury, I guess that is the reason."
Why he brought the case against Queensbury is a question that has been asked time and time again.  John feels Oscar was ill prepared for the circus that would play out in the courtroom: "I genuinely think he thought he would get away with it, thought he was untouchable, on top of the world and he fell into the trap.  He didn't realise Queensbury would get detectives to trawl the gay underworld and he gambled on the fact that those rent boys would not incriminate themselves.  By giving evidence they were libel for prosecution themselves, but a bargain was done and there is evidence that witnesses were paid well in all three trials which today is contempt of court."
That raises another interesting topic that the play covers – the justice system.  Thankfully the system has moved on since 1895 and the law criminalising homosexuality was revoked in 1967 but the harsh punishment Wilde received in 1895 is not a thing of the past: "That's the reason why we got involved with the charity Stonewall because I felt that this was a story that urgently needed to be told.  The Wilde trials are a very significant part of recent gay history because for the next 70+ years after that, things were very rough for gay people in this country until the 1967 when the law was appealed.  Stonewall pointed out that yes the laws are changing here, gay marriage has just been passed and we are moving towards a more equal society but elsewhere in the world gay people are imprisoned or disappeared or in some case executed.  To be gay is illegal in 78 countries in the world and punishable by death in 5 of those so there is still a long way to go and that is what makes this story universal."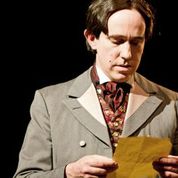 The play is also highlighting the human Oscar Wilde – the true man behind his famous façade.  John finds that people still don't understand Wilde's writing because they don't know about his life and John is delighted that there are quite a few schools coming to see the production as Wilde is on the curriculum to ensure students know about the man behind the writing to better understand the writing itself "I did a workshop with some students about a year ago and I started the workshop by asking what they knew about Oscar Wilde as they were studying 'Lady Windermere's Fan' and none of them knew that Wilde was gay or that he had been to prison!"  It astonished John and goes to show there is so much more to understand when studying Wilde's words.
After the West End who knows where 'The Trials of Oscar Wilde' will end up.  John has been contacted from interested parties from New York, San Francisco, Germany and Brazil but so far John's highlight was opening at the Hazlitt Theatre in May: "Having been with the project for 6 months or so you go through that feeling of 'this is never going to work' so to see the audience completely compelled was amazing.  That was a great night.  It was the start of something, it created a snowball effect and we realised we had something special."
As business must, John is already looking towards the EAC's next production: "Interestingly we are going to do 'The Picture of Dorian Gray' next.  We have done it before and it sold out virtually everywhere and we have been meaning to do it again and now it seems right to revisit it in the context of following on from the trials.  Also it is just so relevant today – we are no less obsessed about staying young and how we look than they were in Victorian London."
The stage coach always rolls on and theatre life is fleeting yet I feel I can confidently say that John O'Connor has broken some boundaries in the world of theatre.  Alongside Merlin Holland, John has written a play which puts a few of the Oscar Wilde ghosts to rest and can at last answer some of the questions audiences have been asking.  Anything that brings people a greater understanding of this great writer and poet is a positive thing.
For more information visit  http://www.europeanarts.co.uk/
For tickets to Hazlitt Theatre visit http://www.parkwoodtheatres.co.uk/theatre/Default.aspx?zid=4
For tickets to Trafalgar Studios visit http://www.atgtickets.com/venues/trafalgar-studios/