Xross-Polynation champions Her Majesty the Queen.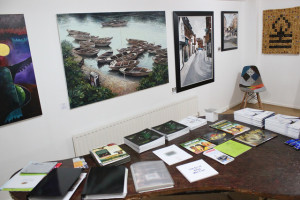 Already creating a buzz in Maidstone, Xross-PolyNation Art Gallery, located in Starnes Court, has again provided Maidstone with a unique insight into the art world with their exhibition 'Thank you! Ma'am' which opened yesterday and runs until 9th January.
Celebrating Her Majesty Queen Elizabeth II's 63 year reign – the longest reign of a British Monarch in history – the gallery has curated an exhibition which brings together art of the Commonwealth with Nigerian artists leading the way. As patron of the arts, Queen Elizabeth II has championed the arts throughout her reign and at a time when the government are proposing to cut creative subjects within the education system, it is time for us to let art shine and show everyone the importance of creative thinking, the power behind the brush/pallet/pen stroke and to allow Maidstone, the County town of Kent, to be recognised as the cultural hub it deserves to be.
As well as the artists and supporters from the public in attendance, last night Xross-PolyNation welcomed MP Helen Grant, Deputy Mayor Derek Butler and representing the Lord-Lieutenant (who represents Her Majesty the Queen), Rosemary Dymond, a Deputy Lieutenant of Kent, was also present.
Entering the gallery you are met by a room dedicated to representations of the monarchy – a portrait of Princess Diana, Queen Victoria and even Churchill are displayed with a clever and contemporary piece of art by David Williamson, an international leader in the field of augmented art, showing a bust of Queen Elizabeth II made from postage stamps from all over the Commonwealth. The room entices you in and is not just about the monarchy but about the times we live in.
We were treated to a tour of the whole gallery (including a room packed with investment art – including a Salvador Dali, James Horton originals and work by Rowell Tyson, Graham Clarke and Dr. Alka Raguvanshi) showing the variety of art given space here – mosaics, sculptures, mixed media, paintings, textiles, calligraphy to name but a few – and given an introduction to the artists. One artist that stood out was Anthony Eyton (RA). He is a 94 year old artist with his work still in demand yet more and more mature artists struggle to make a living and the need for a charitable society to support older artists was a hot topic of conversation.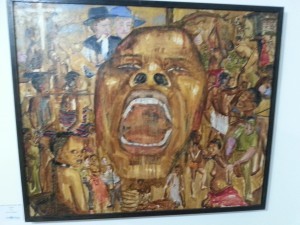 The exhibition that stole the show was the Nigerian Arts Society room. Displaying art by Chinwe Chukuogo-Roy MBE (who painted Her Majesty the Queen's official golden jubilee portrait), Titus Agrara (who's work with a pallet knife is incredible) and Roy Soko (his work appears vicious, passionate and powerful) among others. This is a room full of African artistic talent which is taking the world by storm. I overheard a comment which made me realise African art is finally being recognised financially in England: "…forget about Banksy and the like, if you want a strong return for investment art buy African art every time…"
Maidstone artists are heavily supported too with work on display by artists from Maidstone Visual Arts Network, Making Art work and Art Market Maidstone.
Xross-PolyNation are collaborating with local companies and reaching out to the community. With strong links to 'Diversity House' – a charity aims to promote community integration, re-integration, social inclusion and cohesion within the Swale and Kent communities – and a new relationship with Art Lounge, situated in Market Buildings, the gallery is ensuring local artists are also represented. This gallery is all about uniting artists to give art the most powerful voice possible. Every piece of art has a message to give and yet this is not the type of gallery one should fear to enter. You will be welcomed warmly by Jimmy – who is forever happy – and the café on site provides relaxed surroundings.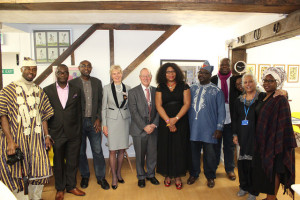 The exhibition launch was a huge success with a toast to Her Majesty the Queen, speeches from the gallery, local artist Sue Pritchard – who highlighted the plight of creative education – Christine Locke from Diversity House, the Deputy Mayor and Deputy Lieutenant stirred more passion for the arts within the gallery and the evening continued with gusto.
It was the first time that the Deputy Mayor or the Deputy Lieutenant had been to the gallery and both were impressed with the exhibition and what the gallery is achieving within Maidstone. Deputy Lieutenant Rosemary Dymond said: It's been an extraordinary and colourful evening, the gallery is amazing and I can't believe the diversity of the work here – when you think of diversity you think of Xross-PolyNation. I have been excited by the whole event."
The appreciation of the art on display was mirrored by the Deputy Mayor Derek Butler who commented: "I find the gallery most refreshing, innovative and in my mind it challenges too. I wish them every success and find their link with Diversity House amazing."
So what is next for Xross-PolyNation? There are exhibitions scheduled throughout 2016 and there is talk of more outreach work – having a float at the Notting Hill Carnival for example. An interesting collaboration to look out for next year will be Xross-PolyNation bringing together the African Art Foundation (for African youths) with UK youths in an artistic project.
No matter what plans Xross Poly-Nation has for international artists they will continue to champion local artists too. I have found the artists in Maidstone struggle to find a voice – a lack of exhibition space, funding, support and facilities are all challenges for artists, creating barriers that will not allow them to flourish.
As the County town of Kent the way art has been marginalised has been shameful. The Maidstone campus of UCAS closed in 2014 and left a hole in the cultural structure of Maidstone – that hole has never been filled despite the abundance of artistic talent in the town. Maybe Xross-PolyNation will be successful in filling that void and give the network of local talented artists a voice which will be heard rather than marginalized. Keep up the good work team Xross-PolyNation.