ASK Maidstone Restaurant Review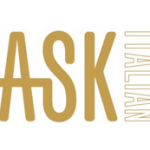 Earl Street is the heart of Maidstone's restaurant district and over Easter another eatery opened it's doors to us – ASK.  This Italian food chain aims to be the best on the High Street and claims to be something different.  Lucy and I went along to see if they deliver the good service they are well known for.
Based in the impressive 'Broughton House' on Earl Street this was once home to Maidstone Mayor Andrew Broughton who in the 1600's was the clerk of the court for Charles I's trial.
My first impressions were good.  You still feel as if you are stepping into a grand house as you enter the reception.  There are three main eating areas.  The large main hall to the back of the building and two smaller, more intimate rooms at the front which can be hired for occasions.
I would describe the decor as retro diner meets clean modernity with stylish lighting creating a good atmosphere.  The acoustics in this high ceiling-ed building are challenging – everyone's conversation blends and the hubbub is loud.
We were given an Italian sharing board to start along with a glass of prosecco – I tucked in but there was no gluten free version for Lucy – olives were her staple at this point – but Lucy was happy with the gluten free menu provided for the mains and dessert.
Throughout the night the service was fantastic due to the honestly happy, smiling team that worked there but there were a couple of hiccoughs with our order – I put this down to this being the press night and if things were going to go wrong that's when it will happen!
I loved my main 'Rigatoni con zucchini e pesto' (courgette pasta) – and would heartily recommend it.  I followed this with the almond, plum and pistachio tart.  I chose this as I have never had this flavour combination before – now it is on my favourites list – the flavours melded brilliantly.  Too well – I wanted more even after a huge meal.
The restaurant seats 188 capacity which is a large restaurant to fill.  It is great to have another choice of restaurant in Maidstone and I feel that the added competition for Earl Street can only be a good thing – people travel from far and wide to eat out in Maidstone and with restaurants like ASK to choose from I can see why.
Italian sharing board £11.95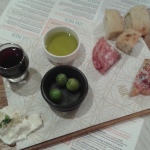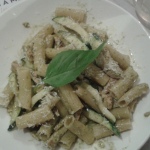 Rigatoni con zucchini e pesto£9.25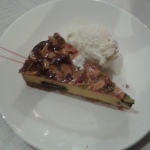 Almond, plum and pistachio tart £5.25