Behind the Scenes at Maidstone Museum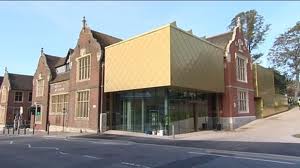 I felt rather like a Peeping Tom the last time I went to Maidstone Museum & Bentlif Art Gallery.  Although I was allowed access to the museum's archives, I still felt a little bit naughty as I crossed the threshold, leaving the public domain behind me.  Behind the scenes is where volunteers and staff work tirelessly to catalogue, promote, educate, organise and care for the museum and its thousands of artefacts.
I met Amy Adams, the Museum's Interpretations Manager, who led me through to the staff offices on the first floor and introduced me to the Maidstone Museum team.  There are 12 permanent members of staff plus a whole legion of volunteers and casual staff and as I chat to the team members, it is hard to keep up with all the projects that are underway. From labelling exhibits, through to one of the most important, time consuming and extensive projects the museum is currently working on: an audit of everything within their collection to put online for public reference, and also to catalogue everything for easy access – when I saw the archives I realised why this was such an extensive job.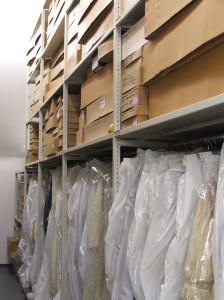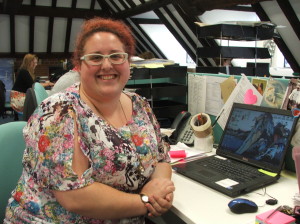 The collection is vast with approximately 600,000 artefacts and 250,000 insects to catalogue and Sam Harris, the Collections Manager, explained that their collection is split into different categories, the first of which is 'Fine Art', which includes furniture, ceramics, glass, Japanese, costume, needlework, oil paintings, water colours, drawings, prints, sculptures and even toys and games.
'Humanities' is the next category and takes under its wing British archaeology, Egyptology, numismatics (coin collection), social history, armour, clocks and watches, photography, local history, painted ephemera, Queen's Own Royal West Kent Regiment collection and the Carriage Museum.
The third category is the 'Natural History' collection including botany, zoology, ornithology, rocks and minerals, palaeontology, micro-organisms, vertebrates, invertebrates and taxidermy.  I could go on, but I feel my head spinning! It is truly amazing that all this is held within the museum, representing thousands of years of life on our planet.  One of the most interesting and random pieces of their collection is a hippopotamus skull – it is amazing what people will collect!
The archives are impressive.  Situated in the new part of the museum, the storage rooms have been designed to have temperature, climate, light and humidity control which all maximise the life of the treasures they hold.  Amy winds back a large roller stacking storage unit revealing the museum's wedding dress collection dating back to the 18th century, another roller stack houses historic QORWK uniforms and more still hold exquisite works of art including Graham Clarke and Ralph Steadman originals.  Amy shows me one picture which is infamous 'Flora the Gypsy Girl' – said to be haunted. She looked resplendent as she hung in the archives taking a break from her haunting ways.
With so many wonders held within their four walls there are bound to be intrigues surrounding some artefacts and Flora the Gypsy Girl is not alone in her mysterious reputation. One of the main attractions at the Museum is Ta-Kesh the Egyptian mummy. As the only real Egyptian mummy in Kent, Ta-Kesh holds special significance.  Experts have dated Ta-Kesh to be 2,700 years old and estimated her age at the time of death to be 14.  She was brought to England in the 1820's and found her way to Maidstone in the same century.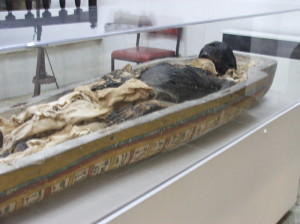 Sam tells me about Ta-Kesh's welcome into England: "She was seized by customs and then bought by a gentleman in Hadlow. He kept Ta-Kesh in a barn which caught fire so the outer shell of the sarcophagus was lost.  She came to the Maidstone Museum because the person who carried out the post-mortem had links to the museum." Ta-Kesh had an exciting and treacherous journey to her current location. "You can come here and be completely surprised by what you find and it does feel like a privilege to work here" Sam enthuses.
The museum also houses 'Iggy' the Iguanodon dinosaur cast.  In 1834 Maidstone shot to fame through a staggering find in a quarry excavated in Queen's Road where Mr. W.H. Bensted discovered the partial skeleton of an Iguanodon.  This was such a significant find because the skeleton showed how the bones of an Iguanodon actually fitted together for the first time.  The actual bones are housed at the Natural History Museum but Maidstone has a cast of the find – something rare and important in the history of palaeontology.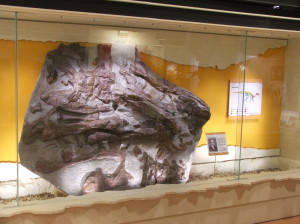 So how did Maidstone end up with such a fantastic collection? In truth the foundations for such a vast and varied collection were laid down by Julius Brenchley, a Victorian collector from Maidstone who travelled the world building up his artefacts over 28 years.  He left his collection to the museum as have other influential collectors over the years.
One of the most recent additions to the museum's collection came from a Bronze Age hoard found at a building site in Boughton Malherbe.  Before that, a Bronze Age hoardwas discovered in Hollingbourne and now resides at Maidstone Museum. Amy explained that with more housing developments, railway expansions and general excavations taking place, more treasures from the past are uncovered, "The contractors on the building site report to archaeologists and they come to the museum about the finds.  Occasionally members of the public donate their finds to the museum but treasure cases have to be paid for." Amy outlines.
Every museum's collection is regulated and gone are the days when items could be re-sold or simply moved around without trace.  Today museums are governed by the 'Museums Association' which ensures collections cannot be sold off without permission.  This provides a standard for museums to adhere to and proper channels for the selling of artefacts or collections.
It is impossible for Maidstone Museum to display everything – there simply isn't the room – so deciding what to display is a tough choice.  Maidstone Museum has a strict 'Collections Policy' for precisely this reason. The policy guides the decision on what to display based on a set of criteria including 'Is there a Maidstone connection?' 'Is there a Kent connection?' 'Does the museum already have an example on display?' Even so, deciding what people will see is an ever changing decision, revisited time and time again to ensure the museum is making the most of their collection and giving their visitors what they want.
The policy also stops museums from treading on each other's toes.  Maidstone, for example, gains most artefacts linking to Maidstone, its environment and its people and what the visitors want is in the forefront of the team's minds.  Someone who must know this better than most is Lyn Palmer, the Museum and Schools Project Manager. She works with a team of 8 people consisting of 2 learning officers and 6 learning assistants. Together they manage projects from the Arts Council Museums and school projects partnered with the British Museum to create new learning workshops and training for the team.  The museum runs 15 different types of workshops, a third of which are about Egyptian themes.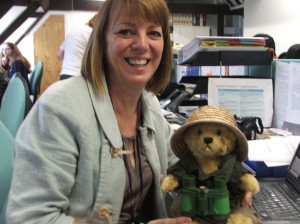 Lyn leads the process of generating workshop ideas and re-works pre-existing workshops to address changes in the school curriculum – for example the Iron Age is being added to the curriculum so Lyn takes this into consideration when forward planning and also creates workshop packages for schools, writes seminars and champions learning outside of the classroom.  Lyn is tremendously positive about the role museums have to play within education: "Museums should be lively and engaging places. The funding we have had has enabled us to massively expand the schools we can accommodate. We mainly have school children here from key stage two, but we are expanding to include key stage 3 with more specialised workshops."
The museum also creates bespoke workshops which brings new challenges for Lyn's team "We have just created a workshop for 'Frozen Kingdoms' and have created workshops on the 1960's, rivers and space as bespoke workshops – all for the same price."
It is true that Maidstone Museum does not embody the stuffy museum stereotype – as I look around the museum, one of the workshops is in full swing with the sound of war drums ricocheting around the open spaces. Lyn is happy the museum is not cloaked in silence, "I have a rule – never say shhhh" she smiles.
As I look around the museum staff rooms, exhibitions rooms (some of which can be rented out) and workshop spaces, I come across numerous volunteers.  In one room volunteers are pouring over boxes of artefacts that they are cataloguing and in one of the museum's three store rooms I am introduced to Brian, a volunteer who enthusiastically shows me a beautiful and delicate manual glass plate from the 1850's.  It is clear all those who work here feel they are working on something worthwhile.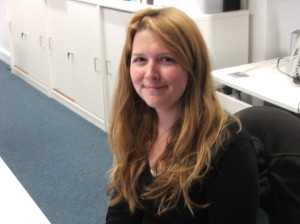 Amy told me one of her personal highlight about the museum: "Changing children into museum users – children who have never been here before take on a look of wonder when they look around."
The museum has ambitious projects for the future and they hope to attract more and more visitors ensuring their information stretches far and wide.  They already attract international attention and were recently contacted by a researcher from San Francisco who had found a painting he was looking for in the museum's online catalogue.  With the whole system being updated over the next 18 months the scope for Maidstone Museum to reach new international platforms is huge but we are the lucky ones, we don't have to rely on the online searches as we have this fantastic resource right on our doorstep.  Step over the threshold and find out why this is such a place of pride for Maidstone.